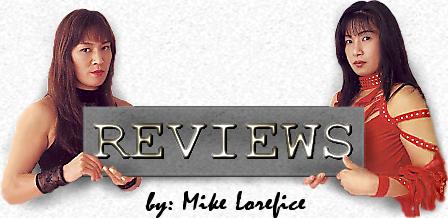 UFC 119: Mir vs. CroCop 9/25/10
Indianapolis, IN Conseco Fieldhouse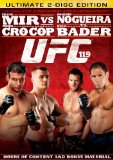 Matt Mitrione vs. Joey Beltran 3R. Mitrione still has a long way to go, but he's steadily improving. He has excellent quickness and footwork for such a big man, but he keeps his hands too low. When he sees the opening, he winds up winging punches or lunging at the opponent to make up for not really being in the proper position to strike. Mitrione can get away with some things in standup because Beltran doesn't have much in the way of power or diversity, though Beltran stunning him in the middle of the first round led to the takedown that ultimately swung the round in Joey's favor. Mitrione had no hip movement on his back, and was steadily hit, really doing nothing beyond throwing his legs up a few times for an easily defended triangle. Mitrione was scoring consistently in standup though, mixing leg and head kicks into his combinations, and when Beltran couldn't take him down in the second after an effective counter punch you started to feel as though he was in trouble. Beltran is pretty much just a grinder, and Mitrione moved too well for him to tie up and take down. Mitrione was generally out of the way before Beltran could counter punch, so Beltran would wind up inching his way in, and Mitrione would bust his nose up with the jab. Mitrione won the 2nd and 3rd rounds, which were all standup, en route to the unanimous 29-28 decision. Above average match.
Joe Doerksen vs. CB Dollaway R1 2:47. Dollaway got an arm in guillotine out of a scramble, but didn't feel he had it deep enough to get the submission, so rather than burning his arms out and having to release, he just held the position and waited for Doerksen to make a move. Doerksen tried to wait Dollaway out, but eventually made a move, and Dollaway transitioned into a regular guillotine and applied the pressure, rolling until he had it in tight enough to make Doerksen tap.
Mark Hunt vs. Sean McCorkle R1 1:03. A long time ago, Mark Hunt was the luckiest and least deserving K-1 World GP champion, getting a free entry into a qualifying tournament final after losing to Ray Sefo in the first round (which was his third consecutive loss). He never really followed that up, and soon transitioned to MMA, where he won five of his first six. However, he began to fall prey to some sort of armlock in every subsequent fight, and hasn't actually won one since defeating Tsuyoshi Kosaka on PRIDE Total Elimination Absolute 5/5/06. While I could see why a Japanese promotion would have use for his name value, it's hard to understand why UFC would want to bring in an over the hill 36-year-old who has lost 5 in a row and has no drawing power in the US. Anyway, Hunt managed to lose his 4th sub 90 second fight in a row, looking terrible in the process. Hunt did a good job of taking the top when McCorkle ducked his punch and tried for the takedown, but managed to quickly get submitted in a Kimura from McCorkle's guard without McCorkle ever turning or doing anything to leave his back.
Thiago Tavares vs. Pat Audinwood R1 3:47. Coming off an elbow injury that postponed his match against Melvin Guillard at UFC 114 5/29/10 and an injury to Willamy Freire that cancelled his match on the Jones vs. Matyushenko 8/1/10 card, Tavares stepped into this jobber match against high school wrestler Audinwood, making his UFC debut, when Aaron Riley withdrew. Tavares totally dominated even the wrestling, slamming Audinwood and pounding him on the mat. When Audinwood wall walked, Tavares jumped into a guillotine for the win.
Jeremy Stephens vs. Melvin Guillard 3R. Guillard was winning a kickboxing match due to his far superior footwork overwhelming Stephens superior punching power. Guillard keeps his hands at his waist, but it didn't matter since he was in and out before Stephens could catch up to him. Guillard wasn't very accurate with his strikes, but since he wisely refused to exchange with his heavy hitting opponent, his darting in was the only real offense of the first half of the fight. Putting pressure on Melvin was supposed to be his Stephens' strategy, but he was unable to do anything of the sort. Stephens began feinting the punch and instead landing a leg kick in the 2nd round when it was apparent Guillard had no interest in the takedown. This could possibly have swayed the round in his favor since there wasn't much goof offense either way, but I still gave the round to Guillard because his style was totally dictating the fight. Stephens was more effective with kicks in the 3rd, and hurt Guillard late with a solid left body hook. This was the only clear cut round, though one judge gave it to Guillard anyway. Unfortunately for Stephens, two of the judges gave the first two rounds to Guillard, so his success was too little too late. Above average match.
Sean Sherk vs. Evan Dunham 3R. It's long past time for a new scoring system. It's bad enough that most rounds are decided by a takedown that isn't an offensive maneuver (ie a slam that can hurt or even knock you out), doesn't lead to any ground damage or advancement of position, and half the time isn't even maintained, but now a takedown evem overrides your opponent choking you flush with a guillotine out of your vaunted takedown. If it were merely a matter of takedown vs. guillotine, I wouldn't be so ridiculously disgusted with this joke of a decision, but Dunham was nearly choking The Roid Shark out when Sherk managed to "put him on the defensive". The majority of the fight where Dunham was standing, he was totally dominating because Sherk lacks the reach and the ability to close the gap to make up for it. Both men had strong first rounds. Sherk got the takedowns, but Dunham had the near submissions with the guillotine, fooling Mike Goldberg into calling that the fight was over on the second one. Sherk's ground and pound was effective early, particularly late in the round when he opened up a gusher above Dunham's right eye with an elbow then targeted the cut, leading to a doctor examination. Sherk kept exposing his head every to the guillotine, just leaning in everytime Dunham was pinned against the fence, pretty much counting on Dunham's arms tiring before he ran out of oxygen. Dunham wasn't really staying on the outside and utilizing his reach advantage like Frankie Edgar did at UFC 98 and BJ Penn did at UFC 84 when they beat Sherk, so it did take him a while to begin hurting Sherk. He finally began doing damage with his hands and especially feet and knees late in the 2nd round despite poor strategy through simple superiority in the position. Dunham was pumped up after the second round and going into the third, landing a good kick to start the finale, but getting sucked into a grappling exchange that allowed Sherk to do what he does best, kill the clock to wait for another unworthy decision victory by pinning Dunham against the fence and ultimately laying on him. Dunham seemed to finally understand he needed to keep Sherk at the end of his reach, scoring regularly in the third because Sherk's arms weren't long enough to land in the exchanges. However, Dunham's aggression allowed Sherk to duck in and grab him from time to time. Dunham landed two big knees in the final minute, and Sherk, who was pretty much surviving on guts alone, wasn't even trying for the takedown anymore. Sherk somehow managed not to get knocked out just as he somehow managed to survive three legitimate guillotines even though his face went totally red and he arguably went limp for a second during one. There were a handful of times where Sherk survived what would have taken most guys out, and he deserves a lot of credit for that, but some solid ground and pound certainly is not enough to negate that. It's impressive to be certain, but it's no way to win a decision. Usually I expect the wrestler to win every decision, but as Dunham dominated the 2nd half of the fight I figured the judges might see more than control, for once in their lives. The first round could have gone either way, as Sherk controlled a lot more and opened up a nasty cut, but still it was Dunham that came close to winning on two occasions. I thought Dunham clearly did enough late in the 2nd round to win that, and the third round wasn't even close. Sherk won a split decision that the fans booed heavily. Sherk objected to the booing due to the quality of the match, and I have to admit this was about the only time Sherk has ever been involved in anything entertaining. Good match.
Matt Serra vs. Chris Lytle 3R. I don't get why BJJ expert Serra was totally content to have an all out boxing match with Lytle. It made for an entertaining fight, but even if you were conceding the ability to take Lytle down, you'd think your first order of business would be to slow him down with leg kicks. Serra wasn't doing bad early on, but very few guys beat Lytle in a battle of punching each other in the face. Serra was staying low, landing jabs and working the left side of the body while ducking a lot of Lytle's hooks and overhands. However, Lytle was soon able to time the right hand counter, and he began to hit it seemingly every time Serra missed, marking Serra's all up. Lytle's corner told him to use the uppercut instead of always the hook to take away Serra's success with the duck, and that adjustment swayed the rest of the fight heavily toward Lytle. Lytle hurt Serra on at least four different occasions in the 2nd round. Serra finally started throwing kicks in the third, but he was so exhausted all his offense during this round was at half speed. Lytle kept plugging away methodically. He wasn't nearly as successful in the third when it came to hurting Serra, but he was very accurate, landing one solid shot after another. Lytle won a unamimous 30-27 decision. Very good match.
Antonio Rogerio Nogueira vs. Ryan Bader 3R. Nogueira put the pressure on in standup, and won almost all the exchanges, landing several solid left hands. Bader got the takedown in the first and landed three big rights before Nogueira could secure his guard, rocking Nogueira to the point he never tried any offense off his back. That was Bader at his best, but we never saw any of that the rest of the fight. Bader's subsequent takedowns were pretty fruitless, as he was generally unable to keep Nogueira down for even 10 seconds, much less do any damage. Nogueira did tag Bader in standup very late in the first round, but a late Bader flash takedown left Nogueira with no time to capitalize. Nogueira took over with his standup aggression after dropping the opener. Nogueira wasn't at his best, as he was stuck in one power punch mode early, so he wasn't particularly active or accurate, but really turned it on in the 2nd half of the fight. Nogueira was at his most active active in the third, but just as the announcers were bragging about him shoring up the takedown defense, Bader momentarily dropped him again. Bader had a second takedown, but Nogueira was actually doing damage in standup, which he totally controlled, whereas Bader couldn't keep it on the ground or do any damage once it got there. Typically, the judges gave Bader every round just on the takedowns, whether they were of any use or not. It's getting to the point where it's not even worth fighting anymore. Just hold onto the opponent longer, and you'll win the decision. Above average match.
Frank Mir vs. Mirco Crocop R3 4:02. Although I would have preferred Antonio Rodrigo Nogueira in the main event as originally scheduled, this was still the most interested I've been in a UFC heavyweight main event in years. Unfortunately, to say the bout didn't meet any level of expectations would be an understatement. You know it's bad when Joe Rogan is coming out with lines such as, "It's almost like a silent agreement to keep the aggression to a minimum," "Well, the good news is there's only 2 minutes left," and "If I was home, I might be going for potato chips right now." The match was so tentative and laid back. Crocop didn't look right from the start, and seemed all out of sorts after kneeing Mir low early, just clamming up after apologizing vigorously and eventually roaming to toward the wrong corner when the round ended. Mir wasn't afraid to kickbox Crocop, but nonetheless showed minor activity in standup and tied Crocop up when he worked his way inside. Mir was the "aggressor", but neither opened up the slightest bit in standup and Mir wasn't trying to take Crocop down, or rather he was looking for the takedown the entire fight but refused to risk actually shooting. He neutralized Crocop by tying him up, but Crocop's double underhooks were predictably too good for Mir to leverage or muscle a takedown, and Mir did no real damage in the meantime. They just seemed to get into a rut, and neither was willing to open up to break it. Just when everyone was certain it was going to be a who cares wins the decision, Crocop stepped inside a right hook and tried to counter with an overhand left, but got kneed in the face for the KO. The finish was literally the only highlight of the fight. This had to be the worst fight of both men's careers. Poor match.
BACK TO QUEBRADA REVIEWS


* MMA Review Copyright 2010 Quebrada *