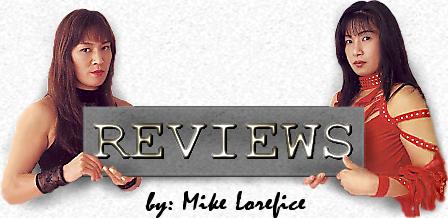 K-1 WORLD GP 2007 FINAL 12/8/07 Kanagawa Yokohama Arena
Opening Fight: Takashi Tachikawa vs. Ki Min Kim R1 1:21. Tachikawa showed good counters, blocking Kim's attacks then firing back with punches or low kicks. Tachikawa dropped Kim with a low kick to the thigh, which didn't appear to be a finishing blow, but Kim made no attempt to get up.
Reserve Fight: Paul Slowinski vs. Mighty Mo R2 0:50. Slowinski was a late replacement for Ray Sefo, who was cut in training. The low kick expert certainly presents a far more difficult matchup for the out of shape fighter who refuses to learn to check them than Sefo would as, similar to Mo, Sugarfoot prefers to slug it out with his fists. Slowinski looked great when Mo fought passively, using his reach advantage to clip Mo with the leg kick from the outside. Slowinski had trouble when Mo bounced in to close the distance, connecting with an overhand right and left hook. Mo's confidence rose with a good left hook, leading to a sharp hook combo that should have been a down, but instead the ref inexplicably gave Slowinski a break without any penalty. Slowinski was cut near the eye, which may have prevented him from continuing were he to get the call. Slowinski clipped Mo low, but unlike his 9/29/07 WORLD GP IN SEOUL FINAL 16 match against Hong Man Choi, the ref acknowledged the foul. Mo won round 1, but when you refuse to address the leg kicks you are quickly transformed into Slo-Mo. Slowinski's low kicks early in round 2 were making Mo grimace, and Mo quickly folded.
K-1 WORLD GP FINAL Quarterfinals:
Jerome Le Banner vs. Hong Man Choi 3R. The basic purpose of big stiffs such as Hong Man is it's exciting when the fighters with actual skill take them out. The crowd was almost 100% behind Le Banner, who fought one of the best fights of his career, using his speed to dart in, land and escape. Le Banner didn't allow Choi to use his size or weight to his advantage, displaying superb footwork and consistently getting off first, bobbing out of harms way when Choi did manage to throw. Le Banner was extremely accurate as he wasn't simply swinging for the fences, instead showing patience and landing several low kicks and straights to the body while withstanding no damage. Choi plodded forward and began landing some good straight punches in the later stages of round 2, but for the most part looked like the big slow awkward goofball he is. Choi tried to get Le Banner to brawl with him in R3 as he knew he needed a knockdown. Le Banner obliged, taking a big knee and left hand but coming back with powerful hooks. Le Banner wasn't doing himself any favors exchanging as he had two more fights to win, but he was too quick for the big man who progressively slowed, winning all three rounds. Good match.
Semmy Schilt vs. Glaube Feitosa 3R. The problem with the big stiffs is when one of them actually learns to fight efficiently, your finals go from their traditional home at the Tokyo Dome to the ¼ as large Yokohama Arena. Schilt knows how to use his size to secure boring decisions, using his left jab and front kicks to keep you out of striking distance and kneeing you as soon as you get inside. Later, he cuts off the ring and brings his big knees when you are stuck in the ropes. Schilt has been Feitosa's nemesis, knocking him out of the WORLD GP 2005 in OSAKA –FINAL ELIMINATION- on 9/23/05 then when Feitosa got back in as a reserve beating him in the WORLD GP 2005 in TOKYO -FINAL- on 11/19/05. Feitosa's footwork wasn't nearly up to the standard Le Banner showed in the previous match, finding himself against the ropes all too often, which is where Schilt can knock you out. Schilt was a different kickboxer here, fighting confidently and aggressively, looking to close the gap and bringing spinning kicks including connecting with a spinning hook kick. Feitosa nearly brought the house down when he wobbled Schilt with his Brazilian kick to the face in the 2nd, but Schilt stayed up with the assistance of the ropes and recovered quickly as it wasn't to the neck where Feitosa intended. Schilt regained control with his knees, but Feitosa was at least even in round 2 due to the near knockdown. Schilt took the first and third rounds, controlling position and racked up points with his jab. Feitosa was always competitive if not a threat, landing several low kicks and blocking most of Schilt's knees, but he relied too much on single kicks rather than adding power punches to the equation. Good match.
Remy Bonjasky vs. Badr Hari 3R. "Bad Boy" Badr riled "The Flying Gentleman" up by trying to deny him his two WORLD GP Championships. Granted Bonjasky only had to defeat Musashi in those finals, but Musashi is as good as anyone Hari has managed to beat, which includes exactly zero fighters in this year's Final 8. A good technical match where Hari fought as though he wanted it more, certainly being the more active fighter. Hari showed a more diverse attack, with Bonjasky seeming rather hesitant to counter as he normally does and potentially giving away close rounds through lack of aggression. Bonjasky's block is as good as they come, so he wasn't sustaining much damage, and his low kicks were scoring. Hari wasn't checking the low kicks, which shut Hari down in the third. The real Bonjasky showed up for that round, countering off the block. Hari was wincing and limping from the leg sweeps, but tried to keep the pressure on despite being blown up, showing a burst of energy in the final seconds. I had round 1 going to Hari, round 2 even, and round 3 a clear win for Bonjasky. They really needed the extra round, as Bonjasky certainly hadn't eliminated doubt about his victory, though with the condition Hari was in it's hard to envision him doing much in overtime. In any case, Bonjasky won a majority decision in regulation. Good match.
Peter Aerts vs. Junichi Sawayashiki R1 1:29. "The Japanese Supernova" Sawayashiki is the new native sensation, going from the opening fight in his K-1 debut on the 12/2/06 WORLD GP 2006 in TOKYO to the GP FINAL by virtue of winning all 5 of his K-1 matches. He was completely out of his depth with his childhood idol Aerts though. "The Dutch Lumberjack" chopped Sawayashiki down in no time, coming out with a few low kicks then dropping him with a high kick 20 seconds into the fight. Aerts opened up with big kicks, and though Sawayashiki momentarily settled in after clinching, he wasn't able to get any offense off and soon fell prey to a right cross. This was the type of 1st fight Aerts needs to have a chance of winning the tournament, as since he reached his 30's the toll of trying to come back for a second or third fight is the primary thing that does him in.
K-1 WORLD GP FINAL Semifinals:
Jerome Le Banner vs. Semmy Schilt R2 1:02. The fans were 99.9% for Le Banner, with Schilt getting zero positive reaction. Le Banner looked sharp again, backing the big man up by getting inside and landing power punches. Schilt reverted to typical form, trying to get by on the jab and front kick, and generally looked intimidated. Schilt did come on late in the first round, connecting with the jab when Le Banner tried to rush in. He tried to steal the round landing a big knee and following with a punch combo, but the judges weren't swayed. Unfortunately, the Le Banner of the first round literally vanished during the break. Le Banner hobbled out for the second on his surgically repaired knee. He tried to fight, but couldn't move well. Schilt's confidence soared, shifting to predator mode and stalking his now helpless opponent. Schilt knocked Le Banner down with a low kick to the bad knee. Le Banner got up, but the corner threw in the towel as he obviously wasn't going to be competitive against Schilt as a gimp. A heartbreaking loss for the perennial bridesmaid, as when he was healthy he showed he had what it takes to defeat the champion.
Remy Bonjasky vs. Peter Aerts 3R. A very efficient Peter Aerts closed the distance and worked the body to evade Bonjasky's famed high guard. Bonjasky fought almost the entire fight the way he fought the first round against Hari, way too timid and gunshy. Aerts, who clearly benefited from facing the greenhorn in the first round rather than the K-1 Heavyweight Champion, kept moving forward and keeping the pressure on. Aerts body punches and low kicks slowly took their toll, particularly the kicks which damaging Remy's shin. Bonjasky had one good segment in round 2 after the ref gave him a wake up call with a flurry of punches against the ropes. Aerts dropped his hands, encouraging Bonjasky to take his best shot, and though he clocked Aerts he lacks the punching power of a Le Banner or Sefo and was unable to seriously damage him. After fighting 5 tough rounds, Bonjasky looked tired in the third. A left high kick being all he had for the late flurry he needed to mount, and even though this landed he was so off balance he needed the ropes to keep him up. The match was close as Bonjasky defends so well he rarely gets hurt, but he wasn't active enough and didn't land anything spectacular, so there was no reason to send them out for the extra round. Pretty good match.
Super Fight: Musashi vs. David Dancrade R1 2:59. The emergence of Sawayashiki combined with Musashi's recent loses, specifically his 3/4/07 WORLD GP 2007 in YOKOHAMA defeat by Yusuke Fujimoto, has knocked him down to the #3 native. Needing a win for Musashi, K-1 came up with Frenchman Souleimane Konata, who is 2-1 in K-1 against no names, but when he was pulled out due to injury they really lobbed Musashi a meatball with a 16-10 former French Thai boxing champion whose claim to fame is his resemblance to football superstar Thierry Henri. Dancrade had powerful kicks, but he missed consistently, and never combined a punch with a kick or a kick with a punch. Musashi looked on flatfooted trying to figure out what his unknown opponent would do then threw his best weapon, the roundhouse kick to the ribs. Dancrade blocked high, so it crushed his rib for the KO.
K-1 WORLD GP FINAL Final: Peter Aerts vs. Semmy Schilt. Schilt was looking to become the first fighter to win 3 straight WORLD GP's, while Aerts was looking to tie Ernesto Hoost's record of 4 WORLD GP Championships. Aerts defeated Schilt on the 3/5/06 WORLD GP 2006 in Auckland show, but lost to him in last year's GP FINAL. Aerts came out aggressively, trying to get inside Schilt's jab and land a big left as Ray Sefo did when he knocked Schilt down on the 3/4/07 WORLD GP 2007 in YOKOHAMA show. Schilt knocked Aerts off his feet (not a down) by sweeping the left leg, but while Aerts fell on his right knee he seemed fine. A little later Schilt landed a few of his left jabs, but when Aerts tried to counter with a right hand his left leg slipped then his right knee buckled, damaging the joint and ligament. Knowing his knee was finished, Aerts didn't even attempt to stand on it. Schilt's latest championship seemed a big empty given both Le Banner and Aerts were ahead of him when they suffered freak knee injuries, but you can't call a man who has won his last 11 fights and three consecutive Grand Prix championships a fluke.