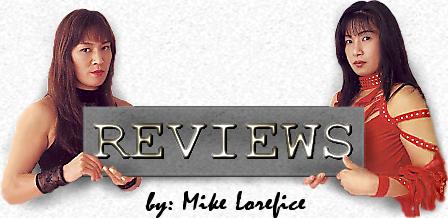 K-1 WORLD GP 2007 in YOKOHAMA
3/4/07 Kanagawa Yokohama Arena
Mitsugo Noda vs. Cyril Abidi 3R. Abidi wanted to kick, but Noda wanted to fight on the inside where he could push Abidi around. Negating Cyril's strength by getting inside his kicking range to the point they were so close neither could connect with a hook, Noda dictated a sloppy and ugly match largely comprised of clutching, grabbing, and leaning. Abidi threw low or middle kicks anytime he had room, but Noda blocked the roundhouses and continued to roll forward. There was some good action at the start of round 2 with Abidi coming out kicking, only to get backed into the corner once again. This time he seemed to stun Noda with a left hook, but Noda tied him up while he recovered then got a standing down with a flurry of punches. Noda was cut in the center of the forehead from a butt, the blood trickling down but mainly staying in between his eyes. Abidi did a better job of punching on the inside in round 3, landing some solid shots as well as getting the clinch knees going. He won that round in my opinion, but it was still too little too late, as Noda scored the upset, collecting his first victory over a best 4 in only the fifth fight of his career. Below average match.
Hiromi Amada vs. Gohkan Saki 2R. A classic lumberjack performance by Saki, a late sub for flu-stricken training partner Chalid "Die Faust", consistently torturing Amada's lead leg with devastating low kicks. This is the sort of one-sided contest you either garner perverse enjoyment from or find boring, as kicker Saki refused to allow boxer Amada to get in punching range. Saki also trains with Semmy Schilt, so it's not surprising he has an effective front kick to help maintain distance. Amada was hobbling so badly in the second round he wasn't ready to fight, forcing the ref to call a standing down when he turned away from his opponent. Saki landed an inside leg kick just after the second round bell that finally chopped Amada down. Obviously it didn't count as a knockdown, but Amada was unable to answer the bell to start the third. Above average match.
Aleksandr Pitchkounov vs. Hiraku Hori R1 2:27. Pitchkounov has educated feet, but did his damage following with his fists. He missed a spinning high kick, but immediately followed with a left straight for the knockdown. Hori blocked a left high kick, but fell to his knee after 2 left hooks. Pitchkounov soon took Hori out with an uppercut.
Tsuyoshi Nakasako vs. Zabit Samedov 3R. Samedov would close the distance, striking on the way in, but once he got inside the bout stalled through hugging. Samedov kept the pressure on with his boxing, including landing a superman punch then punishing Nakasako on the ropes with an uppercut and body blow, but Nakasako did nothing. Samedov drained him with his body punching, and injured his back with an illegal leg trip takedown that he was warned about. An easy win for Samedov. Below average match.
Junichi Sawayashiki vs. Jerome Le Banner 3R. Arguably the greatest upset in K-1 history, in just his second K-1 fight, the 22-year-old native who was giving up 45 pounds took out a two-time WORLD GP finalist. Though not a great fight, it was very intense and dramatic because Sawayashiki scored an early knockdown, forcing the legend into comeback mode. Sawayashiki was circling against the ropes from the beginning, but just when Le Banner decided he had him where he wanted him and stepped in with a right, the younger instead put him down with a counter right hand. Le Banner was more surprised than hurt, and continued to stalk his opponent, but this was not the good Le Banner by any means. He was always pursuing, but he never cut the ring off and seemed afraid to pull the trigger on his storied power punches. Since Le Banner hardly kicks, he's not only is no threat if he isn't punching like Le Banner, he's incredibly predictable. Sawayashiki was always on the defensive, but when Le Banner did get inside he'd block the Cyborg's strikes and counter them, with Le Banner noticeably frustrated between each round. Le Banner knew he had to take it too Sawayashiki because he was losing, but he just didn't seem to have the confidence to do it. He obviously opened up more in the third, but in one of the most memorable moments of the K-1 year, Sawayashiki sent Le Banner's mouthpiece flying with a counter left hook then followed with another for the knockdown just before the fight ended. I probably would have been mildly bored if two jabronies had the same match, as this wasn't exactly great action by any means, but the major underdog being ahead the entire fight made it riveting. Good match.
Hong Man Choi vs. Mighty Mo R2 0:50. The requisite gooble gobble special. Choi tried to use his crazy reach advantage to keep Mo away, but his punches are so sluggish and awkward Mo was able to duck in and attack with his overhand right. The first time Mo landed the overhand right solidly, Choi was down for the count. A snoozefest.
K-1 Heavyweight Title Challenger Decision Match: Badr Hari vs. Ruslan Karaev R2 2:46. A bitter revenge bout from 9/30/06 where Hari flipped, vehemently protesting that Karaev's KO was actually an illegal blow, the kick when Hari was essentially down in the corner causing the premature stoppage. These two brought it like fighters who were pissed and had something to prove, firing away with big power from the outset. Karaev pushed the pace, moving forward relentlessly and pumping heavy fists, but Hari is an excellent counter striker who can stop his retreat on a dime to fire a high kick or a stiff jab. Hari's skills were best exemplified in the first when he not only backpedaled quickly enough to avoid Karaev's hook onslaught, but also landed a nice right hand counter in the process. It was a wild fight, complete with Hari nearly falling over the top rope retreating from Karaev's left hooks and trying to fire back with a high kick. Deciding who was winning was difficult, as both were playing to their strengths and making their mark doing so. Karaev's nose was bloodied from a stiff left straight, but after they checked it midway through the second he came on with a series of left hooks, eventually stunning Hari with an uppercut then dropping the Moroccan with a left hook. Karaev went for the kill with his favorite strike, a huge left hook, but Hari expected it and threw his own right cross at the same time for the stunning KO! Excellent match.
K-1 Heavyweight Title Challenger Decision Match: Yusuke Fujimoto vs. Musashi R4 1:23. Musashi was of off his game, delivering a listless performance where he barely landed anything. The first round was pretty even as both mainly connected with low kicks, Fujimoto being the more active of the two as Musashi was mainly faking to try to open up the body. Surprisingly, Fujimoto was the one who was landing body kicks in the 2nd, scoring late when the second blow of his combos began to get through. Musashi, on the other hand, never developed his offense beyond single shots. As the fight progressed, Fujimoto became comfortable that Musashi wasn't setting him up for the follow up, and thus got his counter game going. Fujimoto had a nice flurry at the end of the third to seemingly seal the deal, but despite Musashi doing exactly nothing, it was a majority draw. Nobuaki Kakuda entered before the extension trying to fire them up and get them to bring it by reminding them a chance to become K-1's first heavyweight champ on 4/28/07 was hanging in the balance, but Musashi remained lethargic. Fujimoto quickly settled any uncertainty with a left high kick that Musashi guessed was another liver kick for the KO. Average match.
K-1 Super Heavyweight First Champion Decision Match: Semmy Schilt vs. Ray Sefo R2 0:26. Sefo had a good strategy, using the body jab to get inside and unleash the overhand right. He stayed back waiting for his moment, trying to keep the giant off balance by making him respect the spinning backfist. Sefo actually put Schilt down at the end of round 1, becoming the first K-1 fighter to do so, by following Schilt's clinch knee with an overhand right, left hook, and low kick. The left hook caught Schilt cleanly, but part of the reason he went down was simply from getting hit while scrambling backwards to get out of range. Schilt backed Sefo into the corner to start the second, which is something Sefo knew he needed to avoid because that's where Schilt is deadly with his knees, and had succeeded in the first. It appeared as though Sefo was fighting his way out, but when he lunged in to throw a left hand Schilt met him with a left straight to become the first fighter to KO Sefo, as well as shodai champion. Above average match.