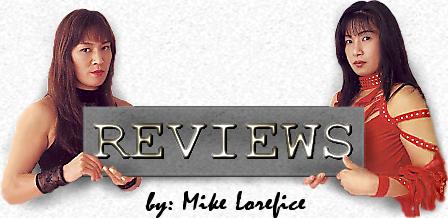 K-1 WORLD GP 2006 in OSAKA -FINAL ELIMINATION-
9/30/06 Osaka Jo Hall
Ernesto Hoost vs. Yusuke Fujimoto R3 2:09. Hoost came out of semi-retirement in hopes of upping his record to five WORLD GP championships, but showed obvious ring rust, giving one of his worst performances despite attaining a KO victory. Hoost often loses the first round feeling his opponent out, but today he was tentative and gunshy even in the later stages. Hoost normally comes out strong in the second, but Fujimoto started the round fast in an effort to throw Hoost off his game. Hoost tried to establish the jab and low kick, but Fujimoto was countering with punches. Fujimoto's is always his own worst enemy, as the longer the fight goes, the sloppier he gets, and by the third round he begins to beat himself by slipping and sliding like a hot oil wrestler. Hoost eventually got his leg kicks going, which didn't help Fujimoto's always questionable balance. Fujimoto took a tough low kick to the knee when he attacked with a right hand then landed a lunging left, but Hoost followed by sweeping the leg for the knockout. I expected Fujimoto to get up until I saw him wincing, and in fact he was down for quite a while after the bout. Average match.
Remy Bonjasky vs. Gary Goodridge R3 0:52. Late replacement Goodridge was way out of his depth against the two-time WORLD GP champion. Bonjasky has the reach, speed, and can close the distance in a heartbeat, the combination of these assets keeping Goodridge from even having a chance to mount an offensive. Bonjasky went for the quick win with a high kick/flying knee combo that Gary partially blocked, putting Goodridge down with a subsequent flying knee 50 seconds into the contest. Bonjasky was blasting away with the low kick, slowing Goodridge while trying to set up a clean high kick. Goodridge's mobility and ability to plant were very obviously hampered by the start of the second. Bonjasky knew he was going to win one way or another, so after a exhilarating first round he didn't take too many chances in the second. Deciding to try to finish in the third, Bonjasky rediscovered his aggression, connecting with a huge knee, left straight, and high kick for the KO. Good match.
Badr Hari vs. Ruslan Karaev R1 0:52. One of the more controversial knockouts in K-1 history, Hari landed some powerful low kicks at the outset but lost his balance on the rebound. Karaev capitalized, driving his opponent into the corner with punches and arguably illegal elbows, putting Hari down with a right straight. Before the ref could get in, Karaev followed with a wicked roundhouse kick to the face of Hari, who was down in the corner and thus should not be able to legally sustain any blows. Hari threw a temper tantrum when Karaev was ruled the victor, feeling he clearly would have survived the punch. This set up a rematch on 3/4/07 WORLD GP 2007 in YOKOHAMA, which Hari won.
Musashi vs. Chalid "Die Faust" 3R. A dominant performance by Chalid, who predictably mixing powerful hooks, straights, and uppercuts for three rounds against an opponent who surprisingly mustered no answer. Musashi made little effort to slow Die Faust with low kicks, instead repeatedly going for his middle kick without any setup. Faust explodes out of the gate, while Musashi is a slow starter, so it was no surprise when Chalid claimed the first closing the distance and punching through and around Musashi's block. Musashi tried to attack in round 2, but Die Faust was backing away in circles with the best of them, stopping only to throw his own punches. Musashi still arguably did better in this round, but Chalid's short range punches were simply too strong. Die Faust landed a barrage of punches 40 seconds into the third round to elicit a standing count when Musashi was forced to turn his back to his opponent. Musashi's left eye was considerably swollen by this point, nearly shut. It's difficult to figure what round a judge might have given to Musashi, but one actually gave the Osaka native the fight, so Die Faust only attained a split decision victory in one of the most one-sided wins of his K-1 career. The loss was a crushing blow to the Japanese, as it meant there would be no native fighter in the on 12/2/06 at the 2006 WORLD GP Final. Above average.
Glaube Feitosa vs. Paul Slowinski 3R (R1 skipped). Feitosa was at his best, fighting aggressively with sharp combos where he mixed level and type, using his strong kicks to open up his oft-underutilized punching game. Slowinski was wobbling around with his hands down in the middle of the second, but began putting combos together, albeit without their usual amount of steam. Though he finished his combos with low kicks, Slowinski was unable to get his famed low kick game going. Round 3 was closer than round 2, but Feitosa coasted to the unanimous decision. Above average match.
Semmy Schilt vs. Bjorn Bregy R1 2:21. 6'8" Bregy towers over most opponents, but very obviously lacked the skill to hang with a man his own size. Schilt quickly destroyed him, using his left jab to beat him to the punch. Bregy would load up for power, but Schilt would hit him before he could get off, resulting in two knockdowns from left jabs. The middle knockdown was a standing down when Bregy turned his back after failing to run away from Schilt.
Jerome Le Banner vs. Hong Man Choi 4R. Intense strategic battle. Le Banner was much better at dealing with Choi's size during their 12/8/07 WORLD GP 2007 FINAL rematch. The fact a conflicting acting gig left his participation up in the air literally until the final minutes, arriving in Osaka just a few hours before the show, didn't help him, as he mainly wound up hanging on the outside throwing low kicks. These theoretically should have opened up the overhand right, but Le Banner was very tentative and didn't make much attempt to close the gap for punches due to fearing Choi's knee. While Choi's size prevented Le Banner from utilizing his famed fists, he had little idea of how to utilize it for his own offense. Choi should be so difficult to deal with, but beyond being so slow his punches from a distance are easily avoided, he simply lacks Semmy Schilt's left jab and front kick, negating his reach advantage and allowing Le Banner to peck away with low kicks. In fact, Choi's whole game was closing the gap to bring up the big knee. Choi came on toward the end of the 2nd round with a knee, elbow, and backfist to probably steal the round despite Le Banner's last second superman punch. Choi was looking a bit sluggish in the third, but while a bloody nosed Le Banner was elusive, he wasn't having much luck landing his own blows, which were also pretty weak by Jerome's standards. One judge ruled for Le Banner, but even though I would have given Choi the bout if absolutely forced to decide, overtime was certainly the proper course. Hong was landing some jabs in the extra round, but Le Banner kicked his leg again. If you've read many of my reviews you'll know I'm a proponent of the low kick, but Le Banner's were wimpy and ineffective, failing to slow the giant down in the least. No one was able to distance themselves, but Choi's punches were more damaging than Le Banner's kicks, and though I was rooting hard for Le Banner, I felt Choi landed enough solid punches to say he got the better of another close round that could easily have been scored even. Surprisingly, everyone ruled for Le Banner this time. Good match.