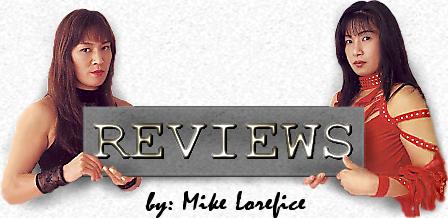 DSE HUSTLE-1 1/4/04 Saitama Super Arena
by Matt White
The New Years time is a huge period for combat sports. For the past three years, New Years Eve has been shoot fighting showcase (some worked, others legit), and this year saw the competition really heat up. Antonio Inoki really rubbed people the wrong way when he signed a deal with Nippon TV to start a new shoot company (New Years was supposed to be their inaugural show) at the same time that K-1 announced they were doing a New Years program called PREMIUM 2003 Dynamite!!. K-1, in an attempt to immediately one-up Inoki after his announcement, signed Akebono, one of the most famous Sumo wrestlers of all time, to fight their own phenom Bob Sapp. Inoki also came under attack from PRIDE, when Nobuhiko Takada officially became the figurehead and booker announcing at the Middleweight Grand Prix finals that PRIDE would be running a New Years show as well. Just to make sure Inoki would have a card of no-names, PRIDE loaded their show with Kazushi Sakuraba, Kiyoshi Tamura, Hidehiko Yoshida, Royce Gracie, Don Frye, Gary Goodridge, Quinton Jackson and participation from Shooto and Pancrase with the likes of Hayato Sakurai and Yuki Kondo. PRIDE also tried to block Mirko Cro Crop, Antonio Rodrigo Nogueira, Semmy Schilt and Fedor Emelianko from independently contracting for Inoki. Cro Crop and Nogueira bowed out claiming "injuries", but Inoki cut a last minute deal with PRIDE freeing up Schilt (who lost to Josh Barnett, Inoki`s only semi-marquee guy) and Fedor, who made a surprise appearance on the show and destroyed Yuji Nagata. Since K-1 had the name value and marquee match, they won the ratings war, followed by PRIDE with Inoki Bom-Ba-Ye in a distance third. PRIDE put on the best show but (and in some sense because) they didn`t have Sapp/Akebono as their main event.
On the wrestling side, New Japan ran their annual 1/04 Dome show which seemed to have one of their stronger cards on paper and no shoot matches, a huge victory for bookers Masa Chono and Jushin Liger. However, on the same day, Zero-One, with the help of Dreamstage Entertaiment (DSE), ran "Hustle-1" at the Saitama Super Arena (Saitama is a city right outside Tokyo). For some reason, Shinya Hashimoto feels he has to prove that he can outdraw New Japan because lately he`s been counter promoting shows against their big shows. At the last New Japan Tokyo Dome show in October, Zero-One purposely ran Korakuen Hall (which is right next to the Tokyo Dome) on the same day. Now, they are running this mega-show opposite NJ`s biggest show of the year.
Having viewed "HUSTLE-1", I now believe that if a show has a "-1" in the title without a "K" before it, that it is bound to suck. Almost a year and half ago, Dream Stage Entertainment (DSE) and Kazuyoshi Ishii, along with All-Japan put on "W-1", an attempt to do "entertainment" style wrestling featuring pro-wrestlers against shooters. They did two shows and they were reportedly nothing short of awful. However, since they aired on primetime network television and got MMA numbers (but no live attendance), someone still thought this was a good idea. Now, DSE partnered with Zero-One bring us what is supposedly the first in a major series of cross-promotions between PRIDE and Zero-One. The results were slightly better than W-1, but obviously that isn`t saying much. To help them provide something different than New Japan, bookers Hashimoto and Nobuhiko Takada turned the reigns over to Vince Russo and Paul Heyman. Ok, that is a lie, but after reading my write-up you will think it is the absolute truth.
Low-Ki defeated Mikami, Jun "Saru" Kasai and King Adamo in 7 minutes 3 seconds with a "ki crusher" on Kasai. This match was a four-way dance. They all came to the ring in a procession at the same time. No separate ring intros or anything. I guess this is "wrestling parade" or something. If they replaced Adamo with Naohiro Hoshikawa, or anyone else for that matter, this match could have been really entertaining. Near the beginning of the match, Adamo did a stinkface on Mikami, so I was already hating this show. Funny thing is, Mikami sold it better than any WWE worker who`s had to go through the horror of Rikishi`s fat rear. He acted like he was going to barf. I guess he was just expressing the audience sentiment! Low-Ki did his typical spots, which were great and Mikami did his Jeff Hardy influenced swanton from the ladder. BTW, the mic under the ring was tracked up WAY too high. Crowd was in to Adamo and that is awful considering how the hard the other guys are working. I know Kasai is just as comedic as Adamo but at least he has some working ability to back it up.
Zebraman (probably Mikey Henderson) defeated Ikuto Hidaka in 6 minutes 43 seconds with a Zebra Bomb. For those of you who don`t know, in the famous comic "Tiger Mask", the title character had a sidekick named "Giant Zebra" who was actually modeled on Giant Baba. There is also a movie coming out in Japan soon, called "Zebraman" and Zero-One has been cross promoting it with their shows. Think WCW and Robocop and you have the idea. I guess Hidaka is in the Dynamite Kid role of having to put over Zebraman, but he`s not particularly heelish. Anyways, this match isn`t that bad with some good mat sequences, but Zebraman is no Satoru Sayama. Actually, I think Shodai Tiger Mask, Jushin Liger and Hulk Hogan are really the only successful comic to wrestling gimmicks because all were larger than life in different ways. Other good to great workers like Misawa, and Minoru Tanaka forced to don super hero gimmicks just didn`t work out because their styles didn`t fit the gimmick. The same can be said for Zebraman. Hopefully this won`t last long.
Next, a RAW type angle backstage aired with Takada eating chicken and offering some to Goldberg, who refused saying that tonight he would be eating "Ogawa chicken." They then linked arms, looked at the camera and said, "Do the Hustle!!!" At least they acknowledged a camera. Cut to a different part of the backstage area where the Japanese version of Jonathan Coachman tried to get Ogawa and Hashimoto to say the same catchphrase, but they beat him up. They then made crude crotch gestures and said, "HUSTLE!!! HUSTLE!!! HUSTLE!!!"
Satoshi Kojima and Kazu Hayashi defeated El Solario and Dos Caras Jr in 13 minutes and 53 seconds when Kojima used a lariat on Solario for the pin. This should be good and it was but not much more than that. I like both Kojima and Hayashi a lot and I love the Mil Mascaras entrance song "Sky High" by Jigsaw that Solario and Caras Jr used. Kojima did some lucha spots like a plancha and rolling thunder. Match was mainly spots, but they were good spots.
Predator and Kevin Randleman defeated Shinjiro Ohtani and Masato Tanaka in 14 minutes 41 seconds when Predator used a King Kong buster on Tanaka for the win. This is "Team Emblem" (Tanaka and Ohtani) versus "Team Kong." Good match, but mainly due to Emblem. Ohtani mainly worked with Randleman because he can do UWF-I style work, and Tanaka worked with Predator because he knows how to work with foreign monsters such as The Gladiator. Some good athletic jumping spots by Randleman. He could be a good pro wrestler if he put some effort in to it.
Another angle was shown from the day before where Takada introduced Giant Silva as the newest member of his foreign shooter stable. For those of you who care, Takada`s stable is Goldberg, Mark Coleman, Kevin Randleman, Vader and now the man-thing. Seriously, if you want a good laugh, I recommend watching his PRIDE shoot match with Heath Herring from New Years Eve. His punches are truly horrific.
Giant Silva defeated Katsuhisa Fujii and Kohei Satoh in 2 mins 18 seconds with a chokeslam on Sato. Awful match. I feel sorry for these two guys, in the same way I feel for every guy who had to work with El Gigante (except Undertaker).
Shinya Hashimoto defeated Vader via countout in 9 minutes 59 seconds. Yeah, you read the last sentence right. 8 years ago this match would have sold out the Tokyo Dome in 3 minutes, but now it is on the undercard of this crappy show. Vader is one of my favorite wrestlers of all-time and Hashimoto is up there too, but seeing these guys in their horrible condition, in this type of match is depressing. They did what they did best by doing a lot of stiff kicks and punches. They ended the match in a count out, which is just nothing short of awful. 8 years ago, that ending would have caused a riot at the Tokyo Dome. This show is looking more and more like a WWE PPV. And that`s not a good thing.
I wrote that last sentence too soon because then they did a "Hustle Diva International" exhibition, where they brought three foreign strippers from Kabuki-cho…err….I mean three "International models" from England, Romania and the US. As they walked down the aisle they announced their respective measurements. THIS IS AWFUL!!!!!! The "models" of course stripped down to their underwear before exiting. Thankfully it was short. Sex has destroyed wrestling. Whoever said "sex sales" never watched wrestling. Austin vs. McMahon made WWF buckets of money, not that bra and panties garbage. The collapse of WCW and downfall of WWE prove it.
Next was another backstage segment where Goldberg knocked a punching bag out of Takada`s hands. "OH, you`re a monster!!!!" Takada replied in the worst spoken English on planet earth (maybe the universe). If you saw Takada`s interview at UFC 44 then you know what I`m talking about. Cut to Ogawa running on the spot of pictures of Takada and Goldberg. Good idea.
Next, Steve Corino, with Dusty Rhodes and Tom Howard cuts a promo backstage saying Japanese catch phrases like "ichiban" (the best) and "Kakoi" (cool). That made me laugh. Intentionally. I was wondering why they didn`t have Dusty cut a promo, but then I realized that the translators would have absolutely no idea how to translate him.
Mil Mascaras, Dos Caras Sr. and Sicodelico jr. defeated Steve Corino, Dusty Rhodes and Tom Howard in 13 minutes 10 seconds when Mascaras got a flying body press on Corino for the pin. Dusty barely worked, and that is a good thing. There was one part where Dusty was tagged in by Howard and was about to have his "long awaited" confrontation with Mascaras, but Corino flashed tagged himself in. The crowd booed, but they don`t know the favor that Corino just did for them. Man, Mascaras can do some good spots for his age. I wonder why? Maybe its because he didn`t roid!!!! He didn`t give anyone any offense. I`m shocked and appalled though I hear this is nothing new for him. Not as horrible a match as you might think. It moved fast enough, and everyone did what was expected of them. Corino turned on Dusty after the match. Man, I hope there isn`t a blow-off.
Toshiaki Kawada defeated Mark Coleman in 6 minutes and 7 seconds with an ankle lock by ref stoppage. I guess Coleman was watching the Phil Baroni match from the last UFC because he briefly protested the stoppage as soon as the bell rang ending the match. At least he didn`t try to deck the ref. Good match, basically a shorter version of Frye/Kawada. Crowd was in to it as well. Coleman did three overhead suplexes in a row and some ground and pound. Kawada attempted a triangle choke, but Coleman powerbombed him. Coleman wasn`t stiff with his punches and that hurt the match. Coleman, Randleman and Josh Barnett show a lot of potential for being good workers, but they are just thrown in there without much training. "Training while on the job," worked for Vader but he was working night in, night out. These guys only do a match once every six months.
Goldberg defeated Naoya Ogawa in 12 minutes 49 seconds with a jackhammer. Goldberg came out to his old music (a lot better than the new crappy remix). PRIDE ref, Yuji Shimada, was the heel referee. The booking of this match was completely backwards and about 10 minutes too long. Ogawa dominated the whole match with Goldberg doing all the selling. They then did a ref bump and Ogawa got his STO, but no one could count the pin. I was expecting Takada to do a run-in and hit Ogawa with a chair. I spoke too soon as Giant Silva came out to give his awful monster punch to Ogawa (I really hope they aren`t building to a Giant Silva/Ogawa match, that would be negative million stars to the ninth power). Goldberg then got the spear and the worst jackhammer I`ve ever seen. Shimada woke up and counted the pinfall. This is not the way to book Goldberg. Afterwards, Ogawa attacked Takada and Goldberg told Hashimoto, "YOU`RE NEXT!!!" When everyone left the ring, Hashimoto and Ogawa did their lewd "HUSTLE!!! HUSTLE!!! HUSTLE!!!!" chant again. DX, they are not.
Throughout the show, the crowd was so quiet you could hear the English announce team. I heard that this could be on US PPV in the near future and that is just stupid. DSE should air the PRIDE New Years Eve special instead because it was worlds better. By Japanese standards, this show was horrible. By WWE PPV standards, this show was a work of art. Really. At least this show had some good matches, and I`m pretty sure that all the angles will not air on US television. So if you fork over cash for the random WWE show, then you wouldn`t be wasting your money on this show. For you puro purists, hustle in the opposite direction.
BACK TO QUEBRADA REVIEWS


* Puroresu Review Copyright 2004 Quebrada *