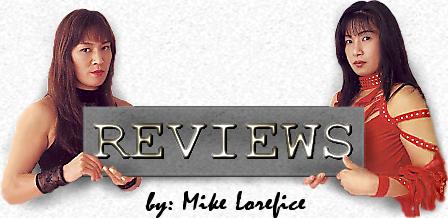 K-1 PREMIUM 2003 Dynamite!! 12/31/03 Nagoya Dome
by Matt White
The New Years time is a huge period for combat sports. For the past three years, New Years Eve has been shoot fighting showcase (some worked, others legit), and this year saw the competition really heat up. Antonio Inoki really rubbed people the wrong way when he signed a deal with Nippon TV to start a new shoot company (New Years was supposed to be their inaugural show) at the same time that K-1 announced they were doing a New Years program called PREMIUM 2003 Dynamite!! K-1, in an attempt to immediately one-up Inoki after his announcement, signed Akebono, one of the most famous Sumo wrestlers of all time, to fight their own phenom Bob Sapp. Inoki also came under attack from PRIDE, when Nobuhiko Takada officially became the figurehead and booker announcing at the Middleweight Grand Prix finals that PRIDE would be running a New Years show as well. Just to make sure Inoki would have a card of no-names, PRIDE loaded their show with Kazushi Sakuraba, Kiyoshi Tamura, Hidehiko Yoshida, Royce Gracie, Don Frye, Gary Goodridge, Quinton Jackson and participation from Shooto and Pancrase with the likes of Hayato Sakurai and Yuki Kondo. PRIDE also tried to block Mirko Cro Crop, Antonio Rodrigo Nogueira, Semmy Schilt and Fedor Emelianko from independently contracting for Inoki. Cro Crop and Nogueira bowed out claiming "injuries", but Inoki cut a last minute deal with PRIDE freeing up Schilt (who lost to Josh Barnett, Inoki`s only semi-marquee guy) and Fedor, who made a surprise appearance on the show and destroyed Yuji Nagata. Since K-1 had the name value and marquee match, they won the ratings war, followed by PRIDE with Inoki Bom-Ba-Ye in a distance third. PRIDE put on the best show but (and in some sense because) they didn`t have Sapp/Akebono as their main event.
On the wrestling side, New Japan ran their annual 1/04 Dome show which seemed to have one of their stronger cards on paper and no shoot matches, a huge victory for bookers Masa Chono and Jushin Liger. However, on the same day, Zero-One, with the help of Dreamstage Entertaiment (DSE), ran "Hustle-1" at the Saitama Super Arena (Saitama is a city right outside Tokyo). For some reason, Shinya Hashimoto feels he has to prove that he can outdraw New Japan because lately he`s been counter promoting shows against their big shows. At the last New Japan Tokyo Dome show in October, Zero-One purposely ran Korakuen Hall (which is right next to the Tokyo Dome) on the same day. Now, they are running this mega-show opposite NJ`s biggest show of the year.
K-1 PREMIUM 2003 Dynamite!! is one of the biggest shows in Japanese history, up there with Inoki vs. Ali and Rikidozan vs. Lou Thesz. Too bad it had such a lackluster card. K-1 has had nothing short of a horrible year in 2003. Usually known for their strong cards, they turned in to a freak show. The only "pure" show of the year, the Grand Prix Finals, was apparently the only good show (I watched that one and found it to be pretty good). Unfortunately, the promotion decided to end their year by returning to the Freak show. One question before we get in to the review: Why in the world do these shows need like a billion announcers? This show had a panel of ten doing the commentary (that isn`t an exaggeration). It`s similar to a kickboxing version of the Gong Show. Actually, this is a very popular format on Japanese televison. Whether it be cooking shows, variety shows or whatever, they always have a panel of celebrities (Atsushi Onita is a favorite on these type of shows). Too bad they can`t bang a gong when a match is stinking up the place.
Genki Sudo defeated Butterbean in 2R 0`41 (MMA rules): I have never seen Sudo before, but his intro made him my favorite K-1 guy immediately. He came out dressed like Charlie Sheen from the movie Major League with a cheerleader entourage and "Wild Thing" as his theme song. The match basically consisted of Sudo running around the ring while taking shots at Butterbean. When they went to the ground, Butterbean tried to smother Sudo with his boobs. I`m not lying. In the 2nd round, Sudo got a Ken Shamrock style heel hook on the big man and made him tap. Sudo then pulled out a UN flag saying, "We are all one." I could have done without the political correctness garbage but I`m still "genki."
Ernesto Hoost defeated Montanha Silva via unanimous decision (K-1 Rules): Wow, this is like, a real match or something. Silva is significantly taller than Hoost, but since Hoost is such a great fighter, he didn`t let that keep him down. He picked his spots real well, not allowing Silva`s height advantage to be of any use.
Mike Tyson interview from Hawaii: Tyson watched the whole show from some stadium in Hawaii with a super hot interviewer. He was asked whom he thought would win between Akebono and Bob Sapp and he chose Sapp because, "He is more coordinated." Tyson talking about coordination is hilarious.
Yoshihiro Nakao defeated David Khakhaleichivili in 2R 1`13 with a KO (MMA Rules): Nakao is a wrestling champion and Khakhaleichivili (I`m not writing that name again) is the Judo gold medalist who defeated Naoya Ogawa (silver medalist) in the Olympics more than ten years ago. Before the match, they showed an angle where Nakao told his mother he is doing the fight, much to her horror. His mother was at ringside the whole time, with her face looking down with fear. I`m not making this up. I was expecting Nakao`s younger brother to come in and urge her to throw in the towel. David the Russian was completely out of shape. You would think a wrestler fighting a Judo expert would be a ground clinic, but at the beginning they slugged it out for a while. In the second round, Nakao took the Russian down and did a very effective ground and pound. At this point David K just gave up and the match was stopped.
Alexei Ignashov defeated Shinsuke Nakamura 3R 1`19 KO (MMA Rules): Nakamura kept effectively shooting and getting Ignashov on the ground. However, once on the ground Nakamura was completely ineffective. Ignashov finally figured out Nakamura`s strategy and began sprawling, thus blocking Nakamura`s shoot attempts. After some punching exchanges, Ignashov kneed Nakamura in the head after another attempted shoot and the ref quickly stopped the match. A ridiculous call because Nakamura got up immediately and did not look fazed. You would think Antonio Inoki was at ringside and Earl Hebner was the ref. Boy, Nakamura wasn`t happy and if I was main eventing the Tokyo Dome in four days, I wouldn`t be either. As a sidenote, supposedly at the 1/04/04 Dome show, K-1 officially announced the match as a "No Contest." Like it matters.
Francisco Filho defeated TOA the Samoan Beast via unanimous decision (K-1 Rules): A heavily clipped match. As a guy who practices Kyokoshin Karate, I immediately like Filho and Andy Hug. Of course, Hug is a legend in K-1 but in Karate, Filho is the bigger legend (he knocked out Hug in Kyokoshin rules). I`ve seen some of his Karate matches but this is my first time seeing his K-1 work. Too bad I didn`t see much. Filho seemed to have dominated with some great punches and kicks. They showed a clip in slow motion where Filho changed kicks in mid-air (a Kyokoshin technique). I`m happy to see Karate moves in modern day kickboxing.
Bob Sapp defeated Akebono 1R 2`58 KO (K-1 Rules): This match delivered a 43.0 rating, defeating the Kohaku special on NHK (with only a mere 39.0 rating). Considering the hype, this match delivered what everyone expected. Akebono executed his "sumo" pushes on Sapp, pushing him into the corner. About two minutes in to the round, Akebono gassed and Sapp just started laying in to him. After two knockdowns, Sapp smelled blood and went for the kill. Sapp actually showed some maturation as a fighter by circling and doing some kidney and stomach strikes (but Akebono was, um, well,…..padded). After the match, Akebono looked bad. He lay face down forever, looking like a beached whale, as paramedics rushed to his attention. They then showed Mike Tyson`s mug on the big screen and Sapp said, "Tyson, you`re next!!!!" Oh boy!!!! The whole reason for this freakshow of a match in the first place was to rebuild Sapp`s image. After nearly losing to Kimo and getting his behind handed to him by Remi Bojansky, K-1 realized that the Sapp meal ticket was losing its luster. So, they pull Akebono, the most popular Sumo of all time, out of Japanese commercial purgatory and have Sapp destroy him, thus building Sapp`s legend. Mission accomplished. Now, they are going to have Sapp be destroyed by Tyson. Lovely. I guess after that fight they`re going to be calling Takanohana. This is so awful. Similar to hit movies such as Star Wars and the Matrix, this is already spawning horrible rip-offs. PRIDE has announced that they have acquired recently retired Sumo star Musashimaru to start competing in their organization. I just can`t wait for them to put in Kiyoshi Tamura to put over this monster.