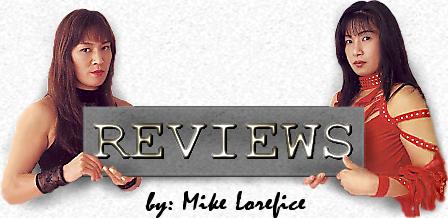 UFC 44: Undisputed 9/26/03 Las Vegas, NV Mandalay Bay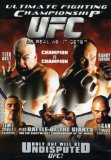 UFC 41 2/28/03: Gan McGee vs. Alexandre Dantas R1 4:49. A boring match that showed why McGee can be tough to beat. McGee didn't show good offense, but he made Dantas burn energy and eventually take a chance that cost him the match. Dantas, a BJJ champ, needed to get McGee down, but McGee has such a huge reach he can keep you away with his jab. Thus, it's hard to get a good shoot on him, and once you do get inside he has all the leverage with his height. The result was Dantas wasted tons of energy holding him against the fence. Finally, Dantas dropped to his back and went for a leg lock, but McGee split Dantas' legs so he could lean over and throw punches for the stoppage.
Rich Franklin vs. Edwin Dewees R1 3:35. Both fighters are known for their quick wins, so an exciting one rounder was no surprise. Dewees got a quick takedown and tried for a guillotine, but Franklin slipped out and stood up. The rest of the fight was all Franklin, with Dewees taking several hard shots. The key blow was a jumping knee to the head from the clinch, which totally turned the fight and Dewees was never able to recover from. Dewees gave the appearance that he was fine, but put out an anemic jab and Franklin locked him up and landed knees then released the clinch and put him down with 2 punches. Dewees did try an armbar and got right back up again. This time he fell from a fair body punch then got soccer kicked in the body. Dewees was on his side covering his face, so Franklin used knees and punches around the "defense" for the stoppage.
David Loiseau vs. Jorge Rivera 3R. All stand up, but not exactly exciting. Loiseau's elbows were about the only thing that differentiated this from boxing. It was one of those tough grinding matches you wouldn't want to be in, but you wouldn't want to watch either. Both landed several solid if not good shots that were wearing each other down, but neither opened up. Powered by his elbow that's short, fluid, to the point, and thrown with the speed of a punch, Loiseau won the first round. The best elbow in MMA also cut Rivera on the top and side of the head, though Louseau was unable to worsen these cuts or create cuts in dangerous spots to get the stoppage like he has in the past. Rivera wanted to fight on the outside, and he was able to score from there with kicks, but whenever he'd throw the right hand Loiseau would grab him. Rivera made strides toward evening the fight in the second round and took over in the third. His inside fighting was the main difference, with a good series of body punches as well as uppercuts that hurt Loiseau and bloodied his nose. Rivera won because Loiseau wore down first, allowing Rivera to land some of these combinations. Rivera was also a more diverse striker than Loiseau, who became pretty predictable and thus wasn't able to land the right elbow as much as time went on. Rivera probably would have won anyway, but in a close fight like this it certainly helped that he knocked Loiseau down with a straight right just before the bell. Rivera then hit Loiseau with 5 quick punches, but with Loiseau on his knees looking at the canvas there wouldn't have been time for a ref stop if in fact he was out. Rivera probably would have got a stoppage if he had another 5-10 seconds, but it wound up not mattering since he won the decision unanimously. 3R
UFC Heavyweight Championship: Tim Sylvia vs. Gan McGee R1 1:54. The heavyweight title has become a complete joke. Sylvia got a title shot for beating the Cabbage Patch Punk, and now in his third UFC fight he's defending against another big doofus who is 2-1 in UFC. Not only aren't these guys qualified, but they simply aren't the least bit interesting to watch. McGee has no strike defense, holding his left hand at waist level when he's not jabbing with it and keeping his right hand cocked just above breast level. All Sylvia had to do was throw a punch to get inside. McGee tried a weak left as he was backing away, but Sylvia put McGee down with 2 big right hands before he could escape. Sylvia followed McGee to the ground and threw a few punches, but McGee was already out. Sylvia turned The Giant into The Big Slow, but soon lost his title when he proved to yet another Roid Warrior. 1R 1:54
Andrei Arlovski vs. Vladimir Matyushenko R1 2:14. Exciting short fight. Matyushenko is a good fighter, but this was a bad matchup for him. Arlovski just used his reach advantage and sprawl to keep the fight where he wanted, in standup. Arlovski is a great athlete with very powerful hands, and he made Matyushenko pay for his failed attempts. He decked Vladimir trying to pull out after a failed takedown. When Matyushenko tried to pull him down, he kept his balance long enough to get the mount. Matyushenko wouldn't be able to strike with Arlovski if all other things were equal, but he had to make too dramatic a move to try to make up for the reach advantage. Arlovski avoided his front kick and missed a right straight, but this got Matyushenko's head down opening up an uppercut that ended it.
Karo Parisyan vs. Dave Strasser R1 3:52. Judo technique is the most exciting of the MMA elements to watch because it's all leverage, so it's usually a surprise from a quick shift and tends to look effortless. Parisyan showed the sort of world class judo that has only been envisioned in MMA. His takedowns were magnificent. He did 3, and I can't remember ever seeing any of them in an MMA match before. The most glamorous was the ipponzeoi. The final one, a tsumigashi, led directly to the victory as he was working for the Kimura in standup, but rolled backwards then went into it on the mat. Though Karo's judo was a surprise to much of the audience, Strasser had studied tapes of his matches. He wasn't caught off guard, he simply just wasn't able to stop it. Parisyan seemed to have some striking and other skills, but didn't need them in this match.
Nick Diaz vs. Jeremy Jackson 3R. 2:04. Diaz lost to Jackson via TKO on UA 4 then beat him via TKO on IFC WC 18, so this was the rubber match. It was quite sloppy. Jackson is a striker with good punching power, but he was unable to get anything done in standup. On the ground, he's remedial at best. Diaz is a Jiu-Jitsu guy who actually has good takedowns. When his shots did fail, he did a good job of adjusting so he either secured it on the second effort or at least got guard. Diaz first priority should have been keeping Jackson down where he's totally out of his element, but he consistently failed to control Jackson's body. He tried to knee Jackson when he was passing guard instead of getting the side mount then kneeing, allowing Jackson to stand out. He didn't use his legs to control Jackson's body while going for a hadakajime, allowing Jackson to roll out. Diaz took these and other chances, but none of them seemed to pay off. At times Jackson made him pay with punches, causing a cut around Diaz's eye, but Jackson couldn't maintain an advantageous position for any length of time. Diaz's offense seemed week, but it was in his house long enough that Jackson exposed his arm during ground and pound, allowing Diaz to bar it for the win.
UFC Light Heavyweight Championship: Tito Ortiz vs. Randy Couture 5R. UFC hoped to bury the supposedly uncool balding old guy once again, but as usual Couture had other plans. Couture could be a hero for defying nature naturally with what he can still do inside the ring at the age of 40, but who cares about insignificant things like that that when we can further glorify bad attitudes, bleach, and brandings? They spent yet another night hyping their poster boy Tito, showing that every stupid celebrity thought he was cool and would defeat if not dominate Couture. UFC didn't even bother finding one person, any person, that thought Couture would win just to make you think he maybe had a chance. From watching the telecast, you might think Ortiz was a 200-1 favorite and the former heavyweight champion would have to give a Herculean effort simply to not get taken out to the woodshed.
There's been this big myth that Ortiz beats all these great fighters, but who has he really beaten to garner his ranking of top light heavyweight in America, if not the world? Ortiz is 11-2, but he's beaten a bunch of guys that were way overhyped coming into their fight with him and did little after he beat them. He beat Wes Albritton, Jeremy Screeton, Jerry Bohlander, Guy Mezger, Wanderlei Silva, Yuki Kondo, Evan Tanner, Elvis Sinosic, Vladimir Matyushenko, & Ken Shamrock. Just two big names, with Ken not even being a shell of his pre WWE self and Silva yet to become the dominant fighter we now know. Sure, Kondo and Tanner are at least quality fighters, but they are also fighters who have no trouble fighting at 185. Ortiz won some of these fights impressively, but bullying guys you should bully isn't really all that impressive. Couture faced much tougher opposition, beating guys like Vitor Belfort (when he was undefeated and supposed to be so great), Maurice Smith (after he'd won the EFC then UFC titles), Jeremy Horn, Kevin Randleman, Tsuyoshi Kosaka (when he'd only lost to top strikers), Pedro Rizzo, & Chuck Liddell (after Ortiz wouldn't fight him). Still not the greatest list, but Couture was always offered the fight that was supposed to be tough (since they didn't care if he lost) and he accepted them. If nothing else, he's faced a much more diverse group than Tito has. The only wrestler Ortiz beat was Matyushenko, and that was Matyushenko's UFC debut when he wasn't at full strength because he had problems making weight.
Ortiz, who could have fought heavyweight like Couture used to, was the bigger and more powerful looking fighter. However, it's a good thing he didn't because wrestling is his only real skill, and Couture consistently overpowered him, winning all the clinch battles. The clinch was basically the whole fight, or rather Couture winning the clinch meant he totally dominated the fight because once he took Ortiz down from the clinch Ortiz stayed down. Couture took Ortiz down in every round, usually within 30 seconds (it took a whole 90 seconds once), and the turtle only managed to get back to his feet twice. Those two times, Couture simply took Tito down again. Ortiz was simply no match for Couture's wrestling, as anyone who took two seconds to consider their respective amateur wrestling careers would have realized.
Ortiz is always hailed as one of the kings of cardio, but it looked like he was tiring in the second round. He never gassed, but he was quite inactive while on his back. He went for a few submissions and reversals, but for the most part he lay around holding on. Couture totally dominated him. Ortiz didn't have one decent offensive move in the whole fight. He couldn't take Couture down and couldn't reverse him. When he tried to keep it in standup, Couture quickly got a hold of him and soon had him down.
Couture tried a few chokes, but the one big hole in his game is he can only finish with ground and pound. This has rarely cost him, though certainly against Ricco Rodriguez at UFC 39 9/27/02, but it means he always has to go 25 minutes without making a big mistake since he's always in the title fight.
Couture just plugged away tirelessly, as always. He doesn't stray from his game plan and he doesn't take chances. He doesn't need to because he knows he can just take the opponent down and pound on them next round. The best way to describe this fight is repetitive. It was exciting while it was going on because it was a big match, and even though Ortiz never showed any signs of life, you know how many matches he's won and how good UFC tries to brainwashing us into believing he is. You also know that Couture dominated Rodriguez for 2 rounds and then the fight totally turned, and that Couture has a bad history when he's on his back, which is where Ortiz's opponents tend to be. I enjoyed the fight because the punk was finally facing a guy that could put him in his place but it's not exactly a fight I'll be watching over and over.
Couture won every round. He was so dominant that 2 of the 3 judges had it 50-44. The Huntington Beach Baby Boy did strap the belt around Couture's waist, though this was after he yelled in disgust, threw his mouthpiece, held his hands on his ears, and looked like he was going to cry. 5R
BACK TO QUEBRADA REVIEWS


* MMA Review Copyright 2003 Quebrada *