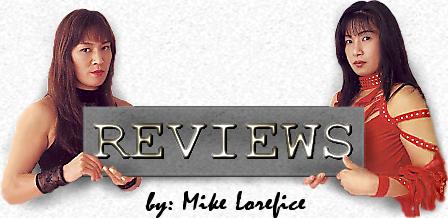 DSE PRIDE FC BUSHIDO Vol. 3 PPV
5/23/04 Kanagawa Yokohama Arena (14,536)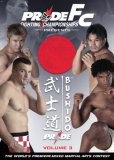 The third installment of Bushido wasn't looking like the most promising of shows. It was a one-match show built around the first meeting between Wanderlei Silva and Yuki Kondo, but the bout had to be postponed when Kondo was injured. Plan B took effect with another Japan vs. Gracie series, the feature of the original Bushido show. While the outcome of Silva vs. Kondo would have been pretty easy to predict, the Japan vs. Gracie series delivered 3 notable (2 good) matches and was as close as could be, being decided by a controversial split decision. This series, combined with a few good undercard matches to make up for the pathetic freak show and usual lame mismatches, wound up elevating Bushido 3 into the upper echelon of PRIDE shows.
Kim Jin O vs. Shamoji Fujii 1R 2:58. Kim gets the clown of the day award for repeatedly raising his hands like he'd won the championship when in fact he'd received a yellow card. This wasn't even a situation where he did a nasty blow he thought counted big not realizing it was illegal under the promotions rules; he was holding on to the ropes to avoid being taken down. He did it again on Fujii's next takedown attempt, not as flagrantly in this instance, so he got away with it. Fujii eventually got the takedown, and then had his way with Kim, mounting and applying the rear naked choke after Kim surrendered his back. Fujii suffered some cosmetic damage from inside punches while he was trying to take Kim down, but still it was completely one-sided.
Aleksander Emelianenko vs. Matt Foki 1R 3:16. The requisite freak show, in this case also a prime example of styles making mismatches. Foki was giving up 55 pounds, and he's not a standup fighter. He was going to have to take Emelianenko down, and if he succeeded he had to deal with an accomplished sambo who ground and pounds in the style of his brother Fedor. Basically anything Foki did was opening himself up to being manhandled. Ugly jobber match. Emelianenko won with the rear naked choke.
Kazuki Misaki vs. Jorge Patino Macaco 2R. Quite a good job of matchmaking, pitting two fighters that were pretty equally skilled in standup and on the mat. Patino earned the nickname monkey for his hunched stance. He has very explosive hands, which helps against Misaki, who pretty much doesn't even bother to defend his face. Misaki is completely concerned with his own counterpunching, and although I wouldn't recommend it, the kind of confidence in his ability to take a punch proved warranted. Both men looked for openings, but they were always working so the fight had a good pace. The fight had been incredibly close, but the first round ended with Misaki matadoring a takedown and using Patino's momentum to toss him down on the way by. I thought Misaki might have had him beat with a guillotine after Patino tried to get up and single leg him, but it was the bell for the end of the round. Misaki carried this momentum over into round 2, which was far clearer cut in his favor. Patino used a high guard looking for a triangle, but Misaki would pull back and land a good punch. He landed a wicked soccer kick near the ropes when Patino was trying to stand up after switching to his knees. Misaki was quite impressive in round 2 en route to a unanimous decision victory. Very good match.
Carlos Newton vs. Daiju Takase 2R. Newton was far better than in his last UFC appearance, though still far from the fighter we've come to expect. He did enough to win, even though it wasn't a Newton like win. Actually, it wasn't a win at all.
Newton was the more powerful fighter even though he moved up a weight class. He was the better fighter during the brief standup portions, too brief for him I felt, even though that's not his game. He would wind up on top every time it went to the ground. Newton didn't do much from the top, but how many times has the fighter that was on top ground and pounding actually lost the decision?
Takase is a skilled ground fighter, but he's a completely defensive stalemater. He just bottled Newton up, holding him close and never in my opinion making an effort to win the fight. Takase did have some submission attempts, and there was even one very early when Carlos overextended his arm that a fighter lacking Newton's overly flexible joints might have been in trouble from. However, other than potentially one Takase was locking in when the ref called for a standup (which probably wasn't dangerous given Newton), you felt like Newton must be thinking "oh, please" about the rest. I don't feel Newton was aggressive enough or did that much, but he was on top and in control the whole fight for a reason, because he recognized then countered or reversed anything Takase tried. The submissions Takase did try were the result of Newton posting up and trying to get through the guard so something might happen. Renzo Gracie, who knows as much about fighting from his back as anyone, was the guest commentator and largely because of Takase's defensive orientation he said it was Newton's fight. Takase won a split decision. Not a good fight, especially by Newton's standards, but too close to be a bad fight. 2R
Akira Shoji vs. Tsuyoshi Tamakairiki 1R 0:18. Again, when someone needs a win just put them against a sumo. Shoji was making his record 20th PRIDE appearance, and given how many times they've thrown him too the wolves he deserves a break. Shoji missed two punches on the counter, but since the sumo never went back on offense Shoji continued striking and the third was a charm. Once Tamakairiki was knocked to the mat Shoji hammered down until the ref stepped in.
Chalid "Die Faust" vs. Kazuhiro Nakamura 1R 4:45. Chalid is an excellent puncher, but he's still very one-dimensional. He had some takedown defense to hold off the wrestler when he knew it was coming for sure, but he couldn't keep Nakamura from repeatedly trying takedowns, and that's trouble for a standup fighter. A bigger problem was Nakamura was able to strike with Chalid enough, or at least give the impression he was striking, to get Chalid to defend high thus opening up the takedown. As soon as Nakamura got Chalid down he was able to take whatever position he wanted and apply submissions, culminating with the udehishigigyakujujigatame. Good match albeit a bit brief.
Mirko Cro Cop vs. Hiromitsu Kanehara 2R. Mirko came right back trying to erase the loss to Kevin Randleman at PRIDE Total Elimination 2004, which isn't advisable. You could see that he wasn't at full strength, not for stamina, accuracy, or crispness. Of course, he was fighting a guy that really isn't in his weight class who had been out injured since taking a huge beating from Wanderlei Silva on PRIDE 23 11/24/02. Though Kanehara is somewhat lacking in real shoot skills (he's one of the better and most underrated ever at working shoots), he has as much heart as any fighter. He presented no threat to Mirko because he lacks the ability to get him down, but Mirko wasn't likely to win on the accumulation of damage unless the decision to continue was taken out of Kanehara's hands. Kanehara has 9 losses, but he's never been knocked out and the Silva fight showed he wouldn't give up of his own volition.
As many of Kanehara's fights do, this went the distance. Partly this was due to Mirko not being Mirko, and partially because Mirko saw no way Kanehara could hurt him so he decided to try some things. He did a few leg trip takedowns and even tried a couple of submissions, though they weren't properly applied because he didn't dismount. He also used a jumping stomp. The biggest danger for Kanehara was Mirko's repeated soccer kick attempts, but never caught Kanehara flush. Kanehara did a good job of staying out of the danger zone and avoiding the KO blows, but he was kind of hesitant and I thought spent too much time at a distance where he could do nothing (because Mirko has the reach advantage) rather than inside where he could at least try to tie Mirko up. By the end of the fight Kanehara's cheeks were blown up and he had a nasty cut on the top of his head, but because he lasted he won in the eyes of the crowd and assured he'd be invited back.
Nippon vs. Gracie Taikosen: Ryo Chonan vs. Ricardo Almeida 2R. One of the couple best shoots so far this year. An open fight with excellent action, particularly on the mat. We saw things like Chonan connect with an uppercut, but Almeida scoop a double leg and drop him into side mount then advance to full mount, find holes in Chonan's punch blocking then apply the rear naked choke when Chonan gave his back. Chonan kept maneuvering while protected his neck until he ended up in Almeida's guard. Chonan had very good ground movement and defense when it came to fending off submission attempts, but Almeida had little trouble taking the positions he wanted. That was pretty much the only thing that kept this fight down. Though Chonan could go on offense occasionally, Almeida was so dominant position wise that it was hard to believe Chonan could win. Still, Chonan working his way out of constant danger was exciting and too much happened to try to call. Almeida won a unanimous decision. Excellent match<
Nippon vs. Gracie Taikosen: Takanori Gomi vs. Ralph Gracie 1R 0:06. Surprising bout, not really because Gomi won, but no one would have expected him to do so in 6 seconds. Ralph shot in at the bell, but ate a knee. Gomi threw a few more knees before the stoppage, but the first was what did Ralph in.
Nippon vs. Gracie Taikosen: Ikuhisa Minowa vs. Ryan Gracie 2R. This controversial split decision decided the Nippon vs. Gracie series. What's odd about the decision is it seems to go against what PRIDE has taught us about their scoring. We always heard about the decision being weighted toward the fighter who controlled the later stages, which allowed for the comeback and took into account things like gassing the opponent. Now Matt Hume, who should know since he's judged their fights, is talking about it just being the whole of the fight and the stopwatch being more important than the tide.
I should mention that Hume did an excellent job calling this show. Rather than putting himself over as the sexiest and coolest like Bas Rutten does (and that's in between plugging his books), he actually focused on the action. What made Hume good, similar to what makes Ken Shamrock good, is they announce as if they are the coach (which they more often are). They don't spend all their time telling us what we can see, but instead identify the possibilities that a certain movement is opening up. In essence, they are calling what could happen, what the fighter is trying to make happen, rather than saying, "they are in the guard and there's a punch, and another punch."
Gracie controlled the first 7 minutes of the fight. He didn't always look great doing so, but that's partially because of what we expect from certain positions. Minowa repeatedly gave Gracie his back because Ryan is a strong puncher from full mount, and not as good a submitter from rear mount. Also, Minowa is far better at defending submissions than punches. But still, seeing Ryan repeatedly do little with Minowa's back made more of an impression on me than the fact he was still dominating the fight because I expect a finish from that position.
The final three minutes of round 1 were fairly even. Minowa started to come alive, but of course to get a reversal on the mount you have to give up something first. In this case, it was a good right hook countering Minowa's low kick that led to Gracie mounting.
Minowa totally dominated position in the second shorter round. Late in the first round he'd slid Gracie over into the corner pad, crunching him in so Gracie had no room to defend his punches. Most of the second round consisted of this type of ground and pound. Minowa is hardly Fedor, but he landed a number of solid blows. This was a tough strategy because sooner or later the ref would restart the fighters in the center then Minowa would have to crawl Ryan all the way back to the corner, but at least to me it was very successful in scoring.
Scoring is why I'd give the fight to Minowa. Gracie made a lot of good moves in the fight, but they were mostly setup. For the first seven minutes he constantly put Minowa in check for the first 7 minutes, but he not only failed to win, he didn't take any pieces in the process. When Minowa made his comeback he wasn't exactly clearing the board, he wasn't getting the queen or even the rooks, but he got a lot of pawns and maybe a knight and/or bishop. I would have liked to see an overtime, but in absence of one I have to go in Minowa's favor because he'd been pecking away at Gracie until the clock stopped him. Minowa, who has received no breaks from PRIDE matchmakers, predictably losing to Rampage Jackson at Shockwave 2003 & Wanderlei Silva at Bushido 2 in his first two bouts, now got no breaks from PRIDE judges. Obviously, the fans weren't happy with the decision. The match itself was good, but the series being tie and the match being so close elevated it and the show as a whole. Very good match.
BACK TO QUEBRADA COLUMNS
BACK TO QUEBRADA REVIEWS


* MMA Review Copyright 2004 Quebrada *