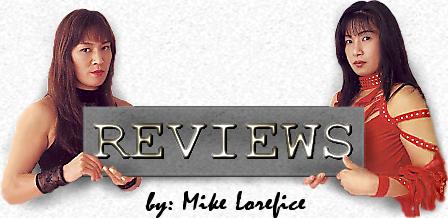 PRIDE FC BUSHIDO Vol. 2 2/15/04 Kanagawa Yokohama Arena
by Matt White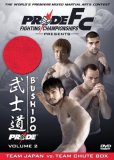 If UFC 46 was "UFC RAW" and PRIDE 27 was "PRIDE SMACKDOWN" then this show seemed to be "PRIDE VELOCITY." Basically, it was a lot of filler matches with the only attractions being Mirko "Cro Cop" Filopovic and Wanderlei Silva doing what seemed like high profile jobber matches. At the beginning of the show, the announcer called the show "PRIDE BUSHIDO 2: Enter the Samurai," meaning someone at PRIDE obviously celebrates the Cannon video library (but who doesn`t?). Also, if you loved Akebono`s fight with Bob Sapp, then you`ll love to know that former Sumo guy, Sentoryu, announced he is going to be in the next Grand Prix. Oh boy!!!!
Bushido Challenge Match #1: Choi Mu Bae defeated Yuusuke Imamura in the 1R 4:08 with a choke sleeper
The Bushido Challenge matches are two rounds, five minutes each. Imamura is from Takada dojo and he didn`t do much of anything. Most of Bae`s offense was a crappy ground and pound (or since this a Smackdown brand show, should I be like Michael Cole and call it "pound and ground?"). Bae is from South Korea and in case you didn`t know that, he reminded us of the fact before and after the match by waving his flag around. MMA is really popular in South Korea, so I figured it was only a matter of time before they started bringing in Korean fighters (or PRIDE promoted in South Korea).
Bushido Challenge Match #2: Yushin Okami defeated Ryuta Sakurai via unanimous judges decision
Sakurai is from Shooto and Okami is a Judo guy. They had a quick exchange at first, but then Okami dominated most of the match with "pound and ground". They then did their traditional opening where they introduce all the fighters. It was really cool, with Taiko drums, falling snow, a forest background and an orchestrated version of the Blade Runner theme (I have no idea how that fits in to the whole traditional Japanese theme of the show).
Yasuhito Namekawa defeated Egidijus Valvicius in 1R 1:05 with a neck lock
A rematch from RINGS World Title Series 4 10/20/01 where Valvicius scored a quick win. This time the bout was even shorter, but Namekawa came out on top.
Sean Sherk defeated Ryuuki Ueyama by unanimous decision
I should note that the regular matches on this show are only two rounds (first round ten minutes followed by a second five minute round). That's a long time when Sherk is involved...
Mario Sperry defeated Mike "Batman" Bencic in 1R 11 seconds via KO
Bencic is Mirko`s trainer, but you wouldn`t know it by this match. He refused to shake Sperry`s hand and that seemed like the wrong move because Sperry downed him quickly. Who says that ground fighters aren`t good at stand-up??? I want to see more of Sperry. Brazilian Top Team is my favorite fighters stable.
Daiju Takase defeated Chris Brennan via unanimous decision
Rodrigo Gracie defeated Hayato "Mach" Sakurai via unanimous decision
Sakurai got a huge pop, but didn`t do much in this match that was generally devoid of action. Sakurai spent the first round in the guard and the second round on top. In the first round, the ref ordered them to spice up the match some, but they didn`t comply.
Bushido Premium Match: Mirko "Cro Cop" Filopovic destroyed Yoshihisa Yamamoto 1R 2:12 via KO
In the pre-fight package they said Yamamoto defeated Kerr with a "DDT." Yeah, and Janet Jackson had a, "wardrobe malfunction." Mirko met with Japanese Priminister Junichiro Koizumi for 30 minutes this week. He said they talked about fighting. I`m glad they are tackling such important issues. After a couple of low kicks, Yamamoto taunted Mirko by implying his kicks had no effect. Yamamoto stopped the fight twice by claiming something was stuck in his eye. This obviously didn`t please Mirko because he then went to town by first knocking Yamamoto to the ground and then soccer kicking him a couple of times. Yamamoto was dumb enough to get up and then Mirko finished him with a flurry of kicks and punches. In case you didn`t know (because PRIDE obviously thinks they haven`t gotten the point across): MIRKO IS A MONSTER!!!!!!!!!!!!!
Chute Boxe vs Japan: Takanori Gomi defeated "Wanderlei" Jadson Acosta 1R 4:55 via KO
I personally feel this series of matches is more intriguing than the previous "Japan vs Gracies" series because the Chute Boxe guys are more exciting. Acosta didn`t live up to his namesake as Gomi got the mount early and the Brazilian seemed clueless on the ground.
Chute Boxe vs Japan: Mauricio "Shogun" Rua defeated Akihiro Gono (Pancrase) in 1R 9:04 via KO
Gono spent most of the time avoiding Shogun`s strikes, but seemed to just be delaying the inevitable. Shogun finally caught Gono with a punch then grounded him with a knee. After a couple of punts, the ref stopped the match.
Chute Boxe vs Japan: Wanderlei Silva defeated Ikuhisa Minowa in 1R 1:09 via KO
I really thought this match would be longer. They were pushing Minowa hard, but he didn`t live up to the hype. He shot immediately and got Silva on the ground, but he was leveled with punches from the guard, which knocked him out. Pretty impressive victory by Silva. I have never seen a guy so completely destroyed while in the guard.
BACK TO QUEBRADA COLUMNS
BACK TO QUEBRADA REVIEWS


* MMA Review Copyright 2004 Quebrada *