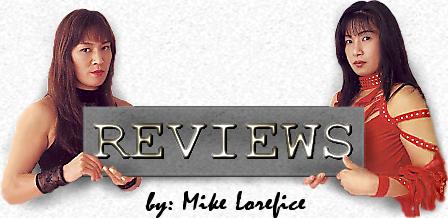 DSE SKY PerfecTV! LIVE SPECIAL PRIDE.27 The Triumphal Return
PRIDE FC 27 Inferno
2/1/04 Osaka Jo Hall (13,366)
by Matt White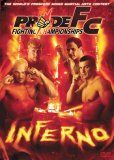 On February 1st Dream Stage Entertainment (DSE) put on PRIDE 27 "The Triumphal Return", a mid-card show to end all mid-card shows. The main feature of the show was a group of five matches called "The Survival", which were geared for mid-card guys to compete for spots in the upcoming Open-weight Grand Prix that will begin in April. Basically, it is a gimmick to repair the image of four "damaged" fighters (Igor Vovchanchyn, Heath Herring, Mark Kerr and Mirko "Cro Cop" Filopovic), and introduce a new fighter (Sergei Kharitanov, who fought on the first Bushido show). Well, with exception to Kerr, I guess they got the job done, but at what expense?
The show was somewhat lackluster after all the loaded shows PRIDE has been doing recently. 2004 seems like a busy year for DSE as they are getting real PPV happy. It seems they have a PPV scheduled almost every month. In two weeks they will be putting on another Bushido show with Wanderlei Silva as the only marquee performer scheduled. In March, it is another "Hustle" show with Zero-One and in April round 1 of the Grand Prix begins (and then another Hustle show in May, I think). At least this show built towards the Grand Prix. I have no earthly idea what the Bushido PPV`s do for anyone.
The Survival 1: Igor Vovchanchyn defeated Dan Bobish in the 2nd round in 1:45 by KO
Match started with a lot of feinting. In technique alone, Bobish looked out of his league. He shot on Igor, but couldn`t get anything going on the ground. His corner was yelling at him to use some knees, but he didn`t seem to be listening. After a standing exchange late in the 1st round, Bobish looked gassed. In round 2, Igor just went all out with punches and the ref had to stop the match. Vovchanchyn looked a lot more confident and in his element than he has in is past couple of appearances.
The Survival 2: Sergei Kharitanov defeated LA Giant in the 1st round in 1:23 with an armbar
Giant is a Zero-One guy (from UPW I think) who`s only attribute seems to be that he`s big. In Japan, that can help you get away with a lot, and I guess Takada really liked the Giant Silva match from Otoko Matsuri. Kharitanov dominated from start to finish. Giant got a few punches in, but couldn`t even begin to stop the Russian. Kharitanov easily handled Giant on the ground. It seemed totally effortless. The Russian Top Team has the best and most exciting ground and pound in the world. Good jobber match because it made me look forward to seeing Kharitanov in the Grand Prix.
Murilo Ninja Rua defeated Alexander Otsuka in the 1st round in 5:25 with a katagatame
This was in the #3 position on the show, but had to be moved to #4 when Ninja kneed Otsuka in the jewels, stopping the fight (I don`t know if they will air that on the US PPV). They started in a clinch then it went to the ground. Otsuka did next to nothing except give his back to Ninja (who wasn`t doing much either). There was no Wanderlei at ringside. I guess he`s training for Bushido.
Kazuhiro Nakamura defeated Dos Caras, Jr. by a 3-0 unanimous decision
A good little match. This was an early UFC style wrestling vs. Judo type match. Nakamura had a hard time taking Caras down. When they got to the ground, they kept busy. At one point in the first round, Nakamura attempted the Sakuraba handspring from Saku`s PRIDE 10 match with Renzo Gracie. They even did some striking exchanges, but they were sloppy. Caras attempted a round house kick several times, but could never land it because he was too slow (that is the hardest kick to land because you need to be lightening fast, like Mirko Cro Crop, and Caras is just a novice at striking).
Round 2 was mainly some weak exchanges. Referee Yuji Shimada issued a yellow card. He loves the yellow card. WHAT A HEEL!!!!! In Round 3, Nakamura came out extremely aggressive, taking it to Caras standing and then ground and pound. In the whole match, Nakamura tried three armbars, all of which Caras rolled out of. Nakamura was not the clear winner, and he even thought so because he was shaking his head as the judges announced their decision. After the match he apologized to the audience for his performance.
They then aired the goofy cellphone commercial with Emelianko Fedor. I guess this means he`s still with PRIDE after all the Inoki nonsense.
The Survival 3: Yoshihisa Yamamoto defeated Mark Kerr 1st round in 40 seconds via ref stoppage
Kerr looked very trimmed down (I guess he`s off the roids) and a little out of shape. Yamamoto looked about as excited as a dog about to be put to sleep. Kerr shot in on Yamamoto and put him down, but was reversed and met with a flurry of punches. The ref quickly and suspiciously stopped the match. Turns out in the replay that Kerr might have stunned himself in the take down by landing on his head. What a return for the Smashing Machine.
The Survival 4: Heath Herring defeated Gan McGee via 2-1 judges decision
The best match on the show. Mainly a kickboxing match. I guess the Giant Silva match on New Years Eve was preparation for this match because McGee (6'10") is also significantly taller than Herring. Herring was a little more reserved than usual.
The first round was pretty even as neither fighter's strikes seemed to have any effect. In Round 2, Herring knocked out McGee`s mouthguard. Everytime McGee threw a punch, Herring would counter with a low kick. Seems Herring is very comfortable with counter striking. However, in the 2nd round it seemed apparent that McGee`s strikes were doing more damage because Herring had a nice cut under his right eye. In Round 3, Herring charged McGee swinging. McGee seemed gassed and overwhelmed. While in the clinch, McGee`s corner was screaming for him to throw some knees but he wasn`t listening (what's the point of a corner if you never listen to them?). Three minutes in, McGee rocked Herring but was too gassed to follow up. Herring landed some more punches at the end of the round and that seemed to stick in the memory of the judges because they gave him the decision in a fairly even fight. Herring`s punches throughout the fight didn`t seem to be connecting, but he was the aggressor. He would just lower his head and charge in. Even if you don`t think he is a good fighter, at least he has exciting matches.
The Survival 5: Mirko "Cro Crop" Filopovic defeated Ron "H20" Waterman in 1st round 4:37
After watching some of his Pancrase stuff, I wondered why WWE let Waterman go because he has the look that Vince drools over. I got my answer when Waterman entered with a Christian heavy metal song and then prayed before entering the ring. I guess Vince figured that Waterman wouldn`t go along with doing necrophilia angles and the like. Match started with Waterman shooting in and trying things like a neck crank a couple of times. He really couldn`t get anything going because Mirko would not stay still on the ground. Due to his excessive wiggling, Cro Cop eventually got free and put Waterman on the ground by grazing him with a roundhouse kick. From there, Mirko just leveled him with soccer kicks and the ref stopped the match (a possible preview if Mirko were to meet Fedor?). Afterwards, Mirko, while breathing very heavy, said he looked forward to more fights in K-1!!!! The crowd laughed and he corrected himself by saying he looked forward to more fights in PRIDE.
Both this and Bushido 2 are interesting experiments for PRIDE. Unlike K-1, they haven`t been able to build around foreigners and these two shows are built around Mirko and Wanderlei Silva. They changed the Grand Prix from Heavyweight to Open-weight because they didn`t have any marquee Japanese heavyweights (well, maybe Takayama but he`d get slaughtered in the 1st round) to put in the tournament. I guess it's a goal of the promotion to start marketing their foreigners more. To compliment that, Antonio Nogueira was on the cover of the Japanese equivalent of Sports Illustrated a few months back. It is supposedly rare when a non-Japanese makes the cover.
BACK TO QUEBRADA COLUMNS
BACK TO QUEBRADA REVIEWS


* MMA Review Copyright 2004 Quebrada *