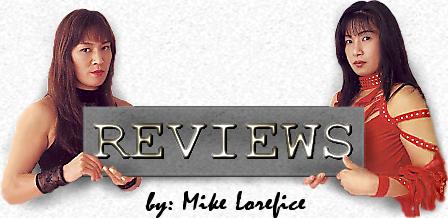 K-1 WORLD GP 2008 in YOKOHAMA
4/13/08 Kanagawa Yokohama Arena
Hiroyuki Enokida vs. Takashi Tachikawa. 37-year-old Enokida made his K-1 debut in what may have been the worst defense exhibition ever, just walking into punches and flopping twice win the first 20 seconds, though he still managed to quickly win the fight! My father sat down just after the bout started and when Tachikawa knocked Enokida down with a left straight 5 seconds into the match he asked if this was worked or shoot, so I told him it was shoot. However, with Enokida getting knocked down a second time with a left straight and right cross 20 seconds in then coming back to knock Tachikawa out with the first punch he landed when the simultaneously connected with right hooks, he's sure I was pulling his leg. Lame match.
Alexander Pitchkounov vs. Chalid "Die Faust" 5R. As close a fight as you'll ever see; all five rounds were even. Chalid started fast, landing his body blows, but Pitchkounov still blocked his head punches. Pitchkounov tried to counter with kicks, but Chalid did a good job of closing the distance and working his boxing from inside. Pitchkounov was able to use his reach to back Chalid up with kicks and jabs in the second, but took some solid hooks and uppercuts on the inside. Chalid basically only punches, using low kicks in an effort make his opponent defend a larger portion of the body, but he was so timid with them it barely mattered. His stamina isn't bad, but his style is all about aggression, so between slowing up a little and growing increasingly predictable he's not as strong in the later rounds. His wife also gave birth the day before he flew to Japan, so he wasn't as focused as he should have been. Pitchkounov tried to slow Chalid with body knees and low kicks. He'd get aggressive in the final minute of the rounds, backing Chalid up with kicks and knees to the midsection and head punches, but it still wasn't enough to steal the rounds until the judges were forced to finally make a decision. Even then, one voted for Chalid. Neither did a lot of damage, but they fought hard. Above average match.
Mitsugo Noda vs. Petr Vondrachek. Fairly exciting fight mixing Noda's speed and technique with Vondrachek's size and power. Vondrachek won five of his first 6 K-1 bouts including winning the 2002 Italia GP on 4/8/02, but has lost his last 6. It's easy to see why, as he was way out of shape, just brawling with looping hooks. Vondrachek's footwork was terrible, stumbling all over the place, winding up with his back turned, and getting shoved down by his much lighter opponent. Noda did an excellent job of controlling position, repeatedly backing Vondrachek into the corner with straight punches then flurrying with punch combos until the ref called the down. This occured once in the first, with the bell saving him from a repeat. Noda had his second down when Vondrachek turned his back because he got tired of getting peppered in the corner. Vondrachek landed a nice hook here and there, but the ref wouldn't allow his strategy of leaning on Noda to tire the opponent while he rested. Still, he made a brief comeback seeming to have Noda in trouble in the final minute of the second. The tide turned back quickly though, as Noda wobbled Vondrachek him with a ½ clinch uppercut then put him away with a series of punches. Above average match.
Keijiro Maeda vs. Mighty Mo 4R. I have to be seriously hard up to root for a guy with a Tanny Mouse tail and pigtails, but I must admit I enjoyed Maeda's example of how a small quick fighter can pick apart a powerful sloth. The 2007 YOUNG JAPAN GP winner fought a smart fight, avoiding Mo when he was fresh, chipping away with low kicks in the middle, then attacking late when the Samoan had once again been transformed into Slo-Mo. Maeda wasn't exactly elusive early, he mainly refused to engage, instead trotting around the ring. Mo knocked him off his feet with an overhand right, but Maeda was up quick enough that it wasn't even ruled a flash down. Mo had few highlights after though, as he displayed no aptitude for cutting off the ring, simply standing in the center and turning to adjust to his circling opponent. Thus, Maeda attacked whenever he wanted, getting close enough for the low kick than running like hell. If Mo was able to get too near Maeda, he'd essentially shoot for a double leg. Maeda wasn't driving for the takedown, but by ducking and grabbing the waistlock Mo wasn't able to punch him (it would be a rabbit punch) and the ref would quickly separate the fighters. Maeda came on in the third when Mo's failure to check the low kicks began to catch up to him, but since he probably lost points for not fighting early it still wasn't quite enough to win the judges over. Maeda didn't land many good shots other than his third low blow where he tried to follow a right jab with a low kick, but Mo backed away, and quickly was folded over from the direct hit. Between the legal and illegal low kicks, Mo wasn't looking very lively in the extra round, leading to a unanimous decision for Maeda Mouse. Good match.
Glaube Feitosa vs. Alex Roberts R2 1:58. Top ranked Shoot Boxer Alex Roberts made his K-1 debut. They had similar strengths with low kicks and the ability to work the body, but Feitosa was too strong for Roberts. Feitosa too often relies upon his kicking, but as he could manhandle this opponent he just stood in front of him and punched around and through his defense. Once he put enough uppercuts and straights through the block, exploding his nose, he was able to catch Roberts with his Brazilian kick for the KO. Above average match.
Badr Hari vs. Ray Sefo R1 2:43. Hari announced his arrival as a major fighter, putting everyone on notice by beating the hell out of one of the promotions longtime luminaries. Sefo looked to get inside Hari's kicks, coming forward with a counter punch, but after brief success Hari was having none of it, blocking all his overhand rights. Sefo is at his worst when he gets into being a stationary target slugging it out, his lack of any lateral movement making him easy prey for a good opponent, much less one giving a major performance. Hari repeatedly backed Sefo into the ropes and went to town on him, unloading big knees and heavy punches against a sitting duck who was only covering. Sefo got up from two knockdowns, but the story was always the same, once he ran out of room he was brutalized, probably sustaining a broken nose from a knee before the ref finally called a halt to it. Though not the least bit competitive, certainly the most exciting fight on the show. Good match.
Junichi Sawayashiki vs. Musashi R2 2:16. Sawayashiki had the chance to claim the #1 native rank in just his 7th fight, but two time WORLD GP finalist Musashi wasn't ready to surrender the mantle just yet. The first round was marked by near misses, but the veteran took over in the second, nearly knocking Sawayashiki out when he followed a body knee with a left high kick. I thought they could have stopped it after the first knockdown as Sawayashiki didn't appear to be all there, but K-1 seemed to be hoping the new sensation could win, as the ref gave Sawayashiki every opportunity to continue. Sawayashiki managed to tie Musashi up after being backed into the corner, but actually began to collapse into the rope after the break. The ref may not have seen it as he was probably busy getting Musashi away, but Musashi made good on his second chance, knocking his still wobbly opponent down with a left uppercut as soon as they restarted. Again Sawayashiki didn't appear to be on solid ground, but the match continued for a few more seconds until Musashi sealed it with a left hook. Average match.
Yusuke Fujimoto vs. Ewerton Teixeira R5 2:01. Kyokoshin Karate world champion Teixeira made his kickboxing debut, trying to show his powerful kicks, but Fujimoto wanted no part of them, standing well out of range. Fujimoto's strategy was to force a boxing match by only engaging when Teixeira came in to punch. I realize that my description doesn't make the most sense, but Teixeira was rather flatfooted, seeming unable to kick on the move or from the inside because he didn't have time to plant his feet. Though both did land some hard low kicks, the contest was more of a chess match, something of a battle of wills until Teixeira would get tired of kicking air and agree to box. Fujimoto was aggressive in the boxing portions, doing a good job of countering with left hands, but that's not his power hand. Fujimoto was good for three rounds, but slowed down in overtime. Both had their moments, but neither did anything decisive until the 2nd extra round when Fujimoto started to throw a left body blow only to duck into a left straight for the knockdown. Fujimoto has enough trouble maintaining his balance when he's fresh, so the loopy version managed to stumble his way to a down without really even getting hit. It didn't matter, as Fujimoto had so little left after the first down that Teixeira was able to finish him decisively with a left straight/right cross combo. Average match.
K-1 Super Heavyweight Title Match: Semmy Schilt vs. Mark Hunt R1 3:06. Returning after the collapse of PRIDE, Hunt received a title shot in his first K-1 match since 5/3/03. Unfortunately, he's a tailor made opponent for the giant, who had as little trouble as you'd expect using his massive reach advantage to keep the slugger out of punching range. Really, this was too easy, like taking candy from a baby. Schilt is only getting better, as in the past he would have been content to pick away with jabs, low and front kicks for the easy decision, but as we saw against Glaube Feitosa at the WORLD GP 2007 FINAL, now when his confidence is soaring he pulls out more advanced techniques that can finish. In this case, he knocked Hunt out with a spinning heel kick.