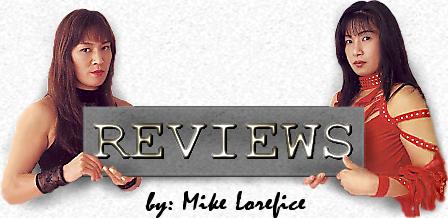 K-1 HERO'S 6 8/5/06 Tokyo Ariake Coliseum
Alexandre Franca Nogueira vs. Boku Kotetsu 2R. Boring fight that was essentially a stalemate. Nogueira has no standup game, so he'd just shoot at first opportunity. In R1, he was taking Kotetsu down and utilizing ground and pound. Kotetsu wanted to strike, but in R1 he couldn't stay on his feet. In R2, he stopped Nogueira's predictable shoots, but in focusing on that he couldn't really commit to his punching. He landed a few good shots and had a brief good flurry of ground and pound. Poor match.
Semmy Schilt vs. Min Soo Kim. Not as bad as the previous match, but rather awkward. Schilt badly bloodied Kim's nose with a short left. Kim got the takedown to side mount, but was painting the canvas with red drips. Kim tried to stand over Schilt and punch down on him, but Schilt triangled him. It's weird seeing such a tall man utilize a triangle choke. Poor match.
Middlekyu Sekai Saikyo Oja Kettei Tournament (Middleweight World's Strongest King Decision Tournament) Quarterfinals
Hideo Tokoro vs. Ivan Menjivar 2R. Exciting fast paced match with several quick scrambles on the mount, countless position changes, and both going all out for the duration. Tokoro knew he was overmatched, so he threw caution to the wind, even rolling around the canvas looking to hook Menjivar's leg. Tokoro was extremely aggressive and very unconventional. He had several submissions at least partially applied, but Menjivar usually closed the door as soon as he opened it. Menjivar is a much better striker, and he was the one who did the damage during the fight. He never hurt Tokoro, but he was pretty accurate and made Tokoro pay for some of the gambles he took. Both fought very well, and I didn't see enough of an advantage on either side to call this anything but a draw. Very good match.
J.Z. Calvan vs. Hiroyuki Takaya 1R 0:30. Quick highly impressive KO for Calvan with his flying knee.
Rani Yahya vs. Kazuya Yasuhiro 1R 1:08. Yahya fought very aggressively, taking Yasuhiro down and going right into ankle lock. Yasuhiro kicked Yahya off with his free leg and got back to his feet. However, Yahya took him right back down, maneuvered to north/south position and took him out with a Brabo choke.
Caol Uno vs. Black Mamba 2R 3:30. Uno wasn't at his best here, as he wanted no part of standup so he quickly became quite predictable in shooting immediately. He obviously had Mamba's spectacular quick KO of Hideo Tokoro from HERO'S 5 in mind, as though Mamba can strike the vast majority of his matches end via submission. Mamba hurt Uno early, as in attempting to shoot Uno ducked right into a big knee that I believe was intended to be a right high kick. I was surprised Uno wasn't KO'd, and Mamba was certainly thinking finish pouncing right on him and flurrying in hopes of a ref stoppage. Uno survived, but pretty well refused to return to his feet, crawling around the mat and grabbing Mamba's leg. Uno was getting punished utilizing this method, including getting his right eye busted open, but when he finally secured both legs he scooped Mamba to the canvas. Mamba wasn't looking too impressive on the mat, but after putting himself in harms way he was able to defend the rear naked choke. Mamba got two takedowns in R2 as Uno was sloppy, jumping at Mamba to close the distance and lock him up as quickly as possible. I felt Uno would have lost the decision, but he managed to avoid putting it in the judges hands. Pretty good.
Light Heavykyu Sekai Saikyo Oja Kettei Tournament (Light Heavyweight World's Strongest King Decision Tournament) Quarterfinals
Yoshihiro Akiyama vs. Taiei Kin 1R 1:59. Akiyama give the kickboxer any opportunity to strike, tying him up immediately and wrestling him to the canvas when his judo throw failed. Akiyama got an arm bar, but Kin completed all his steps to escaping, turning and getting to a squatting position, except freeing the arm itself. Akiyama was now lying stomach maintaining the lock, and it looked as though there was a lot of pressure on Kin's forearm, though Kin wasn't reacting as if he were in agony. The ref stopped it, which needless to say didn't please Kin. It's possible it was a good call, but as Kin had progressed this far it was a rather infuriating one given all that was left to do was utilize the better position he'd attained to take his arm back.
Melvin Manhoef vs. Crosley Gracie 1R 9:12. Worst match of the year candidate. Gracie's strategy was to only fight on the ground, while Manhoef's was to only fight on his feet. Gracie couldn't get Manhoef down in any manner, so rather than give in he simply dropped to his back every time Manhoef hit him. No amount of yellow cards could deter him. The fans began booing Gracie every time he employed this strategy, which says a lot given the show eminates from Japan. Manhoef got so pissed he finally tried some ground and pound. Gracie tried to roll away, but wound up in the corner trapped on his side unable to do anything beyond cover up. The ref should have restarted them in the center as Gracie was barely even in the ring, but Gracie hadn't earned any favors. In fact, it was more like everyone was just looking for an excuse to get this travesty finished.
Super Fight: Yoshihisa Yamamoto vs. Don Frye 1R 4:48. One-sided match. Yamamoto looked bad. Frye locked a standing guillotine, but Yamamoto kept backpedaling to avoid being dragged down until he ran out of real estate, at which point Frye drove him through the ropes. Maybe Yamamoto never recovered, as the short little hook Frye put him down with didn't look that deadly.
Shungo Oyama vs. Rodrigo Gracie 2R. Oyama had a consistent careful ground and pound that never threatened to stop Gracie, but was enough to avoid any standups. Gracie used an open guard, but was trying to push Oyama away with his feet rather than attempting submissions. I'd understand the strategy if I were viewing a fighter who thought he could win on his feet. Okay for a while, but got real dull given the entire fight was the same.
Kazushi Sakuraba vs. Kestutis Smirnovas 1R 6:43. Crazy all action match. Smirnovas fell after landing a middle kick, so Sakuraba rushed to take advantage. However, in the wild exchange Smirnovas knocked him down with a hook. I thought the ref stopped the fight during the ensuing ground flurry, but he simply reset them as Sakuraba was in the ropes. Sakuraba face was bloodied and bludgeoned. He was getting mauled, but K-1 didn't want him to lose his highly anticipated debut, so he was granted a considerable amount of leeway. Sakuraba showed some life with knees then flurries of punches once he got back to his feet. He was tired from taking so much punishment, but Smirnovas seemed even more gas as he emptied most of his tank trying to finish the fight. Sakuraba bloodied Smirnovas face with some good shots to the nose, and suddenly Sakuraba was looking the less abused of the two. Smirnovas escaped to the ground as he wasn't liking the punishment he was taking on his feet, but giving Sakuraba an advantageous position on the ground typically made for a quick trip to the showers. Very good match.
BACK TO QUEBRADA REVIEWS


* MMA Review Copyright 2008 Quebrada *