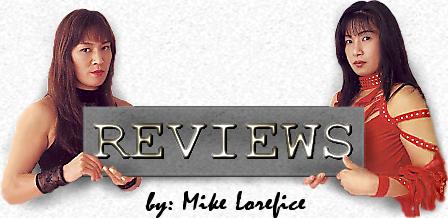 K-1 HERO'S 5 5/3/06 Tokyo Kokuritsu Yoyogi Taiikukan
Tom Erikson vs. Antonio Silva 1R 2:51. The problem with being such a dominant wrestler is you're normally only on your back in practice, and due to that you probably don't work on it as much as something you anticipate taking place in the fight. Silva surprisingly took Erikson down, and Erikson looked bad, never threatening to make it back to his feet.
Don Frye vs. Akebono 2R 3:52. One of the worst, dullest, lamest fights I've ever had the misfortune of being tortured by. Akebono's whole game is pinning his opponent in the corner or against the ropes and leaning on them. I'm not sure if that's supposed to be fighting or it's how he achieves his Akeboner, but the fight had a snail's pace and bad punching was the most you could hope for. Despite the perpetual inaction, Akebono completely ran out of gas and just gave up as far as I could tell. Frye "knocked" him down with a weak low kick when Akebono was off balance trying to punch and forced him to submit to a "guillotine choke" that had no leverage and may not have even been locked on the neck. Beyond awful.
Middlekyu Sekai Saikyo Oja Kettei Tournament (Middleweight World's Strongest King Decision Tournament) 1st Round
Ivan Menjivar vs. Taiyo Nakahara 2R. Uneventful match that may as well have been kickboxing. Menjivar was clearly the better striker, though he did little damage. Nakahara didn't seem to have much of a game plan and never changing things up.
Rani Yahya vs. Ryuki Ueyama 2R. All on the ground. I thought this would be exciting, but they are so skilled they largely negated each other. They tried to use ground and pound to create openings, to little avail. Yahya worked hard for an arm bar then kneebar at the end. Close, fairly interesting fight.
Hidetaka Monma vs. J.Z. Calvan 1R 2:06. Calvan immediately knocked Monma down with a front kick. Monma had guard, but allowed Calvan to stand up hoping he'd expose a limb to submission, but instead he wailed Monma with hammerfists that left Monma too dazed to even attempt to regain body control.
Hideo Tokoro vs. Black Mamba 1R 0:35. Tokoro tried to shoot when Mamba kicked, ducking into it and turning it into a wicked knee to the head.
Caol Uno vs. Ole Laursen 2R 4:36. Uno controlled position the entire fight, keeping it on the ground. He had Laursen's back at the end of R1, so Laursen just tucked his neck for the final minute, getting punched repeatedly but living to fight another round. Uno was less active in R2, concentrating solely on gaining the proper position for a submission. Pretty good.
Super Fight: Yoshihiro Akiyama vs. Katsuhiko Nagata 1R 2:23. Nagata didn't seem to have a standup game, but surprisingly couldn't get the takedown. Akiyama's punching was too good for Nagata, especially since he had no offense at all. Akiyama took him out with a beautiful spinning savate.
Super Fight: Norifumi "KID" Yamamoto vs. Kazuyuki Miyata 1R 0:04. Yamamoto ran across the ring at the bell, connecting with a jumping knee for the wild KO.
BACK TO QUEBRADA REVIEWS


* MMA Review Copyright 2008 Quebrada *