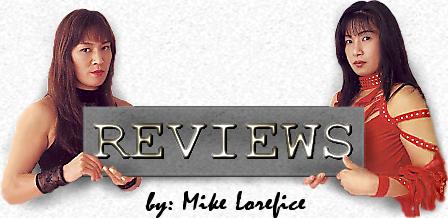 UFC Ultimate Fight Night 3 TV Special
1/16/06 Las Vegas, NV Hard Rock Hotel & Casino

Matt White: Howdy from the Lone Star State with a recap of Ultimate Fight Night 3. The hype for this show was pretty much nil; I didn't even know it was happening until about three days before. Honestly, it felt like an episode of "UFC Superstars," or "UFC Challenge," but it was free TV, and they got over the guys they wanted to get over so there really wasn't much to complain about. Of course, like any good episode of "UFC Nitro," there was going to be a HISTORICAL ANNOUNCEMENT~! That would change the business FOREVER!!!!!!!! The only thing we were missing was Tony Schiavone and a limo.
ML: Thankfully this was free because it's the kind of show you felt like they should have paid you to watch. It was another show designed to attempt to get over the guys they are trying to promote, but UFC, especially free UFC, is much like the old pro wrestling TV shows; you get the guy they want to build up against the jobber in a non competitive match. Since UFC isn't worked the match does have the possibility of being competitive or even good, and there's more than a chance the jobber can win. If any of the aforementioned happens it doesn't take much to turn this to the advantage of UFC, a great match is said to have taken place, a new star said to be created.
Jorge Rivera vs. Chris Leben
MW: In a way, I'm surprised this was the first match because some were talking it up as probably being the show stealer. But in a way, maybe UFC learned their lesson and decided not to open up a show, in direct competition with RAW, with a Josh Koshcheck match. Match started with a clinch and Jorge got a Takayama takedown on Leben. Back on the feet and in to the clinch. Suddenly, a quick exchange occurred and Leben nailed Rivera to the ground. The Crippler quickly followed up with some shots from behind, while El Conquistador was on his knees, and then wiped the sweat from his brow. Well, that was quick. In the post-match interview, Leben pointed out he finished Rivera quicker than Rich Franklin could. Nice try, dude. You should've asked your former teammate, Nate Quarry, about Rich Franklin before saying something like that but it was a good promo.
ML: Terrible fight. 90 seconds of dull clinching then Leben landed a left hook when Rivera was off balance and reigned punches for the win. Leben made his usual cartoon faces after the match.
MW: Chuck Liddell predicted he would knock out Randy Couture and then promoted his appearance on Blade the TV SERIES (yes, it really does exist). I'm not making predictions (but I am), however the last few times guys starred in movies or TV shows and then went on to a fight they didn't come out on the winning end. I recall Mirko Cro Cop was off making some "Croatian-Terminator-Cop-Film-thing," and then in his next fight got knocked out by Kevin Randleman of all people. Liddell would know all this if he'd just sit down and watch Rocky III. Why must we repeat this vicious cycle? They showed Dana White at ringside because, y'know, he has a secret~!
ML: The series is even, but the first fight was a far greater indication of how they match up than the second. Though Liddell avenged the loss through standup, I'm not sold that he corrected the problems that allowed Couture to "surprisingly" dominate him there in the first fight. Couture's recent losses have been more flukish, if he's able to stick to his game plan like he has been in the majority of his career he should once again be victorious.
Josh Burkman vs. Drew Fickett
MW: I don't know Fickett's nickname, but since he beat Josh Koshcheck I think it should be the "The Ultimate Fighter Killer." I mean if he were to beat Burkman as well, they could keep a tally after he beat every TUF guy in his weight class and then bring Randy Couture or somebody to finally stop the destruction. I could turn this business around. Sadly, this great promotional idea won't work because after a quick exchange and being manhandled to the ground, Fickett tapped out to a guillotine. Burkman then called out Diego Sanchez. That's cool. I'm all for guys calling out others rather than saying, "I'll fight whomever the UFC puts in front of me."
ML: Another lame match. Burkman muscled Fickett to the ground. Fickett quickly scrambed to his knees, but fell prone to the guillotine.
The Historic Announcement~!
MW: Dana introduced Matt Hughes as the greatest Welterweight fighter of all time. Mr. Hughes then came out to "Country Boys Can Survive," which is pretty much an historical event in itself. Dana then said Hughes will fight the "Greatest Fighter of All Time," and then a man who doesn't look like Fedor Emelianko walked to the Octagon. It was Royce Gracie. Well, UFC is definitely the house Royce built. So in May it will be Matt vs. Royce. This isn't historical, but it was a big announcement nonetheless. We all know the outcome will be though.
ML: Hughes vs. Royce is a very interesting matchup because, though Hughes has improved in this area, he's still somewhat prone to submission. Hughes tends to fight wrestlers who are not going to do much of anything once Hughes' superior wrestling ability and strength lands him the takedown. Obviously Gracie will fair even worse in that department, but the thing is he won't care. He'll be glad to lie on his back all day and let Hughes try to pound him out. Certainly I'd be very surprised if Royce won, but like Dennis Hallman and Carlos Newton, he's a rare Hughes opponent that's always in the game during the seemingly endless time he'll spend on his back.
Stephan Bonnar vs. James Irvin
MW: They introduced Stephan as a Tae Kwon Do Fighter~! For some reason, the buzz was Irvin could give Stephan a hard time but that just was not the case here. It looked early that Stephan didn't want to trade with him so he took him down and went for a Kimura armlock. Irvin managed to get it back standing but Bonnar got it down again and had a wacky scissors position applied with a Kimura, leading to the victory. Stephan then said he wants a fight with a legend, and he doesn't care who, he's, "all Forrest." If Forrest loses to Tito, then UFC should definitely think about a rematch of their Ultimate Finale 1 match on PPV.
ML: Bonnar took Irvin down immediately and grinded for position while using punches to open opportunities. Bonnar was looking for a submission, working side mount and eventually, through some persistence, winning with the Kimura.
I wouldn't do the Forrest/Stephan rematch right after Forrest lost to Tito because you'd either create a situation where Forrest has two big losses in a row, which hurts a MMA fighter more than it should, or you've built a wall over Stephan because Forrest beat him twice but isn't able to beat the established veteran (implying Bonnar couldn't beat big names either). The best case scenario would be for Forrest to beat Tito and win the title then defend against Stephan, who if he came in strong and lost would not be hurt by it given what Forrest had just accomplished. And obviously if he won it would help him tremendously because it would make it seem like he was better than these big names Forrest beat as well.
Duane "Bang" Ludwig vs. Jonathan Goulet
MW: Bas Rutten was in Ludwig's corner so that meant sure victory for BANG. And I was right because the former K-1 Max fighter knocked out the French Canadian in :11 seconds but it looked a lot faster than that. Really, this is an illustration of what can happen when a top-level kickboxer enters the octagon. They repeated the Historical Announcement.
ML: This was the bonus we got because the first three matches were such quick squashes. Well, it was more spectacular but things weren't getting any more competitive or interesting.
Tim Sylvia vs. Ausserio Silva
MW: I was going to write a round by round recap of this match but decided not to because it was all the same for three rounds. This was basically a C-level kickboxing match that couldn't even air on ESPN 2. Sylvia would throw a combination, Silva would retreat, they would clinch, Silva would get a monkey guard, start back in the middle, Sylvia nails Silva but can't finish him, rinse, repeat. Neither guy looked great in this match. There was a rumor that K-1 wanted Tim Sylvia for a one-fight deal against Jerome LeBanner on one of their upcoming Hero's shows. If this is true, then Sylvia, UFC or whomever should just say no. It would be an embarrassing loss for Sylvia and UFC. K-1 knows that Sylvia is a brawler with a great look who would look great going down for LeBanner and I hope Dana White realizes this as well because it is nothing but a bad idea. Man, the UFC heavyweight division is really lacking right now.
ML: An endless monotonous fight no one deserved to win. Silva just seemed baffled as to how to deal with Giant Sylvia. Even though Sylvia was doing the same few thing he always does, it was a bad matchup for Silva that never got any better. Sylvia is not a good standup fighter; he is rigid, robotic, and slow. Despite all he has going for him physically - his reach was simply too much for this opposition - he did little more than tap Silva's arms with his arm punches. Silva did even less than that. There was a ton of clinching. Silva did nothing in round 1 aside from one kick, but in round 2 he cut Sylvia badly with a flurry of punches I wasn't even sure hit. Silva couldn't get inside though, so most of the time he just stood in front of Sylvia blocking. Silva finally got aggressive at the very end of round 3 because he knew even the lamest offense would top no offense at all, but he couldn't quite get a takedown and that was the end of him.