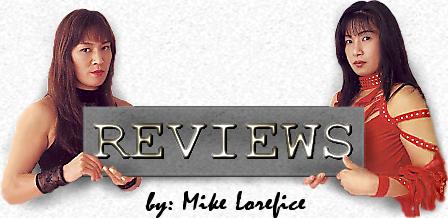 DSE PRIDE GP 2003 Kesshosen THE FINAL CONFLICT PPV
11/9/03 Tokyo Dome (67,451 sellout)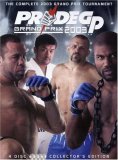 The PPV started off with the most embarrassing angle in the history of MMA. The Dog started running down UFC, not getting much farther than saying they have no middleweights and no heavyweights when Randy Couture popped out and started choking him from behind. As bad as these angles are in wrestling, at least they either give the guy doing the run in time to get pissed off and show up or have him pop out from a door or corner. Couture actually appeared in the ring within seconds of The Dog starting to cut up UFC though. The Dog was talking like he was exhaling helium to make it that much cheesier, begging Bas for help, but Bas said his mother told him not to hit old men. Couture said he spanked the ass of the last guy that called him old (the punk Tito Ortiz), and proceeded to take Bas down and spank him. Somehow, this is supposed to put heat on the UFC/PRIDE feud. I guess if we are as dumb as the ring girls and believe The Dog is better than PRIDE's best…
Dan Bobish vs. Gary Goodridge
Goodridge was actually showing some footwork, circling backwards and hitting Bobish. Goodridge got Bobish in the eye with a left jab, but their bodies shielded the ref. Bobish wanted time out because his eye was cut, but the ref didn't give it to him, allowing Goodridge to take free shots until the stoppage. I always thought Bobish was one of those guys that had little going for him beyond size, but losing in this manner proves nothing. 1R 0:18
Middlekyu GP Junkessho: Quinton Jackson vs. Chuck Liddell
A Similar contest to Liddell's first match in the Grand Sham 2003 against Overeem, except this time Liddell didn't make a comeback. Both wanted to stand, and Jackson was getting off quicker than Liddell, who again wasn't able to get his counter punching going. Even Liddell's biggest cheerleader Dana White was frustrated because Liddell wasn't using any of the low kicks they were planning on.
Jackson stunned Liddell several times during the fight, first with a few stiff jabs, but after that both guys were just throwing power. Liddell recovers so quickly that it's often hard to tell how much damage the blows are doing, and at times I'm sure I wind up underrating the quality of the strikes he gets hit with. On the other hand, a few times he probably went down more from being off balance than from the impact of Jackson's strikes. In any case, this was basically a boxing match and Jackson was clearly getting the better of it throughout. Liddell, who always struck me as sloppy, still has much better technique than Jackson. Jackson was mainly throwing loopy overhand rights, but Rampage was much more active than Liddell, so it wasn't surprising that he was landing a lot more. Liddell was backing up all night, and he never made Jackson pay for his sloppy striking.
Liddell gassed quickly. Perhaps not getting the break after the first five minutes like in UFC hurt Liddell, but he wasn't rejuvenated when he came out for the second round. Liddell got Jackson in the corner twice, but did nothing. The second time, Jackson kneed Liddell then Chuck fell backing away or from Jackson's uppercut and left hook. Jackson did some ground and pound including nasty body punches from his knees and I believe mounted just before Liddell's corner threw in the towel. Liddell was very disappointing, but it was still a good exciting match because he's proven capable of coming back when he's down. 2R 3:10
Middlekyu GP Junkessho: Wanderlei Silva vs. Hidehiko Yoshida
The Dog did something very fitting, he put on black sox before Yoshida's latest scandal. I'm not sure why more people aren't recognizing this as a work, but I'd bet it's that Yoshida didn't win. Yoshida didn't need to win. It would have helped PRIDE, sure, but the Japanese know how tough Silva is and Yoshida going the distance with him and giving him arguably his toughest fight made Yoshida a bigger hero, regardless of the outcome. The guy that gained here was not Silva, at the end of the night yes, but from this match no.
This wasn't a blatant work, and the thing that scares me about calling it a work is that it was almost too good of a work to have been done by guys that aren't workers. A lot of people that weren't the most hardcore fans believed the great 6/27/98 Kiyoshi Tamura vs. Tsuyoshi Kosaka match was real, so that Tamura could fool people with a much lesser worker than Kosaka is still very believable, especially considering how much shorter his match with Yoshida on PRIDE Total Elimination 2003 8/10/03 was. Don Frye might not be a good worker, but he's a guy that's been doing both works and shoots for years, making him an acceptable opponent to put Yoshida over at PRIDE 23 11/24/02. Yoshida, I guess, could be considered a worker after these matches, but he's too inexperienced to expect much from with a non worker in any length match, much less a 15-minute match. On the other hand, if Yoshida is such a good shooter, why work the previous matches and create this mess when those opponents are not on the level of Silva? I realize they felt they needed Yoshida's name for the Tokyo Dome gate, but Kiyoshi Tamura was not the only person they approached with jobbing for Yoshida in August, and it's much easier to get a shooter to shoot because it's embarrassing for guys that haven't done pro wrestling to put someone over, especially on a shoot show where a certain number of people will automatically believe it's definitely real. The only reason not to test Yoshida against a guy he should beat, like they've done with many of the foreigner names they've bought, is if the particular win isn't that important.
PRIDE had already proven they will work losses when they have a guy that would otherwise get obliterated. That guy used to be Nobuhiko Takada, and these works were the single thing that kept him in the main event because he would have been destroyed in a minute or less without them. Takada's works weren't always the wins against Kyle Sturgeon or Mark Coleman, but rather some sort of underhanded agreements that his opponent wouldn't beat him immediately. How else can one explain Rickson Gracie standing there holding a bodylock for all eternity in their PRIDE 4 rematch? Takada never looked as good as Yoshida did here, but Yoshida does have legitimate judo skills while Takada was just a pro wrestler who didn't even apply his submissions properly. I believe Silva vs. Yoshida was a work in the early Takada losses regard where the opponent agrees to take it easy on him. Yoshida may not have even known it was a work, but Silva clearly wasn't himself. It would be much easier to chalk Silva not fighting like Silva up to an off day if we didn't have a vintage Silva performance an hour later to compare it to.
If this was legit Silva must have become the world's dumbest fighter overnight. He must be the only one that doesn't know Yoshida has a glaring weakness is in standup. When Yoshida is presenting exactly zero threat on his feet, why is Silva suddenly afraid to ever attack? Even if he's a counter puncher, he's still one of the most explosive fighters we've ever seen. Sure, he likes to wait and explode, but tonight he just waited, and waited, and gassed. Silva had to know that Yoshida wasn't going to strike with him going in, so it's hard to believe he'd be completely befuddled and unable to attack just because of that. Hardly anyone that ever fought Silva planned on striking with him, but if they didn't want to strike with him they had to come to him at some point to get him to the ground. Yoshida didn't do that, he was basically a stationary somehow couldn't be targeted. I'm not sure that wording makes any sense, but how a guy can stand there with no threat of the strike and no threat of the shoot and not get tagged by Silva isn't explainable unless something is up. Sure, the possibility of Yoshida locking Silva up then judo throwing him exists any time Silva engages, but even if Silva won't knock Yoshida out from long range, he should at least be able to safely strike from the outside.
Silva is known as one of the toughest guys to take down. He is not one of those kickboxers that has his first kick caught and is stuck on the ground all fight. Here, as soon as he tries to strike, he just walks into Yoshida's takedowns, both of which magically had less than no impact. Why is he even getting that close when he could stand out of Yoshida's grasp and kick him with no problem? I know he likes to clasp and knee, but that's hardly his only weapon and it's not one he is likely to try right off the bat unless his opponent gives him the opening.
Most of the first round was fought very tightly in the guard so they could hit each other without doing any real damage. Silva had a long triangle attempt that resulted in Yoshida getting side mount. Silva got to his knees though, lifted Yoshida, and took the top. Silva could have stood up right there, but obviously it makes sense for one of the all-time great strikers to take on a judo champ on the mat.
The usual PRIDE favoritism was in abundance here. Yoshida was allowed to trap Silva's arms for minutes before they did anything even though they'd normally bring out the yellow card in 5 seconds. After the second takedown, Yoshida was very active. He went for submission after submission rather than setting one up after the previous failed. Silva was supposedly gassed halfway through the first round even though he hadn't done much beyond standing and lying around. When Silva is regularly exploding with series of strikes, he never even slows up. I guess he was so tired because fear eats the soul?
Silva fought more like himself in round 2, but there wasn't much impact on his strikes. He made contact, but wasn't hitting Yoshida square or particularly hard. Yoshida's cuts probably distracted from this. Yoshida was suddenly gassed, though that's more believable as it was later in the fight and his conditioning isn't that great. Another amazing thing was how Yoshida wasn't even backing away like Sakuraba, who has legitimate strike defense and even with all his injuries is much quicker and better reacting than Yoshida. Yoshida was throwing some wild punches when Silva was close, but Silva, who is normally very precise, was almost as wild. Sakuraba would practically jump away from Silva and still get clocked, but Yoshida was right in front of Silva all night and, although he got some cuts, he was never rocked.
Silva's best blow was when Yoshida tried to shoot, but got kneed. This may have given Yoshida one of the most wicked mouth cuts. Even walking to the locker after the match Yoshida's whole mouth and gums were filled and stained with red. Silva followed with 2 weak punches and a pathetic left high kick before Yoshida went to his back. Silva gave Yoshida a reversal just before the bell.
The funny thing about this match is it put Yoshida over so much that he practically should have won the decision. He was in control most of the first round, and even though he got hit some in the second round, he weathered it and was just about to mount another offensive. He totally kept Silva out of his game, with there only being a few small portions where Silva was even trying to strike, and about half the time those immediately ended in Yoshida takedowns. Silva won the decision unanimously though because when he did hit Yoshida he really marked his face up. 2R
Middlekyu GP Reserve Match: Murilo Bustamante vs. Dan Henderson
I thought this would be the best match on the show, but no matter how good and even the fighters seem to be a tremendous technique or crucial mistake can happen at any time. Bustamante went for a takedown early and Henderson was sprawling away, but in a great move he was able to reverse his momentum on a dime knee Bustamante. Since Bustamante was moving fast toward the knee, it was a major impact. Bustamante was cut above the eye, dazed, and probably shocked. He didn't do anything for a bit then just as he tried to tie Henderson up the ref stopped it. I doubt Bustamante knew what was going on at this point, so despite of him finally showing some life again, that it took him so long to do so means it was likely a good stoppage. 1R 0:53
Kazushi Sakuraba vs. Kevin Randleman
Randleman had a crazy auto accident that he was lucky to survive with "only" a ridiculous 180 stitches. He gave an interview with his real hair talking about how he was taking everything more seriously now, but once it was time for the match he looked, acted, and fought as idiotic as ever. Sakuraba came out dressed as Super Mario because the Japanese call Randleman Donkey Kong. Otherwise, Sakuraba was the one that might have matured. He finally didn't do his show wrestling moves, didn't care about the crowd, and just tried to finally win another fight.
This was largely a dull fight, but I give Sakuraba credit for that because he wouldn't beat Randleman in an exciting fight. Sakuraba got taken down when he finally initiated, but Randleman didn't make him pay. Randleman was very patient, but he wasn't making any sense. He basically wasn't doing anything.
Sakuraba was trying two things. When Randleman had a reverse waistlock, he was trying to break Randleman's clasp and swing into an arm bar. When Randleman was in his guard, he was trying to triangle him. Everyone but Randleman could see this. Randleman just played into Sakuraba's hands because he wasn't hitting Sakuraba or doing anything that would stop Sakuraba from spending all his time setting up the submissions. Randleman could have taken the side mount any time he wanted, and from there he could have hurt Sakuraba. Instead, he sat in Sakuraba's leg scissors unable to mount any kind of offensive. It was embarrassing.
Eventually, Randleman beat himself. Sakuraba jerked the arm, but this waistlock counter he'd been setting up all match actually failed. He couldn't hold the straight arm bar, but Randleman gave him one much better, he put him into position to get the udehishigigyakujujigatame. Both were on their knees with Sakuraba trying to pull Randleman's arm out, so Randleman could have tried lifting or rotating and he didn't have to try anything in an instant because he's so much stronger than Sakuraba he should be able to resist him for a while. Instead, he rolled to his back, just gift wrapping it for Sakuraba. Given Randleman has been taking part in pro-wrestling and gave the armbar in a more blatant fashion than we ever saw in Sakuraba's former home UWF-I, many suspected this was also a work. In this case, I think Randleman is probably that much of a doofus, but anything is possible when PRIDE feels they need a native to win to help future gates. 3R 2:36
Heavykyu Zantei (tentative/interim) Oza Ketteisen: Antonio Rodrigo Nogueira vs. Mirko Cro Cop
Nogueira replaced Fedor, who broke his thumb on Gary Goodridge's head. They are better watches than Fedor, and this made for a classic submission vs. striker matchup that was one of the greatest matches in MMA history. The match really delivered too, with both men having their moments and being a threat to win whenever it was in their area of expertise.
Nogueira was able to lock Cro Cop up and take him down on top of him at the start of the fight. Nogueira made sure to control Mirko's body at all times so he couldn't stand back up, making this a tighter more triangle oriented guard than Nogueira would prefer to work from. Cro Cop had no ground and pound and was clearly losing from the top because Nogueira's submissions were such a threat, and although he wasn't attempting many he was always baiting Mirko and trying to sucker him into a mistake.
Eventually Nogueira was caught paying more attention to positioning Cro Cop's body than controlling it, allowing Mirko to stand up. Cro Cop had his way for the rest of the first round, though not the success he normally has. In a way, that showed how good Cro Cop really is though. Normally he catches the chump with the left high kick so quick he could almost be a one-kick wonder. Here, we got to see him do things like put the left high kick out to get Nogueira ducking, which allowed him to get Nogueira moving into the left middle kick. Cro Cop was mixing his strikes up well, and he was doing a lot of damage because Nogueira was so worried about defending the left high kick that Cro Cop could get just about anything else through. Unlike home run happy baseball players such as Jason Giambi, Cro Cop was willing to do his damage taking what the defense was giving him.
Nogueira was regularly diving for takedowns, but Cro Cop would sprawl away and refuse to go after Nogueira on the ground. Cro Cop's power is underrated because he doesn't have those hulking muscles that just get in your way. Even more than that though, his power is in places that aren't as obvious like his hands and wrists. His sprawl and lateral movement are becoming legendary, but the other aspect is when someone does get a hold of him he just throws them off before they can throw him down. We saw this again when Nogueira ducked a left straight and locked Mirko up.
Nogueira always takes punishment, but has an amazing chin. It was tested several times in this match, as Mirko hurt him with a left straight, a left kick when he was trying to shoot, and so on. Cro Cop landed the left high kick (not full power) and a left straight before the bell plus leaned over and punched Nogueira in the face after the bell.
In the end, this should be remembered as a legendary display of perseverance by Nogueira. His shoots failed time and time again, and each time meant he was about to get rocked a few more times. He didn't sulk or quit, he tried to figure out some other means of getting the result he needed. He came out in the second round and did something different; he made Cro Cop defend a few strikes. Nogueira knows he can't strike with Cro Cop, only a couple guys can, but without the danger of the strike Cro Cop could just sit back and wait for Nogueira to try to shoot. Since he only had to defend one thing, it was easy for him to identify it and just push Nogueira off/down while backing away. Even though Nogueira isn't a threat, Cro Cop can't just let Nogueira take free shots, and that move to defend them was what allowed Nogueira to finally get his second takedown.
Cro Cop looked fine on the ground the first time, but the second takedown really exposed his lack of ground skills. Nogueira took side then full mount with ease. Cro Cop was trying to hold Nogueira tight, but couldn't so he tried to buck him off to the left. He should have given up on the buck, but being desperate and inexperienced he kept trying to force Nogueira over with his right arm. Seeing Cro Cop's arm extended, Nogueira seized the opportunity to go around the back and lock the udehishigigyakujujigatame for the win. An amazing surprise finish to a great match. We always talk about Cro Cop's reflexes, so it's odd that when he finally loses it's on a lightning reflex move by his opponent. 2R 1:45
Middlekyu GP Kesshosen: Quinton Jackson vs. Wanderlei Silva
Silva was one of the guys I've thought would beat Jackson. Unfortunately, this win doesn't prove much to me because I know Jackson wasn't at full strength after a tough legitimate fight with a real champion. In addition, the ref screwed Rampage over, and although that doesn't lessen what Silva did to him once he got the chance, it at least brought the fight to a premature end.
It's amazing how Jackson is a guy that can certainly beat his opponents with his punches, we just saw him trading with one of the most feared strikers a few hours ago, yet Silva showed no fear striking with him. Moreover, no one has more deadly takedowns than Jackson, a guy who can pick anyone up and plant them so hard he might even knock you out, yet Silva showed no fear of fighting inside with Jackson. This was the real Silva, the guy that explodes with relentless attacks.
Jackson ducked a Silva punch and scooped him up right away, but Jackson had to place him down because Silva held him. Jackson's ground and pound wasn't as effective as usual, but there was a lot more going on than in many portions of Yoshida and Sakuraba's matches. However, the ref couldn't wait to stand them up. Personally, there is nothing more boring and overrated than ground and pound. I respect the smarts of Pat Miletich for having his wrestlers just take their opponent down and keep them there because they'll always get the decision win the way the matches are currently being officiated and judged, but that doesn't mean I don't feel the urge to fast forward. You have to put rules in place to stop certain kinds of fighting or you have to let it continue. Most importantly, you have to be consistent. Jackson has always been allowed to ground and pound for much longer, and nothing has officially changed since.
Once Silva got the restart he took over. Jackson would rather not stand with him, so when he couldn't get the takedown high, he tried to go low only to get kneed. Silva began taking a stunned Jackson apart with one of his great barrages. Once he grabbed him he was throwing series of his famous knees. Jackson was somehow taking all these wicked shots and still going for the takedown, but eventually the ref had to stop it. Though the circumstances were frustrating, this was quite a good fight and easily the second best on the show. 1R 6:28
BACK TO QUEBRADA COLUMNS
BACK TO QUEBRADA REVIEWS


* MMA Review Copyright 2003 Quebrada *