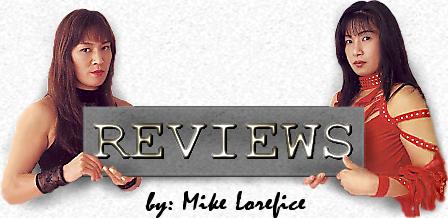 WVR SENGOKU ~Fourth Battle~ 8/24/08 Saitama Super Arena
Kazuo Takahashi vs. Valentijn Overeem. Takahashi scored a quick takedown, but was unable to get anything going from Overeem's half guard. Overeem forced Takahashi to dodge his big swings once he attained a little distance in standup. Takahashi shot, but Overeem saw it coming and delivered a wicked flying knee for the spectacular KO!
Peter Graham vs. Moise Rimbon. They negated each other early as Graham had enough takedown defense to keep it in standup, but Rimbon was good enough on his feet not to get hit often. Rimbon finally had a takedown and mounted only to have the first round end. Rimbon faked a shot to start the second, instead landing an overhand right that dropped Graham. After a brief follow up flurry, Rimbon got the hooks in and won with the rear naked choke. Below average match.
Pawel Nastula vs. Yang Dong Yi. 1996 Olympic judo gold medalist Nastula has only won one of his four fights, but obviously there's no shame in losing to the likes of Antonio Rodrigo Nogueira and Josh Barnett. Yang is the sort of fighter Nastula needs to step up and beat if he's going to get his MMA career on track, but today both fighters seemed stuck in the mud. Yang eventually tired of standing around watching Nastula stand around, so he kicked him in the Jimmy. Nastula decided he might as well attack if this is the sort of thing that happens when you don't, but Yi stuffed his takedown and kneed him in the nads for the yellow card. Yi had a takedown early in round 2, but let Nastula up after Pawel's armbar attempt. In a truly bizarre head scratcher finish, Nastula stayed down on one knee as if he had a 10 count to get back to his feet, and the ref basically said if you don't want to fight I'll stop it and waived it off. Poor match.
Lightweight Grand Prix Series 2008: Mizuto Hirota vs. Ryan Schultz. Hirota wanted to box, but couldn't get too aggressive or Schultz would take him down, as we saw at the end of the first round. Hirota scrambled back to his feet after a good up kick when Schultz dove in for the guard pass, but again opening up with his hands got him planted on his back. Schultz didn't have a great deal of interest in standing with Hirota, he just wanted to keep him off balance and find his opening for the takedown. One of the ways he did so was by lunging forward to fake the punch, but Hirota timed this and took him out with a right hook. Below average match.
Lightweight Grand Prix Series 2008: Kazunori Yokota vs. Bojan Kosednar 3R. The takedowns and scrambles produced momentary relief from the boredom of a fight where Yokota would just hug once they settled in on the mat. Standup was no better, as neither wanted to engage. Nonetheless, there was more of it than their should have been as Kosednar kept grabbing the ropes to avoid takedowns even though he garnered one of his two yellow cards for the infraction. Yokota got some unintentional revenge with a low blow so powerful Kosednar decided to change cups. Yokota won a unanimous decision. Poor match.
Lightweight Grand Prix Series 2008: Eiji Mitsuoka vs. Rodrigo Damm. Finally, the lightweight quicknes is on display. Unfortunately, this was a short one, as the two standup sequences were exciting. Damm was getting the best of the striking with Mitsuoka ending the first by taking Damm down to avoid further punishment. After getting cracked a few times and knocked into the corner with a high kick, Mitsuoka fired back with two big rights, dropping Damm then choking him out.
Lightweight Grand Prix Series 2008: Satoru Kitaoka vs. Clay French. Kitaoka shot a single, rolling around on his back when French defended and tried to take the top until he secured an Achilles' tendon hold French immediately submitted to. Neat finish.
Makoto Takimoto vs. Frank Trigg 3R. I thought wins over Zelg Galesic at PRIDE 34 and Murilo Bustamante at Yarennoka! meant 2000 judo gold medalist Takimoto might have found his game. There's no hope for a Trigg fight though, other than that it might end. As usual, Trigg got the takedown and did the gay lay, making things uncomfortable for Takimoto but not doing any real damage with his tapping. Takimoto had a takedown and landed a few punches in standup, but could never build any momentum or even maintain an advantage. The third round wasn't nearly as tedious as the first two, as Takimoto fought with desperation knowing he needed to finish the fight, landing a few rapid fire combos before getting taken down yet again. Trigg won a unanimous decision. Poor match.
Takanori Gomi vs. Bang Seung Hwan 3R. Good tactical kickboxing match that saved the show from being a Yammaesque DUD. Hwan, a DEEP fighter who hasn't lost since his first fight, was certainly no pushover. His defense is very good and he has a dangerous right hand he's always trying to set up with his left. They were active, but there weren't a lot of exchanges. That wasn't necessarily a bad thing as both men making each other work for every shot made for an intense fight where every blow seemed meaningful. Gomi controlled the fight because he has more weapons, certainly he's far super with his legs and knees, but even though you felt Gomi was safe as long as he didn't leave himself open for the right, you also believed he'd go down if he got Banged. The first round was the closest, with Gomi getting some separation after that, but only the second round was a decisive victory for Gomi. The difference is Hwan shot midway through the second, but Gomi stuffed it and put a hurting on him with a ground and pound flurry then mounted. Bang sat up when Gomi transitioned, so Gomi tried to sneak behind and rear naked choke him only to have Bang stand out. Hwan was looking tired after this, but it was the first and only attempt at a ground game. One thing that helps Gomi's stamina is his striking style is so economical. He wastes very little motion and is so subtle and direct you often don't realize how good his shots were until you see them on the replay. Gomi cut Hwan in the third en route to a unanimous decision. Good match.
BACK TO QUEBRADA REVIEWS


* MMA Review Copyright 2008 Quebrada *