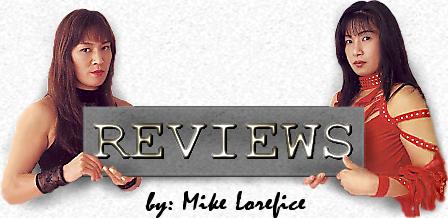 WEC 40 4/5/09 Chicago, IL UIC Pavilion
Raphael Assuncao vs. Jameel Massouh 3R. Massouh had the standup advantage on paper due to a 5 inch reach advantage, but for the first two rounds he just stood rigidly, not bouncing on his toes or bobbing his head. He pawed away rather than committing to his punches, and dropped his hands whenever he kicked. Assuncao caught him with an overhand right early, and a right straight while Massouh was throwing a kick late in the 2nd, which led to a guillotine attempt Massouh was pulling out of as the round ended. Assuncao controlled throughout, throwing good combos in standup, and displaying a really solid wrestling base. Massouh couldn't even take control when Assuncao's guillotine failed because Assuncao kept adjusting (stepping backwards) to maintain his base. Massouh was much more intense and aggressive in the third, moving better and attacking consistently. It was too little too late, but it made for some entertaining action as he gambled for submissions throughout the round after pulling guard at the outset. Assuncao had an answer for everything Massouh threw at him, and took his back in the final seconds, but had to settle for the 30-27 decision victory. Above average match.
Shane Roller vs. Ben Henderson R1 1:41. Exciting short fight. Henderson fell after Roller's initial aggressive left hook/right straight combo, allowing Roller to go for his feared guillotine. Henderson fought it off though, and pinned Roller agains the cage, working Muay Thai until he surprised Roller with a high spinning takedown. Roller kicked Henderson right off and stood, only to be clobbered with a punch combo for the KO.
Anthony Njokuani vs. Bart Palaszewski R2 0:27. The considerable (5.5 inches) reach advantage held up this time, as Njokuani is a very accomplished striker. Bart wasn't able to do anything to make Njokuani uncomfortable, so Anthony was able to sit back and pick him apart. He used his reach to keep Bart away until Bart finally committed to closing the distance, at which time Njokuani rocked him with a straight right. Early in round 2, Njokuani used a left liver kick to drop Bart's hands then cracked him with a right hand and finished him off on the mat.
Joseph Benavidez vs. Jeff Curran 3R. Benavidez looks more like his mentor Urijah Faber every time out. A great improvisor who keeps a ridiculous pace, attacking relentlessly from all angles. Benavidez was perpetual motion, keeping Curran on the defensive almost the entire fight. Frank Mir thought a lot more of Curran's performance than I did, giving him at least the 1st round. I felt the fight was very competitive because Curran played good defense, but he had little offense beyond punching. Though he certainly punches harder than Benavidez, Benavidez lands 3 or 4 punch combos while Curran is a one and done. Curran wouldn't give in to Benavidez's assortment of standing guard passes, but he took a decent amount of punishment from Benavidez hammering down on him, though not without getting a few good up kicks in. Benavidez won a unanimous decision. Good match.
WEC Bantomweight Championship Match: Miguel Angel Torres vs. Takeya Mizugaki 5R. While not nearly as entertaining as Torres' standout bout with Yoshiro Maeda on WEC 34 6/1/08, Mizugaki also stood toe to toe with Torres and gave him all he wanted in this gruelling battle of attrition that lasted an extra 2 rounds. With the exception of a brief interlude in the 4th when Torres probably decided to change things up because he was bleeding, the entire fight was standup. Their footwork and head movement were excellent, but Torres is the more impressive of the two because his attacks are much harder to read. Mizugaki was the aggressor, throwing countless punches, but he has the bad habits of dipping his head when he's ready to punch and loading his left leg when he's ready to charge in. Torres is incredibly relaxed because he knows he has the stamina to go 8 rounds and the defense to avoid most of what comes his way. This mix of confidence and conditioning allows him to sit back and time his jab, taking the kick or knee if the opportunity presents itself. Mizugaki was able to bully Torres some, landing when he pushed him against the cage because Torres' mobility was then limited. Mizugaki mostly missed on the outside though, so he tried to clinch more in the later rounds, which led to a lot of blood coming from Torres' forehead. The cut was more of a threat than Mizugaki, who wasn't really hurting Torres' and had to take more brief breaks as the rounds progressed to refresh himself. Every round was close, but even if Torres wasn't initiating, you always felt as though he was in control. One judge gave Mizugaki 2 rounds, while the others gave him 1. Mizugaki certainly has the potential to beat Torres, but he's basically trying to pile on the damage, so he needs to learn to be more deceptive so he can improve his accuracy. Good match.
BACK TO QUEBRADA REVIEWS


* MMA Review Copyright 2009 Quebrada *