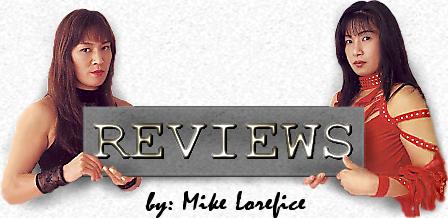 WEC 31 12/12/07 Las Vegas, NV Hard Rock Hotel & Casino
WEC Light Heavyweight Championship: Doug Marshall vs. Ariel Gandulla R1 0:55. Marshall tried a superman punch, but Gandulla caught him in midair and slammed him. Marshall was setting a triangle up from the moment he hit the canvas, and even if Gandulla is relatively inexperienced, a 39-year-old shouldn't make the mistake of immediately striking with the arm Marshall needed to clear. Marshall quickly shifted into the armbar for a rare submission win.
Charlie Valencia vs. Ian McCall R1 3:19. Short but exciting fight. McCall moves well but keeps his left arm too low and his head too still, so Valencia was countering his jab with the right hand. Valencia landed a big right early, but McCall recovered quickly enough to stop the guillotine dead. Later, Valencia put McCall down with a right hook and began to punch from behind, but recognized that McCall's hips were exposed, delivering an amazing released German suplex that's probably the most impressive looking suplex I've seen in an MMA match. McCall kept scrambling and scrapping, but Valencia finally caught him in the guillotine. Good match.
WEC Middleweight Championship: Paulo Filho vs. Chael Sonnen R2 4:55. Kind of a bizarre match, beginning and ending with disagreements between Sonnen and the ref. Sonnen slammed Filho early and told the ref his opponent was out, but in what seemed a good call the ref didn't stop the bout, resulting in Sonnen losing the opportunity to capitalize on north/south position. Sonnen had an even bigger reach advantage than expected, but even though Filho is a fighter with weak standup and great submissions from his guard, Sonnen wanted to be on top even. This seemed a good strategy based on the early results, as he was doing damage with ground and pound, but Frank Mir was warning against it the entire bout. Filho had a guillotine attempt midway through the round and a triangle armbar attempt in the final seconds that Sonnen was still feeling the effects of between rounds, but as a whole it was a dominant round for Sonnen against an opponent that generally appeared listless. All-American amateur wrestler Sonnen's grappling is so good Filho couldn't even take him down with double underhooks, leading to another round where Sonnen was more than content to blast punches and elbows from Filho's guard. Filho is never out of a fight, and just when it was looking like another easy round for Sonnen, he clamped an arm bar in the final 15 seconds. A grimacing Sonnen refused to submit, screaming "No!", but the ref stopped the fight anyway, which was a good call as with another 10 seconds Sonnen would have been too injured to fight anytime soon. However, to make things confusing, it was announced as a verbal submission, which was clearly not the case. Sonnen confirmed to Mir in the post match interview that he said, "No, no, no", but in the days after the event eventually conceded that the right decision was made. Above average match.
Jens Pulver vs. Cub Swanson R1 0:35. Swanson shot a head inside single at the bell, but Pulver stuffed it, controlled his neck, and maneuvered into an anaconda choke for the statement making win.
Marcus Galvao vs. Brian Bowles R2 2:09. Galvao is another BJJ specialist who has a hard time utilizing his skills due to the lack of a takedown. Bowles is a good boxer, while Galvao can do okay slugging but lacks the technique. He had the bad habit of keeping his head too far back and hands too low, and used the same escape - backing straight away - every time Bowles attacked. Galvao busted Bowles nose up with a good combo in the first, but it was only a matter of time as long as it remained in Bowles' domain. Galvao kept trying to fire back even while Bowles had knocked him groggy, soon falling prey to a big right hand. Average match.
WEC Featherweight Championship: Urijah Faber vs. Jeff Curran R2 4:34. Curran gave Faber his toughtest fight in a while, lasting longer than any opponent has since Cole Escovedo survived 2 rounds at WEC 19 3/17/06. Curran wasn't simply surviving by any means, he controlled the majority of the first, clearly winning it. Faber came out with a left hook, but Curran tied him up, took him down, and mounted. Faber surrendered his back, but his wrist control was so good Curran couldn't even get one arm around his neck in the three odd minutes he had Faber in a prone position. Faber eventually stood and whipped forward, knocking Curran's head into the mat, then turned into guard. In round 2, Faber drove Curran into the cage and landed a hard elbow, but Curran again secured the takedown. Faber quickly took control this time though, cutting Curran on the bridge of the nose. Curran tried a head inside single, but Faber crushed Curran with the free knee and choked him out. Both fighters were impressive, as Curran was actually able to control Faber, but Faber not only able to survive bad positions, he turned them into offensive ones. Good match.
BACK TO QUEBRADA REVIEWS


* MMA Review Copyright 2008 Quebrada *