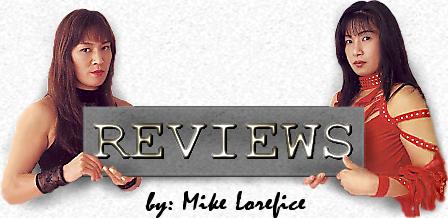 WEC 29 8/5/07 Sacramento, CA Arco Arena
Jamie Varner vs. Sherron Leggett R1 4:08. They exchanged takedowns early then Varner seemed to take control with a fireman's carry where he dumped Leggett on his shoulder and neck. However, Steve Mazzagatti deducted a point from Varner without any previous warning I noticed for an elbow to the back of the head. Leggett cut Varner, but Varner landed a nice high kick to the face. Once Varner got it back to the mat, Leggett was out of his depth, allowing his opponent to take any position he wanted. Varner tried for the rear naked choke, but opted to simply punch Leggett out.
Blas Avena vs. Tiki R1 1:01. Avena had arguably the biggest hometown advantage in the history of the sport, as he actually works at the venue as a security guard. He took Tiki down, where other than a nice rear naked choke escape Tiki showed no defense, soon succumbing to Avena's second choke.
Jeff Curran vs. Stephen Ledbetter 3R. Ledbetter had a nice reach advantage, but lacked the speed or confidence in standup to capitalize, just putting a few jabs out there to try to open up the takedown. Curran's best shot was early in the first when he caught Ledbetter with an overhand right out of nowhere, but Ledbetter withstood the blow and took control. Curran was way too passive, not making enough effort to keep the fight in standup where as the fight progressed it was clear he had the advantage if for no other reason than Ledbetter had no arsenal. Actually, Ledbetter had no real offense in any position, just fruitless takedowns where he maybe scored for riding time. Beyond his own lack of weapons, Ledbetter's big problem was Curran is a much better jiu jitsu practitioner, so even when he got the fight where he wanted it, Curran barely got hit as he either tied him up or put the pressure on him with his submissions. Curran finally locked a triangle, and though Ledbetter didn't defend it properly, he was still able to hang on for 15 seconds until the round ended. Curran won a unanimous decision. Below average match.
WEC Middleweight Championship Decision Match: Paulo Filho vs. Joe Doerksen R1 4:07. Very high level fighting with the counter coming almost as quickly as the attempt. Filho may have been the big favorite, but Doerksen matched him early. The area where Doerksen was thought to have the advantage was standup, as Filho doesn't have near the technique he does on the ground, but the brawler hurt Doerksen with his very powerful but loopy hooks. Filho proceeded to pound Doerksen as he was on his knee after his desperation shot failed for the win. Good while it lasted. Above average match.
WEC Welterweight Championship Match: Carlos Condit vs. Brock Larson R1 2:21. Larson had an early takedown, but his ground and pound allowed Condit a triangle attempt as Larson was so concerned with punching he allowed Condit wrist control of the non-swinging hand. Condit quickly shifted to an armbar and Mazzagatti stopped it after Larson failed to slam his way out.
BACK TO QUEBRADA REVIEWS


* MMA Review Copyright 2008 Quebrada *