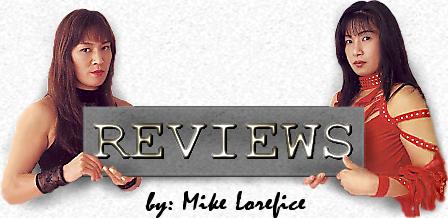 UFC 150: Henderson vs. Edgar II 8/11/12 Denver, CO Pepsi Center
Max Holloway vs. Justin Lawrence R2 4:49. The youngest fighter in UFC, Holloway, faced a stiff test in fellow kickboxer Lawrence, a multiple time National and Pan Am champion in kickboxing as well as a 2-time St. Louis Golden Gloves champion. Lawrence was the better technical fighter on paper, but Holloway had the reach advantage and was the aggressor. Holloway cut Lawrence outside the right eye with a left hook in the first, as well as annoying Lawrence with two accidental low blows. Lawrence was landing a much higher percentage, but was really picking his shots and neither had stunned each other through the first 9 minutes. Holloway then took over with a knee to the body and soon followed up with a body punch combo that dropped Lawrence and led to the TKO. Average match.
Yushin Okami vs. Buddy Roberts R2 3:05. Roberts took the fight on short notice when Luiz Cane then Rousimar Palhares were injured and was so overmatched he would have had trouble if he could have tagged Terry Gordy and Michael Hayes. Roberts threw a bunch of strikes, but kept missing and once Okami took him down he totally had his way. Okami passed guard and landed punch after punch when Roberts gave his back. Roberts was saved by the bell in the first round, but round 2 was an instant replay with Okami getting rear mount early enough to pounded him out. Below average match.
Jake Shields vs. Ed Herman 3R. Herman's strength is his standup and that's Shields weakness, so Herman's strategy was to beat Shields with the clinch game? Herman seemed to think he had the better conditioning or Shields couldn't withstand the altitude, and he was going to gas Shields by grinding through the early portion. The problem is Herman wasn't scoring when they were tied up, and Shields would invariably get a takedown in every round. Shields didn't do a lot of damage on the ground, but he improved position and landed enough shots that there was never a threat of the standup. Herman got a couple good shots in, but overall, Shields had little trouble grinding his way to another decision victory. Poor match.
Donald Cerrone vs. Melvin Guillard R1 1:16. Cerrone came into the fight extremely confident because he always whipped his friend Guillard in their sparring sessions, but Guillard stole his swagger quickly countering a left hook with one of his own for the knockdown. Cerrone knew Guillard was going to try to finish him with knees, and had the sense to defend them, despite his wobbly state. Cerrone wasn't fully recovered, but got lucky when a left high kick turned into a stunning shin to the side of Guillard's head. Guillard stayed up, but that didn't really help him as Cerrone saw how wobbly he was and sent all his force forward with a right straight for the KO. I'd normally never advocate giving a fight under a round Fight of the Night, but these 76 seconds were more entertaining than all the fights that came before this combined.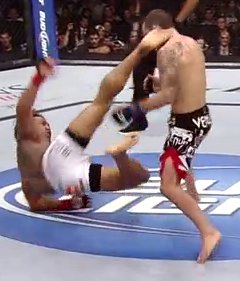 UFC Lightweight Championship Match: Benson Henderson vs. Frankie Edgar 5R. I'm not sure if it was the altitude or Henderson deciding he was just going to let Edgar move and move to no end or what, but what started out as a good fight just fell apart after the second round. I kept waiting for Henderson to turn it on, but he just wasn't aggressive enough. It was like in boxing when the superior fighter who is winning takes the first minute or two off then comes on late to steal the round except Henderson was taking the first 4 ½ minutes off, and apart from the first round, there was no guarantee he was winning any of these. Henderson came out with a clear strategy to limit Edgar's movement by pounding the calf with low kicks. Henderson won the first round in this manner, and Edgar's left calf was bright red by the beginning of the second, but Henderson inexplicably dropped the kicking in favor of, well, nothing. Edgar turned the fight midway through the second, finishing an exchange by dropping Henderson with an overhand right then trying to finish on the ground with a front choke. Henderson seemed more off balance than actually hurt by the punch, but never really did anything after this. And pretty much the same could be said for Edgar. Edgar used the low kicks in round 3, but they were nowhere near the impact of Henderson's, though they seemed about the only thing scoring in that round. Edgar had a takedown in round 4, but Henderson actually landed a high kick from his back. Henderson knocked Edgar's mouthpiece out in round 5, but didn't follow up. In the end, Henderson never stopped holding back and Edgar never stopped moving to no end. Either man could have won any or all of the last 3 rounds if they were more aggressive, but neither were willing to take any sort of chance. I felt like Edgar had the ever so slight advantage, though the numbers didn't bare it out as Henderson landed 27 more of the few strikes and at an 18% higher connect rate, though Edgar did control 3:15 to 0:10. I'd probably give 2 of the last 3 nothings to Edgar if you put a gun to my head, but no one did enough in any of the last 3 rounds to earn the round, and the best decision would have been to call it a draw and not have them fight again because they really didn't even fight this time. This land 5-15 nothing shots per round type of fight is the sort where you don't earn the right to whine about whatever the judges decide to do. In the end, Henderson won the coin flip split decision 48-47, 48-47, 46-49. Below average match.
BACK TO QUEBRADA REVIEWS


* MMA Review Copyright 2012 Quebrada *