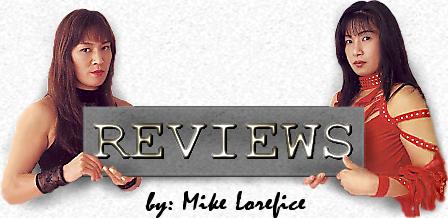 UFC 143: Diaz vs. Condit 2/4/12 Las Vegas, NV Mandalay Bay Events Center
Matthew Riddle vs. Henry Martinez 3R. It was as if there were two different Matthew Riddle's. The one who fought the first 8 minutes was a tentative puncher who was slow and even left his hand out so long he was easy to counter. The one who fought the last 7 minutes was very confident and active, willing to throw every kick and using his punches to back them up. Martinez took the fight on short notice, and a weight class above, moving up to 170 to make his UFC debut. He came out full speed ahead and although he was at a big reach disadvantage, was able to make up for it with better footwork, quicker hands, and decisiveness. Martinez was having no trouble countering Riddle or closing the distance to initiate his own offense. This changed when Riddle began using low and middle kicks to keep him away. Riddle fired up and had a big flurry of front kicks and punches at the end of the 2nd round to steal it and even the fight. The third round saw Riddle continue doing what was working, mixing low kicks with middle and front kicks to keep Martinez away and off balance, which opened up his punches. Riddle also had a takedown midway through the 3rd and worked Martinez over on the ground to take the round easily. Martinez's lack of training time hurt some, but it wasn't so much that he slowed down as that Riddle slowed him down by working over his lead side with precision strikes. No matter who was dominating, it was fast and action packed. Riddle won a split decision. Good match.
Alex Caceres vs. Edwin Figueroa 3R. One of the oddest UFC matches I've seen. It was a pretty even match in standup, but Caceres totally dominated on the mat, and was able to get the match to the ground not through traditional takedowns, but by hopping on Figueroa's back. Seemingly half the fight Caceres had Figueroa's back, but he didn't do much to open up the choke and couldn't finish Figueroa through a neck crank, so Figueroa was able to keep his chin down and hang on. The rest of the time Caceres, also known as Bruce Leroy after the character in The Last Dragon, wanted to fight standup, but this cost him big time as he landed two brutal low blows. The first one was so bad Figueroa actually rolled from the center of the ring until he was up against the cage he was in so much pain. Herb Dean gave Caceres a strong warning the first time then deducted 2 points the 2nd time. I don't think I've ever seen a 2 point deduction for anything, anywhere in MMA, but Figueroa was so drained from the first low blow he wasn't the same fighter, much less what was going to be left after a second one. Anyway, this meant that Figueroa only needed to win 1 round, which he may already have done. The first round was close because after the initial low blow Figueroa cut off the angle while Caceres was backpedaling and dropped him with a huge high kick. Figueroa mostly missed his attempted ground barrage and eventually let Caceres up hoping he'd be an easier target on his feet, which led to Caceres taking Figueroa's back and rolling off 3 rear naked choke attempts. You could have given the round to Caceres for his dominant position and near finishes, but really he didn't have Figueroa in that much trouble and it was Caceres that was fighting on instinct the rest of the fight, even if doing a great job of it. The 2nd and 3rd rounds were pretty much all Caceres. The problem is Caceres was pretty single minded and didn't see openings or adjust to them. There were plenty of times where a transition or even a slight adjustment would have seemed to have given him a really strong opportunity to get the submission, particularly with the triangle, but he just kind of kept doing the same thing the same way and Figueroa kept defending it. Caceres must have had a dozen submission attempts, and landed a nice high kick of his own in the second. You felt had he not done the low blows that he would still have been the better fighter and would have at least won a 29-28 decision, but the 2 point deduction wound up costing him as Figueroa won a tight split decision where he scored no more than 28 on any scorecard. Good match.
Ed Herman vs. Clifford Starks R2 1:43. Standup brawl. Starks had a huge connection percentage, especially on power punches. He controlled the fight when he had distance, tenderizing the left side of Herman's face with impressive right straights. Herman won the inside battle, working the left jab or hook then right uppercut all night. It was a pretty even fight in standup, but Herman is a more well rounded fighter. He was able to take Starks down twice, taking him out with a rear naked choke the second time. Good match.
Renan Barao vs. Scott Jorgensen 3R. Barao totally outclassed Jorgensen, giving him a comprehensive beatdown. He wasn't the least bit intimidated by Jorgensen's wrestling. In fact, he based his entire gameplan on beating Jorgensen by keeping his distance and utilizing his wide array of kicks, scoring from a range where the punch oriented Jorgensen couldn't really reach him. When Jorgensen did get close enough to land a jab, he was never able to follow it up and usually got hit with a better counter because he was neither throwing a second shot nor getting out of the pocket. The action was pretty good, but it was all one-way traffic. Barao won a unanimous 30-27 decision. Above average match.
Josh Koscheck vs. Mike Pierce 3R. Two boring wrestlers whose boring wrestling negated each other to the point neither of them could really get a takedown. Pierce was trying and failing, and Koscheck wasn't trying at all. Pierce was winning the clinch game, and was able to keep it in that domain. Koscheck was just loading up for a single big right hand, which never came because he did nothing to open it up. Every round was close because nothing really happened, but I felt Pierce was dictating the fight and Koscheck was getting really tight. I had Pierce winning the 1st and 3rd, but Koscheck got the split decision. Poor match.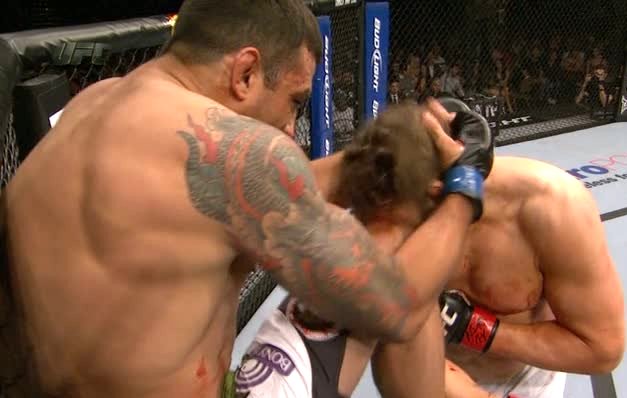 Fabricio Werdum vs. Roy Nelson 3R. Nelson was in better shape, but was still a really slow guy with no footwork that can't defend but can take a hell of a shot. Werdum's standup was much improved, but it certainly helps to go to work on a stationary target. Werdum really didn't try to get the fight to the ground. Early on, he took Nelson's back when Big Country slipped missing a kick, but Nelson was back up quickly. Werdum instead looked to work from the Thai clinch, throwing some huge knees that busted Nelson open. The first round was good, but after that the pace slowed considerably. Werdum was hardly moving, but was so comfortable against this opponent he could do what he wanted. He was always where he needed to be, landing about 75% of his power punches and rarely taking anything good in return. Nelson had a nice overhand right late in the 2nd round, which was the closest of the fight, but still not a round you'd really give consideration to giving to Nelson. The fight was too slow and one-sided to be all that compelling, and even simply by the standards of heavyweights throwing bombs it wasn't particularly interesting, but I guess the odd fascination with Nelson taking punishment awed people into thinking this was fight of the night or something. I don't know, but to me it wasn't even in the better half, and certainly was nowhere near the level of the main event. Average match.
UFC Interim Welterweight Championship Match: Nick Diaz vs. Carlos Condit 5R. A really high level fight between two great fighters who had very little in between them. Diaz normally has the reach and conditioning advantages, but that wasn't the case tonight. Condit had a great game plan to negate Diaz, constantly moving so Diaz couldn't cut him off or pin him against the cage and flurry on him. Condit tried to be diverse and was able to get off first when Diaz chased him, but Condit was mainly missing with all his flashy and power shots and only connecting with halfhearted leg kicks. How you score the fight pretty much comes down to what you are looking for. If you want the fighter that was the aggressor, that controlled the center of the octagon, that applied the pressure, then you went for Diaz. If you wanted the fighter that more successfully executed their gameplan to negate the other fighters domination, that made their opponent uncomfortable and kept them from doing what they wanted then you went for Condit. I had Diaz winning the first two rounds, Condit loosening up and winning the 3rd and then the fourth big, but Diaz finally turning the fight by slipping behind Condit with 90 seconds left and taking him down into back mount. I was pretty confident Diaz would get the decision because the fighter who comes forward almost always beats the fighter who runs, and usually low kicks even of mighty power that cause notable limping get very little credit from the judges much less these wimpy little things Condit was failing to welt up or slow down Diaz in the least with. Stats wise, Diaz landed more shots to the head and the body, but Condit landed more strikes overall due to a 50-3 advantage in "leg jabs". Somehow Condit not only got a unanimous decision, but got 49-46 on two scorecards. I could see 48-47 Condit, but I really can't see any way Condit wins round 2 or 5. Diaz was so dejected by the decision he said he was retiring because MMA isn't for him if you win by running the whole time and landing "little baby leg kicks". Good match.
BACK TO QUEBRADA REVIEWS


* MMA Review Copyright 2012 Quebrada *