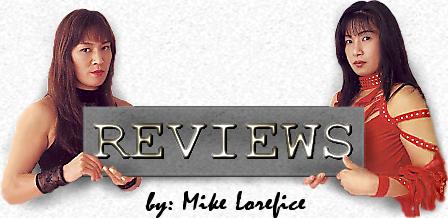 UFC 142: Aldo vs. Mendes 1/14/12 Rio de Janeiro, Brazil HSBC Arena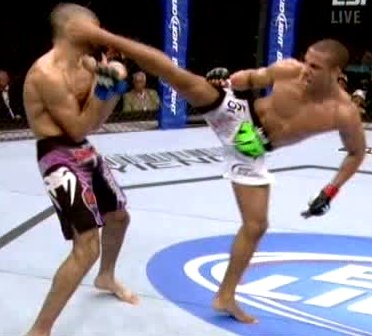 Edson Barboza vs. Terry Etim R3 2:02. Barboza controlled the fight with his fierce no step low kick. It was a competitive one-sided fight where Etim hung in there well enough to keep it entertaining, but always seemed out of sorts and never appeared to have any answer for the low kick or even an idea of how he was going to win in spite of it. Etim had a couple flash takedowns, but pretty much wasn't able to do anything in standup despite some people feeling he might also have the advantage there. The big difference was in the movement and explosiveness. Etim couldn't seem to get himself out of Barboza's range, there just wasn't enough movement in and out of the pocket or away from Barboza's right leg, with Etim's mobility decreasing with each low kick that dug into his thigh. Barboza used the low kicks to open up more powerful strikes including a nice spinning back kick and a body hook overhand right combo, but it was in the middle of the third round where he cemented his place in highlight reel history by scoring the first ever UFC knockout with a spinning wheel kick. Barboza had landed it at the end of his 3/19/11 bout against Anthony Njokuani, but with the sole of the foot rather than the heel. This time it hit perfectly and Etim immediately went limb as he was propelled to the canvas for the KO of the year. Good match.
Erick Silva vs. Carlo Prater R1 0:29. Silva won his first UFC fight against Luis Ramos on 8/27/11 in 40 seconds, and he appeared to have swarmed on Prater for an even quicker KO. However, well after Silva's victory celebration he was disqualified for illegal punches to the back of the head. Joe Rogan immediately protested and pretty much embarrassed Mario Yamasaki because it was a stoppage based on an accumulation of blows and only one of the big flurry clearly landed to the back of the head while some others that were marginal were, at worst, certainly aimed at the side of the head.
Rousimar Palhares vs. Mike Massenzio R1 1:03. Palhares shot for the takedown, and Massenzio didn't know what hit him when he instead pulled guard and heel hooked him.
Vitor Belfort vs. Anthony Johnson R1 4:49. Anthony Johnson couldn't make the cut twice at 170 pounds so he moved up to 185 for this match, and apparently the 15 pound cushion wasn't nearly enough. In fact, he almost needed a full 15 pounds more as he tipped the scales at 197! Johnson's advantage was more than negated by Dan Miragliotta hometown NBA style reffing for the Brazilians. Johnson has never been known for his stamina, and clearly had far more limited stamina today because he dehydrated himself until the doctors forced him to stop trying to make weight. He was dominating Belfort early, but every time he'd get hold of Vitor, Miragliotta would wait for a moments inactivity to pull his corrupt official routine and thrill the crowd with ridiculously quick breaks and super shady standups. I don't care about Johnson and there's nothing more boring than lay and pray, but if you are going to allow Jon Fitch to do nothing for 5 minute stretches each and every time out then you can't stand turn around and call 30 second standups on Johnson, who did land some huge punches and in fact did more damage to Belfort's eye in half a round of ground and pound than the career accumulation of Fitch's mat and incredibly sporadic pat. It was the most nonsensical officiating I've seen since Miragliotta was doing his best to ensure Kimbo Slice beat James Thompson at EliteXC: Primetime 5/31/08. Johnson certainly took a breathe here and there, but to show how much he was stalling, Joe Rogan actually said late in the fight that this was the most aggressive we've seen Anthony Johnson. In any case, eventually Belfort got enough opportunities to capitalize on an aggressive mistake, and he stopped a takedown, took Johnson's back, and choked him out. Johnson's loss allowed Dana White to cut him for missing weight for the third time. A sham!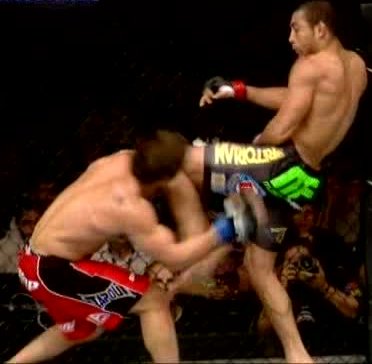 UFC Middleweight Championship Match: Jose Aldo vs. Chad Mendes R1 4:59. Aldo looked fantastic again here. Mendes came in 11-0, but couldn't even touch him. Aldo defended all his takedown attempts with ease, leaving Mendes befuddled. Meanwhile, Mendes wasn't checking Aldo's low kicks, so his ability to shoot was going downhill quickly. Mendes kept going for takedowns because there was really nothing else he could do until just before the 1st round bell, Aldo spun out and KO'd him with a beautiful knee. Aldo was so excited he ran out into the crowd and nearly started a riot as all his adoring Brazilian fans were swarming to touch him.
BACK TO QUEBRADA REVIEWS


* MMA Review Copyright 2012 Quebrada *