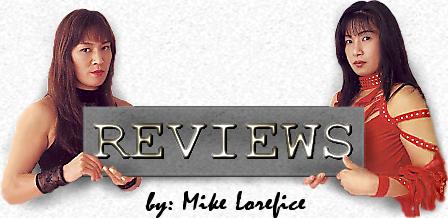 UFC 141: Lesnar vs. Overeem 12/30/11
Las Vegas, NV MGM Grand Garden Arena
Anthony Njokuani vs. Danny Castillo 3R. Usually the striker vs. the grappler doesn't produce that even a fight because one fighter is able to control position, thus keeping the other out of their element. This was the exception because Njokuani has improved his ground defense quite a bit, so even though Castillo comprehensively outwrestled him, tossing him around all night, Njokuani was always able to counter to get out of trouble and back to his feet. He survived being mounted, rear mounted, and really, what makes this "controversial" is that he didn't take any particular damage all night. Castillo's takedowns were big hoisting slams, but once he got it to the mat he didn't have any notable offense, his ground and pound wasn't particularly impressive and he wasn't going for submissions. Njokuani had the reach, movement, quickness, and diversity in standup. He's a dynamite fighter on his feet, and he was able to show some of that in the second round, using his jab to score while avoiding the takedown then scoring big on the inside with knees from the plum clinch and a nasty elbow on the release. He also dropped Castillo to a knee when he ducked a right hook and countered with one of his own. But the first and third round had too much of Castillo throwing Njokuani around like a rag doll, so even though Anthony landed all the significant shots and actually damaged his opponent, it should have surprised no one that Castillo won the decision. If there was a surprise, it's that a judge gave it to Njokuani. It was a fair decision, and Castillo deserves a ton of credit for once again being able to come in on short notice and impose his will on a fighter that was supposed to beat him. Good match.
Ross Pearson vs. Junior Assuncao 3R. Assuncao had an interesting style, as he utilized a Lyoto Machida stance and did a great job of backpedaling away from Pearson's strikes, but not a very good job of exploding forward and ultimately his goal was to get the takedown. The first round saw Pearson chase Assuncao, and constantly miss, but ultimately it wound up being similar to the previous fight, in that Pearson landed the significant blows while Assuncao was mainly trying for takedowns. It wasn't nearly as good though, as these two mostly negated each other with Pearson unable to reach Assuncao and Assuncao unable to keep Pearson down when he even got that far. Pearson had a good stretch 3 minutes into the 2nd round when he worked the body then stunned Assuncao with a jab. Assuncao's highlight came in round 3 when he countered a kick with a jab and went right into a takedown, took the back and tried to submit Pearson, but forgot the body control part. Despite it being Pearson's first fight dropping down to 145, Ross was the stronger fighter down the stretch, coming on in the final minutes by landing some good strikes. I was rooting for Assuncao, but I was glad the judges didn't gift him the decision for his meaningless flash takedowns. Average match.
Nam Phan vs. Jimy Hettes 3R. Hettes was ridiculously impressive here. This was about as one-sided as a fight could be, with major credit to Phan for not only surviving the opening barrage that appeared to be leading to a quick stoppage, but another 13 minutes of this relentless and comprehensive beatdown. Phan couldn't keep Hettes from grabbing him, and couldn't stop Hettes from taking him down once he got hold of him, so he could never get his superior boxing going. Hettes showed a huge arsenal of takedowns and submissions as well as an accurate and punishing ground and pound that busted Phan open and was regularly Phan's head into the canvas. What I loved about Hettes is he showed no fear. He regularly risked or gave up the safe, solid position for the opportunity to finish. This played into what made Hettes such a difficult fighter to take on, as Hettes never ceased to apply major pressure. He was always attacking and always changing it up, so Phan never had a chance to get his feet into the match, to get comfortable, to plant his feet, to consider his own offense, to even take time to relax and breath. Even though the match was so one-sided that the most favorable judge only had it 30-26 for Hettes, it was an entertaining action overloaded match that showcased a high level of skill in all areas of MMA. Good fight.
Alexander Gustafsson vs. Vladimir Matyushenko R1 2:35. Gustafsson countered Matyushenko's jab with one of his own, and as Matyushenko was jumping in the damage was greatly magnified, allowing Gustafsson to make short work of him on the ground.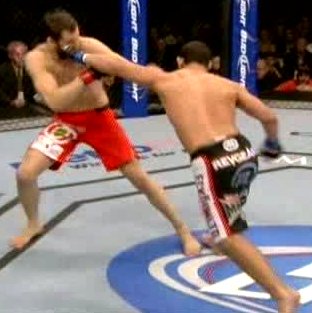 Jon Fitch vs. Johny Hendricks R1 0:12. I was fully prepared for the requisite 15 minutes of excruciating boredom in the lay and pray way that only Fitch is miraculously praised for repeatedly serving up, but apparently there is a God, as Hendricks decked Fitch with his first punch, a huge left hook that sent him flying to the canvas, crashing hard on his head.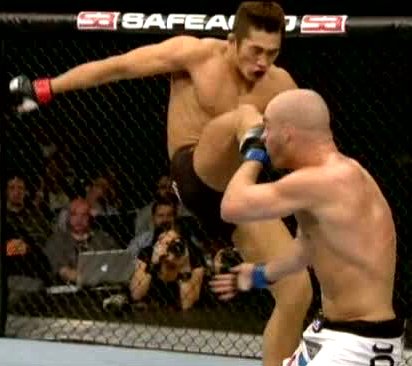 Dong Hyun Kim vs. Sean Pierson 3R. Kim won the fight by doing a far better job of closing and controlling the distance. He used low and front kicks to keep Pierson away, but had no problem getting in when he needed to so he could land his own punches. Pierson was slow and uncoordinated in standup, keeping his hands too low and his chin too high. Judo specialist Kim had a nice hiptoss that Pierson immediately rolled, taking the top and soon his back. Pierson was confident in his grappling, but it was mainly a standup fight with Kim doing his best Daniel-san imitation, finally landing the crane kick in the last 10 seconds of round 2, the bell being the only thing that kept Pierson from being finished. The fight had it's moments, but generally was kind of bland with Pierson never being able to take the offensive despite catching numerous kicks. Average match.
Nate Diaz vs. Donald Cerrone 3R. A combination of Diaz giving the best performance of his career, setting a Compustrike record for accuracy by landing 258 of 314 punches, a whopping 82%, and Cerrone tiring himself out almost immediately by letting Diaz get into his head and his emotions get the best of him led to a one-sided albeit spectacular win for Diaz. Cerrone charged after flipping Diaz off during the opening handshake, but Diaz immediately found his groove, and Cerrone seemed to blow out all his emotions and energy in the first minute, being little more threat than a punching bag during the first round. Diaz totally overwhelmed him with his combinations, busting his nose and mouth up and taking his air by regularly working the body. Diaz kept an even more ridiculous pace than usual, with a deer in the headlights Cerrone being able to do little in the first round beyond standing stood in front of him with his mouth open and head only moving when Diaz peppered it. Cerrone had the advantage in kicks and knees, but just lacked the energy and footwork to disengage then use his feet to control the distance. Cerrone did get going somewhat in the second round, continuing tonight's Karate Kid them by showing "sweep the leg". Cerrone took Diaz off his feet 5 times in the 2nd round alone, but Diaz would get right back up and hit him with 20 more punches. Still, the leg sweeps plus the high kick was enough to get Cerrone the 2nd round on one scorecard. Diaz tried to get Cerrone emotional again by greeting him with double birds to start the third, but it didn't really matter because Cerrone was already spent, while Diaz still had tons of energy. Diaz finally checked some leg kicks, and continued going to town on Cerrone to secure the unanimous decision. Very good match.
UFC Heavyweight Title Next Challenger Match: Alistair Overeem vs. Brock Lesnar R1 2:36. I'm not one of those people that loves to root against the fighters I hate. I'd greatly prefer to never see Lesnar than even to see him lose, but this was the best of both worlds as he once again got pummeled then retired after the fight. The fact that Lesnar didn't have his usual size advantage was huge not only as a mental disadvantage to Lesnar, but a practical one because Overeem was able to push Lesnar around, to out and out bully him. Overeem had less than no respect for Lesnar's wimpy standup, and there was no reason for anyone to think he would, or especially should. Lesnar may be big, but he doesn't know how to punch, and Overeem has been taking the shots of the great standup fighters in MMA and kickboxing who actually know what they are doing for over a decade. Overeem knows his strengths, and that for this fight in particular all he had to do was train to avoid the takedown, which with his own size wouldn't come without a good solid technique. Granted, that can be easier said than done, but you could see that the match was pretty much over once Overeem defended Lesnar's first shot because Overeem gained the confidence to start aggressively attacking Lesnar and Lesnar didn't know what to do because he has no other options. After that one takedown attempt, Overeem was just going to walk through Lesnar's wimpy shots as if they weren't even worth bothering to try to avoid and take what little cardio Lesnar has by punishing the body with knees, body hooks, and middle kicks. Let's forget about this idea that Lesnar can take a punch. Maybe he survive when he has the desire to do so, but tonight was another night when he was all too happy to just turtle up and surrender. Overeem was also smart in attacking the body, which Lesnar just didn't seem prepared to defend, rather than the genetically enlarged noggin. It didn't take long before Overeem buckled him with a liver kick then flurried on an opponent who was just kneeling against the cage covering up and waiting for the mercy stoppage. Overeem's ability to work the body was impressive, but it was more that Lesnar offered nothing than that Overeem was simply too good.
Manny Gamburyan vs. Diego Nunes 3R. Pretty standard match with Nunes able to keep Gamburyan on the outside in the first and third rounds, using his reach and kicking advantages to keep Manny out of striking and takedown range. Gamburyan was determined to close the distance in round 2, and was able to hurt Nunez with a big right hook and control the round on the mat. Nunes got his leg kicks going again in the third, and they finally opened up the body. Nunes won a unanimous 29-28 decision. Average match.
BACK TO QUEBRADA REVIEWS


* MMA Review Copyright 2011 Quebrada *