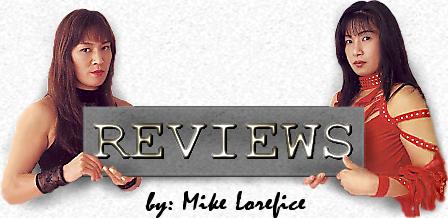 UFC 140: Jones vs. Machida 12/10/11 Toronto, ON Air Canada Center
Mark Hominick vs. Chan Sung Jung R1 0:07. Jung very nearly topped Duane Ludwig's record setting 4 second KO victory over Jonathan Goulet on 1/16/06. Hominick just walked right in with his hands down showing no regard for the Zombies power. He winged a wild right, and Jung clocked him with a right straight that knocked Hominick out. It took 3 solid shots on the ground for Herb Dean to stop the fight, and even then Hominick was up quickly, but there was no question to anyone but Hominick that he was too out of it to defend himself on the mat.
Brian Ebersole vs. Claude Patrick 3R. Grueling and grinding clinch battle that was boring as hell due to both fighters simply negating one another. Ebersole was winning octagon control, but neither were making any progress toward doing any damage, and it was Patrick who was the one that sporadically did something of interest. Patrick had 2 guillotine attempts in round 1, the second lengthy and deep, and landed the only 2 good shots of round 2 just before the finish. Ebersole was more active striking in close quarters, but overall the first two rounds were frankly too uneventful to care about calling. Ebersole controlled most of the third round, including a couple takedowns, but a match finally broke out in the last 2 minutes with Patrick having a good gator roll attempt and landing a few heavy punches. Patrick also tried for an armbar and a D'Arce choke. All these submissions attempts were outweighted by Ebersole's useless takedowns as always though, so Ebersole managed a split decision. Poor match.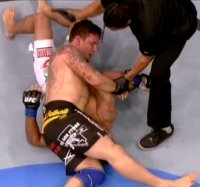 Antonio Rogerio Nogueira vs. Tito Ortiz R1 3:15. Ortiz came out very aggressively punching to set up the takedown. Nogueira survived the early rushes and slipped off the cage, hurting Ortiz badly with an overhand left. Nogueira put the heat on in standup, finally dropping Ortiz with a knee to the midsection. Nogueira was punching himself out on Ortiz, but Ortiz had guard and was still active enough. It appeared Tito might actually find a way to survive, but Nogueira switched to the body, causing Ortiz enough pain that he had to cover, which finally brought on the stoppage. Ortiz did manage to win his first fight since he defeated the even more washed up Ken Shamrock in 2006 this year, so he's planning to force us to suffer through at least one more match next year to finish out his UFC contract.
Antonio Rodrigo Nogueira vs. Frank Mir R1 3:38. Even though Mir was the first person to knock Nogueira out, you almost wanted them to just start this one on the ground because their submission skills are what set them apart in the heavyweight division. I feel like Nogueira has always been the better boxer despite Mir outpunching him at UFC 92 12/27/08, and he almost knocked Mir out before anything of note could happen on the mat. Nogueira landed a nice overhand right left jab combo to wobble Mir and cause him to try a desperation shot. Joe Rogan thought Mir was out as he was on his knees taking punches from Nogueira, but it didn't seem as though it would matter as Nogueira was ready for one of his patented chokes. Somehow Mir rolled out of Nogueira's guillotine though and took the top. Just as Nogueira was going to take Mir's back and probably choke him out, Mir grabbed his arm and stepped over into a Kimura. Nogueira was ready to slip out, but Mir rolled him and broke his arm. A short fight, but definitely one of the most exciting, stunning, and generally unbelievable final minutes you'll ever see. Good match.
UFC Light Heavyweight Championship Match: Jon Jones vs. Lyoto Machida R2 4:26. Jones finally had a competitive and compelling match that forced him to leave his comfort zone and make adjustments. It was a very interesting, high level fight as expected since Jones & Machida are both not only great fighters, but ones with a very unique style that makes their opponent look bad. Facing each other, they had to deal with the sort of problems they usually only inflict, and it was intriguing to see how they managed to be themselves without being able to just fight on their own terms as usual. Jones wasn't so much troublesome to Machida stylistically, but rather Machida's problems stemmed from Jones being a unique physical specimen. Jones 10 1/2" reach advantage was very problematic because Machida's strategy was to use left straight counters, but Jones' legs are so long he had a hard time simply reaching Jones' face on the left straight counter to the left low kick. Machida did better when instead of trying to counter he just avoided then took the initiative and got off first, rushing in so he'd close the distance before Jones could back out. Machida's quickness was troublesome to Jones, both in terms of being so difficult to hit and also in his ability to close the distance and land combinations. Machida's lack of windup also posed problems, as instead of stepping in to kick as a Muay Thai based fighter would he was able to pounce right out of his karate stance with a body kicks then follow with the left straight. Jones controlled the early portion of round 1, landing low kicks, but once Machida got out of counter mode and began attacking he shifted the momentum in his favor. He arguably lost the round as Jones landed more shots even though I felt Machida had a couple of the best, but you felt Machida was now controlling the fight, and that showed by him being loose and relaxed whereas Jones was puzzled and nervous even coming out for the second round. Machida continued the good work for half the second, but then made a crucial mistake, not so much even in getting taken down, but in not being active enough moving on the ground. You have to know that one shot from Jones can do you in, and Jones turned the fight right back landing one mighty elbow that gashed Machida's forehead nastily. When John McCarthy quickly called for the doctor to inspect it, I thought they might stop it right there because it was just going to gush into the eye. Jones' confidence rose, and normally super patient Machida had to become extra aggressive because he knew he might not even be able to count on getting another round. Machida's left straights were getting a bit predictable because he wasn't using the right hand or even any other style of left, and Jones timed Machida's lead, landing a big left hand counter then backing Lyoto into the cage with a knee to the body then applying an odd angle high standing guillotine that caused Machida to crumble to the canvas once McCarthy stopped it. This was a good fight, but more importantly the sort of good fight you only get when two highly skilled and excellent moving fighters go at it. Pretty much any fight is interesting for the highlight offense, but this was one where you were on the edge of your seat for all the misses both because of their ability to defend and because you felt every blow that actually did land was capable of turning the fight. Good match.
BACK TO QUEBRADA REVIEWS


* MMA Review Copyright 2011 Quebrada *