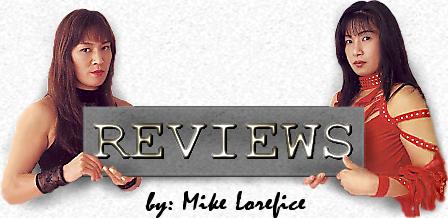 UFC 138 Leben vs. Munoz
11/5/11 Birmingham, England LG Arena
Terry Etim vs. Edward Faaloloto R1 0:17. Faaloloto caught a spinning high kick against his face and shot for a bodylock takedown, but Etim guillotined him for the win.
Anthony Perosh vs. Cyrille Diabate R2 3:09. Diabate did a great job of using his reach advantage and hip turn feints to keep Perosh off balance and away from him during the first half of the match. The kickboxer was patient and wasn't doing huge damage, but he was making a mark every time he attacked, and was out of the pocket in time to keep Perosh from tying him up. Perosh was able to time him later on, getting a takedown with 90 seconds left in round 1 when he caught a kick, though I'd still give the round to Diabate. Perosh ducked under a punch combo early in round 2, and dominated the round with really slick transitions, taking any position he wanted and generally making Diabate look like a rank amateur. He tried a rear naked choke, but didn't have the hooks in, so Diabate was able to turn to his back. Perosh thought about an arm triangle, but wasn't confident he could finish, so he waited Diabate out. Diabate gave his back, and this time finishing with the rear naked choke. Above average match.
Che Mills vs. Chris Cope R1 0:40. Mills hit a solid left right punch combo followed by a wicked knee that almost drew the ref stop. Cope wasn't quite out, but Mills had no problem pounding him right out on the ground.
Thiago Alves vs. Papy Abedi R1 3:32. Abidi was 8-0 against little known competition and hadn't fought in a year, but he had no fear of jumping in with Alves in his UFC debut. He fought with 100% confidence, coming out aggressively with crisp combos. Alves isn't pretty, but he is technically proficient and doesn't make mistakes. He eventually found his moment, rocking Abedi with a right and left hook and continuing until Abedi fell after a left uppercut. Alves barraging Abedi from the mount where he cut Abedi's eye with elbows before finishing him with a rear naked choke.
John Maguire vs. Justin Edwards 3R. Maguire put on a grappling clinic here, both offensively and defensively. One of the reasons he controlled the majority of the fight is he did such a great job of transitioning into a takedown or control. Maguire showed a good jab in standup, but mainly kept Edwards close, having several submission attempts. Edwards had one big chance in the first when he hit an awesome spinning heel kick then dropped Maguire with an overhand right as Maguire bounced off the cage, but he made too many mistakes, repeatedly losing control failing on his guillotine. Maguire won a unanimous 30-27 decision. Average match.
Renan Barao vs. Brad Pickett R1 4:09. Barao made his long awaited UFC debut here, and proved himself to be their latest phenom. The match featured great standup action, starting out wildly with both men flurrying as hard and fast as they could, and not exactly slowing down from there. Pickett controlled the center of the octagon, but Barao kept some distance because Pickett needs a closer fight due to his boxing based striking whereas Barao can use his legs and even fly at his opponent. Both men looked really good, but Barao was quicker, more diverse, and surprisingly even showed a better jab. The end came when Barao landed a wicked right knee to the face then flurried with punches until Pickett went down. Pickett was surprisingly alert and actually came close to getting right up, but Barao jumped onto his back and went for the rear naked choke. Pickett defended well, but Barao eventually made him tap despite the arm being across the face. Good match.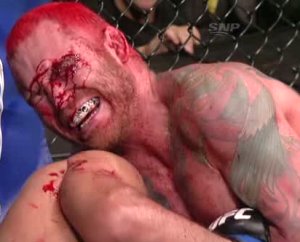 Chris Leben vs. Mark Munoz 2R. A quality fight, but not the sick slugfest we were hoping for. Munoz is a big bomber, but his best punching is on the ground, so he harnessed his own brawling tendencies, avoiding standup flurries and instead focusing on his grappling. Munoz was quicker and was able to take Leben down where he could punish him with his ferocious ground and pound without taking any return fire. The Crippler normally has great stamina, but spending so much time on his back getting rocked, he was sucking wind quickly. Leben got a wicked cut above the left eye in round 2, with the blood dripping right into the socket so he couldn't see. There was an interesting exchange when the doctor checked it out after Leben finally came back with a front choke. Leben first told the ref he couldn't see, but the ref told him he'd stop it if he told him he couldn't see, so then Leben said he could see. Leben survived the round, but they stopped it before the start of the third because he really couldn't see. Well, no one thought the first 5 round non title match in UFC history would actually require more than 3 rounds once they saw what it was. Above average match.
BACK TO QUEBRADA REVIEWS


* MMA Review Copyright 2011 Quebrada *