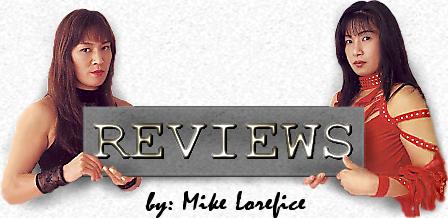 UFC Fight Night 25: Shields vs. Ellenberger
9/17/11 Ernest N. Morial Convention Center
Alan Belcher vs. Jason MacDonald R1 3:48. MacDonald pulled guard when he couldn't get the takedown, but Belcher got distance and lit him up with some heavy hands and pounded him out.
Jonathan Brookins vs. Erik Koch 3R. Brookins went for the takedown the entire fight, but aside from the final seconds of the first round when Koch let his defenses down, was only able to clutch, grab, and bore everyone to tears. Koch got his striking going in the 2nd round, and did his best to be effective and entertaining. I would have liked to have seen more low kicks from him because Brookins didn't defend them in the least, and that would have made it that much more difficult for Brookins to ever get the vaunted takedown. Koch was able to maintain distance for portions of the third, getting his jab going and not being afraid to allow it to start combinations, following with some solid left straights. Unfortunately, Brookins was able to pin him against the cage and just hold him there without mounting any sort of offensive for about half of this round as well. I had to give Brookins the first because Koch couldn't do anything, but the next two rounds went to Koch as I don't give any merit to control without any real attempt at offense. Koch didn't do a ton of damage, but he at least tried to fight and his striking was accurate. Koch was a unanimous decision. Poor match.
Court McGee vs. Dongi Yang 3R. An uneventful fight for the first two plus rounds that really took off in the third after the fans began booing heavily. McGee controlled the center of the octagon and was the aggressor in standup. The former pro boxer landed an occasional right hook, but for the most part was simply winning with his jab and his far superior conditioning. Yang wasn't doing much of anything to help his cause, landing a sporadic low kick but basically just backing away and using his strong judo base to defend when McGee tied him up. McGee busted Yang's nose up, but you never felt he had a chance to win in any manner other than a decision. Yang momentarily turned the fight 2 minutes into the third with a big left hook out of nowhere. He was able to take McGee's back, but McGee shook him off and got back to his feet. Yang had a little more success in standup, landing 3 more good shots before McGee stabilized and his conditioning advantage allowed him to regain the advantage. With Yang too tired to defend the takedown in the manner he's capable of, McGee was finally able to put him on his back twice. Yang spun out of mount and got back to his feet the first time, but the second time McGee hit a mounted guillotine and Yang seemed to be on the verge of tapping, but knew there was only a few seconds left in the fight and was able to hang on. McGee won a unanimous decision. The third round was very good, but the first two were totally uneventful. Below average match.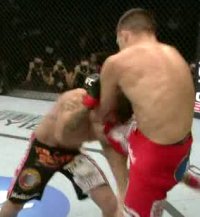 Jake Shields vs. Jake Ellenberger R1 0:53. Ellenberger defended a takedown and securing a thai clinch, throwing a few hooks to create space. Ellenberger hit a knee to the body, and as Shields dove for a takedown, Ellenberger shocked the world with a huge knee to the face that left the former Strikeforce Middleweight Champion prone to his flurry of ground punches. Shields, who hadn't been stopped since Marty Armendarez TKO'd him in his third pro fight on 3/25/00, was so out of it he continued trying to single leg the ref long after the fight was stopped. Coming on the heels of his defeat to GSP at UFC 129 4/30/11, Shields, who previously hadn't lost since Akira Kikuchi beat him on 12/14/04, has now moved way down the ranks with this second consecutive defeat.
BACK TO QUEBRADA REVIEWS


* MMA Review Copyright 2011 Quebrada *