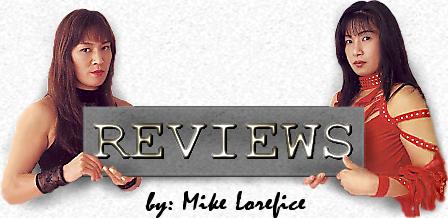 UFC Fight Night 24: Nogueira vs. Davis 3/26/11 Seattle, WA KeyArena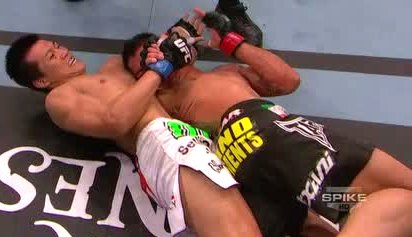 Leonard Garcia vs. Chan Sung Jung. My faith in UFC ever figuring out how to market quality matches wasn't exactly raised when I didn't know the rematch of Joe Rogan's fight of the decade was taking place until I saw them walk out for the opener. Granted, Jung took the fight on 10 days notice when Nam Phan dropped out, but the original fight was simply a rematch of a more recent high quality match (12/4/10 as opposed to 4/24/10) that Garcia didn't deserve to get the decision in. Tonight's match wasn't nearly as good as their first, as Greg Jackson is finally getting Garcia to be on his toes and strike with some technique rather than simply winging power punches all night, but that mainly made for less of a slugfest. Garcia was winning the first 3 ½ minutes, so there was some results to the new less entertaining style even though he was still rather too predictable to land often enough, and in fact it was when he reverted to his usual reckless self, reaching for a power punch, that Jung took him down and tried for an armbar. Garcia got back to his feet, but Jung caught him with a couple knees against the cage (1 illegal) and mounted. Round 2 was all Jung, countering beautifully and not getting countered when he attacked first. Jung got his knees and kicks going, and was backing away from all Garcia's increasingly predictable power punches. Jung landed a flying knee and took the top after Garcia slipped missing a high kick and getting kicked in the thigh in the process. Jung was landing nice elbows, so Garcia gave his back before his face got too cut up. Garcia was prepared to defend the rear naked choke, but Jung shockingly switched it up and applied a twister, a former Eddie Bravo technique of the week that's something like the pro wrestling ground manjigatame, but a move I've never seen applied in a real match before. As there were only a few seconds left in the round, I figured Garcia would survive the round, and somehow find a way to win a decision despite there being no case for him winning either of the first two rounds, but he tapped with 1 second left. Good match.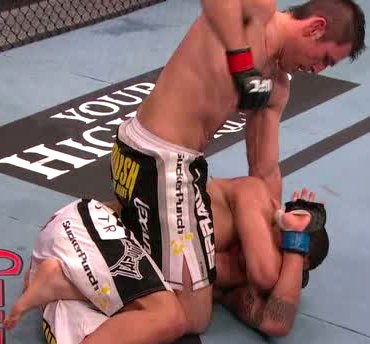 Amir Sadollah vs. DaMarques Johnson R2 3:27. Tough match, especially for Johnson who accepted it on two weeks notice. Sadollah is a relentless stalking Muay Thai surgeon who isn't afraid to mix it up and does everything in a very precise, technically sound manner. He made mistakes, and Johnson was very opportunistic getting takedowns when Amir slipped throwing a high kick, catching a push kick, and with a beautiful hip toss. Sadollah had the confidence in his ground defense to keep going after his standup though, and in fact Johnson did little on the mat and wasn't able to keep the fight there for long. Johnson probably won the first round since all the judges care about is takedowns, but Sadollah kept pressing, and began to take over with his striking at the start of the second when he backed Johnson into the cage. Johnson left his gameplan when he escaped, and began slugging it out with Sadollah in the center of the ring, which was recipe for disaster. Johnson was also spent by this point, as Sadollah's knees to the body seemed to take much of what he had left. Sadollah could have worked for the KO, but took the fight to the ground when he had the opportunity, and it was there that he did his best damage, landing heavy hands from a distance and a series of knees to the body. Johnson got back up momentarily, but Sadollah took him down and not only mounted but used an arm to trap Johnson's left arm behind his neck, thus having free reign to club him with the other arm until the stoppage. Good match.
Dan Hardy vs. Anthony Johnson 3R. I never got the whole Dan Hardy is good idea. All I see is an obnoxious clown who can't defend a takedown or do anything at all once he's on the mat. This was a boring fight because Hardy couldn't even make Johnson, a guy known to be lacking in stamina due to cutting a ton of weight, do any work or feel the slightest bit of anxiety. Johnson would take him down on the first try, and could have taken a nap for all the threat Hardy was to do anything. The fans were booing regularly, but Johnson was making an effort, it's just hard to finish a guy who has no thought of offense from his back. Hardy couldn't even do anything in standup, unable to make up for Johnson's 4 inch reach advantage by closing the distance. Johnson knocked Hardy down with a high kick early in round 1 that led to Dan spending most of the next 14 minutes on his back. Johnson's best chance to finish came late in the third when he took Hardy down into back mount and worked for a rear naked choke, arm triangle, and finally a neck crank. Johnson won a unanimous decision. Poor match.
Anthony Rogerio Nogueira vs. Phil Davis 3R. As 30-27 unanimous decisions go, this was as close as they come. Nogueira was defending beautifully, but was only reacting to Davis's attacks, having a hard time actually countering with the hooks or uppercuts he was seeking. In round one he stuffed takedown after takedown from the four time Division 1 All American wrestler, but Davis won the round because he was being offensive minded. Davis has improved his standup, particularly his kicking, and when he wasn't shooting, he was a lot more active striking. Even though Nogueira pretty much blocked every one of his kicks and avoided his punches, Davis getting off first and pushing Nogueira back kept Minotauro far enough away that his boxing was ineffective. Nogueira began to turn the fight in the 2nd round, controlling the center of the octagon and pushing forward more. He also began to time Davis' kicks and counter punch. Nogueira landed a few good shots, but Davis switched from the double leg takedown to the single leg, and that was the difference in the fight. Again, Nogueira's defense was tops, holding Davis' wrists to the point he could barely get a punch off and pushing him off and getting back to his feet. The latter backfired on Nogueira late in the round though, turning and running after creating a little distance only to have Davis catch up and drag him right back down from behind. Nogueira was trapped against the cage with Davis controlling his back, unable to defend as Davis punched under and over for the final half minute. I might have given Nogueira the round if not for this late surge, but it was the one time during the fight either was in any trouble. Round 3 was a pretty standard win for Davis as he hit two more single legs. It was pretty amazing that Nogueira didn't have a single submission attempt in the fight. UFC is hoping Davis will be ready to challenge Jon Jones later this year, but this was just the standard, uninspiring boring wrestler performance. Of course, that's the type of challenger UFC usually delivers, and Davis is sure to win a lot of fights in UFC because he should be able to outwrestle pretty much any of the other boring wrestlers. In Davis' defense, he did have less notice than usual for the fight as Tito Ortiz was originally going to attempt to win his first fight since 2006, and Davis had to deal with a couple injuries in training camp. Average match.
BACK TO QUEBRADA REVIEWS


* MMA Review Copyright 2011 Quebrada *