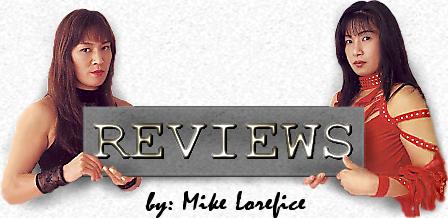 UFC 128: Shogun vs. Jones PPV 3/19/11 Newark, NJ Prudential Center
Edson Barboza vs. Anthony Njokuani 3R. Spectacular, evenly match standup fight that was clearly the highlight of the show. Barboza started fast, particularly hurting Njokuani with the second big right hand and soon following it with a right high kick. Barboza mixed his kicks well, particularly making Njokuani fear the outside leg kick. Njokuani was out of sorts from the early barrage, and spent most of the round in his shell, hesitating and then getting hit. Njokuani came out fast in round 2, his newfound aggression now causing Barboza to strike less frequently as he was forced to defend and wasn't as effective as a counter puncher. Njokuani had a takedown off a kick catch, but Barboza came on late including answering with a double leg takedown. Round 2 was better than the first because both fighters were fighting well most of the time. Highlight reel strikes included a spinning heel kick by Barboza and a spinning elbow by Njokuani. Njokuani continued to outwork Barboza in an even closer third round. He had the pace and activity, but Barboza wobbled him with a spinning high kick in the final 5 seconds of the fight. Barboza might have knocked him out if he followed up rather than celebrating, but regardless the showtime blow was enough to sway any judge who hadn't already decided in Barboza's favor, as he captured a unanimous 29-28 decision. Very good match.
Luiz Cane vs. Eliot Marshall R1 2:15. Cane's standup was way too formidable for Marshall, who seemed very nervous. Marshall wasn't moving fluidly, and was reaching out to grab Cane a foot too soon on the takedown attempt. Cane knocked Marshall down with a left uppercut and really put a hurting on him, standing over Marshall and dropping bombs. Marshall did his best to hang in there, but was too hurt to do more than cover up, so the fight was eventually stopped.
Raphael Assuncao vs. Erik Koch R1 2:32. Nothing happened for 2 ½ minutes then Assuncao charged in with a right hook only to get laid out by Koch's short right hook counter.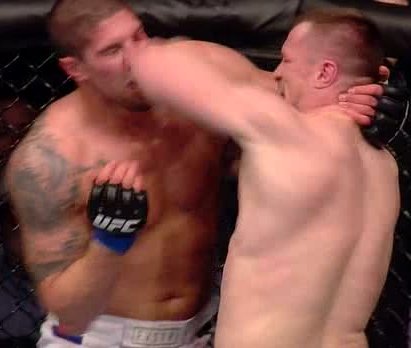 Mirko Cro Cop vs. Brendan Schaub R3 3:44. Schaub had a good game plan, circling away from Cro Cop's power, attacking as much as possible, and even taking Mirko down. The larger Schaub also tied him up and leaned on him to try to tire Mirko out, although Cro Cop was able to do reverse and do his best damage landing elbows. Schaub controlled the first, and even Cro Cop's left high kick early in the second was unable to turn the fight. In fact, Schaub was unphased and proceeded to take Cro Cop down again. Schaub clung to Cro Cop, but Cro Cop cut Schaub badly with elbows from the clinch, breaking his nose and also cutting him on the left eyelid. Cro Cop then got a big reprise when Herb Dean deducted a point from Schaub for a rabbit punch. Schaub either grabbed Cro Cop when he tried to kick or blocked it, so Cro Cop wasn't scoring when he had distance. No one was making any progress in the third, and it appeared to be going to the judges, but Schaub beat Cro Cop to the blow with an overhand right as Cro Cop began a left low kick. Above average match.
Nate Marquardt vs. Dan Miller 3R. A dull grind where they wrestled and punched. Their faces were reddened and cut, but the standup was generally rather dull, sporadic single punches. Marquardt was at least less predictable than in the past, feinting more often, which increased the success rate of his powerful right hand. The mat was even worse, as they spent all this time working for the takedown to simply throw some punches and elbows from the other man's guard. Miller took the fight on less than a week's notice when Yoshihiro Akiyama withdrew due to the Tohoku tsunami and earthquake, so it was impressive how well his stamina held up. Marquardt scored more takedowns and tended to be in control at the end of every round, throwing some effective elbows from the guard en route to a unanimous 30-27 decision. Below average match.
Kamal Shalorus vs. Jim Miller R3 2:15. I thought the main difference between the two would be that Shalorus uses his wrestling to keep the fight in standup so he can strike, but it was that Miller can move and Shalorus can't. Miller lacks Shalorus's striking power, but is far more fluid, and was having little trouble avoiding Shalorus' predictable attacks. Shalorus is about as bound up and flatfooted as any standup first fighter around, and his lack of setup and feints was severely limiting his options and connect rate. Shalorus' granite skull was on display, as he wasn't even phased by a clean left high kick, but later got a nasty mouse under his left eye. Miller had a fabulous fast transition, taking Shalorus' back immediately after a single leg takedown. Miller couldn't get more than a rear naked jawlock, but easily won the round, holding the spider position for the final 3 minutes. Miller was well on his way to handing The Prince of Persia his first loss via decision, but with 3 minutes left in the 3rd, hurt him with a left uppercut then a big knee that destroyed his nose, causing blood to leak all over, then pounded him out from side mount. Average match.
Urijah Faber vs. Eddie Wineland 3R. A competive battle of former bantomweight champions, but even though Wineland was staying in it, you never really felt as though he would win. Faber, as always, kept attacking tirelessly. Wineland's defense was just superb, but he wasn't able to turn defense into offense, so the fight was him thwarting Faber but never making him pay. Faber put all his effort into going for the takedowns, continually transitioning, but he not only couldn't get Wineland off balance, he was actually the one who was slammed to the canvas in the first. Faber had some success late in round 1 with his punches, but it was just a single blow here and there as even holding his hands at his waist couldn't get Wineland to attack so he could counter. Wineland wasn't aggressive in this round, or any round for that matter, but I felt he deserved the round for constantly baffling Faber even though Faber scored more offensively with his standup. Wineland began attacking in round 2, but couldn't find his range and was taken down. Faber clearly won this round, working some effective ground and pound. Round 3 was another close round, but Faber got a takedown with 1:20 remaining and was again able to stay on top. Faber's speed and stamina were enough to win a unanimous 29-28 decision, but it was anything but the dominant performance he needed to reestablish himself after losing his last three title bouts. Average match.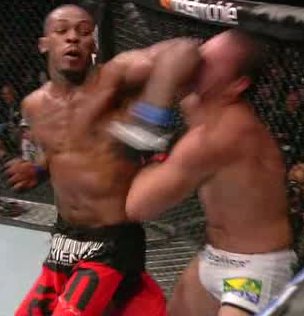 UFC Light Heavyweight Championship Match: Mauricio Shogun Rua vs. Jon Jones R3 2:37. Possibly the most thorough and comprehensive beatdown in any UFC title fight. There have been plenty of short title matches where one guy runs over the other, but it's hard to remember a championship bout of length where one fighter did not do a single positive thing, and even rarer that this fighter was the champion. Shogun clearly wasn't at full force after the 10 month layoff for knee surgery, but that could hardly be used as an excuse in a blowout of this magnitude. Shogun was never in control of any aspect of the fight, and I'd even be hard pressed to cite a single positive of his night. I guess he landed a couple punches, but wow, this was just a dissection by a much bigger, stronger, faster, quicker, longer man. Jones actually looked larger at light heavyweight than Cro Cop did at heavyweight. His size gave him a huge advantage beyond the obvious, in that he could actually land in standup while entirely out of Rua's reach, and similarly he didn't have to bother passing guard to beat Rua up with his ground and pound. Bones just bullied Shogun the entire night, bombing him in standup and taking him down at will. Jones was completely relaxed and totally patient, giving Shogun no quality opportunities to counter. Shogun was taken down almost immediately and beaten up on the ground then hurt when he finally got back to his feet to the point he seemed to fight most of the standup portion on unsteady legs. Shogun lacked the reach and was too slow to close the distance. Perhaps for fear of the takedown wasn't using any of his famous low kicks, but that was a bigger absence than it sounds because without them, Shogun was left with running at Jones in hopes of getting close enough to punch him, which was obviously easy to defend and left him open to the counter. When Jones was able to back him into the cage, he was in big trouble, as Jones was coming from all angles, even landing a spinning elbow out of a clinch release early in the 2nd. Shogun looked spent throughout the 2nd round, and again had no luck getting any offense going from his back. I was rooting for Shogun, but by the third I started thinking he'd be better off giving up and living to fight another day, as each round of annihilation was probably taking a fight or two off of his career. At 23, Jones became the youngest champion in UFC history.
BACK TO QUEBRADA REVIEWS


* MMA Review Copyright 2011 Quebrada *