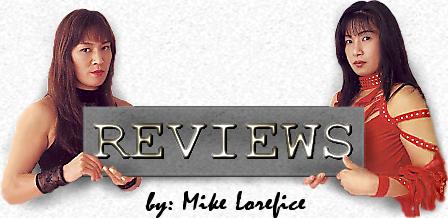 UFC 127: Penn vs. Fitch 2/26/11 Sydney, Australia Acer Arena
Riki Fukuda v. Nick Ring 3R. I realize I always complain about the judges, but this may well be the worst decision ever. It's not that Fukuda did all that much, but that Ring was so bound up by nerves he couldn't even fight. He was technically the better striker due to his kickboxing background, but he was so nervous he couldn't even move, much less attack. When he did throw, he rarely committed to the blow, and almost never threw a combination despite Greg Jackson repeatedly urging him to. I know I always complain about meaningless takedowns, but Fukuda had 1-2 takedowns per round. He couldn't hold Ring there, and had little offense from the position so they were rather useless. That said, if Ring was scared of something beyond just being in the octagon, it was Fukuda's takedowns that instilling the unease into Ring, who likely was pawing and throwing single blows because he was trying to remain on his feet. I'm not sure I can say Fukuda was the better standup fighter as he's more of a brawler, but he certainly moved 100 times more fluidly, and made more of an effort to engage, even if he was generally looking to counter, and Ring's face certainly looked a lot more beat up than Fukuda's. It wasn't an interesting fight by any means, but Fukuda at least fought. He was loose and mentally and physically very into it. He may not have had tremendous success, but he did show his varying skills, even changing his takedown technique in the third despite it working pretty well in the first two rounds. Ring showed three rounds of the same nothing, and pretty much seemed to be sleepwalk through the fight with Joe Rogan repeatedly commenting on Ring's lack of urgency and failure to even look like he was trying to make something happen. When they said it was a unanimous 29-28 decision, I was trying to figure out which round they gave Ring. I thought you had to at least try to fight to get a decision, but I guess that's been proved incorrect. Poor match.
James Te Huna vs. Alexander Gustafsson R1 4:27. Pretty good back and forth grappling match. Te Huna controlled early, but Gustafsson showed good defense when it mattered, defending Te Huna's crucifix attempt and getting guard then standing up. Gustafsson also defended a lengthy single leg takedown, and scoop slammed Te Huna, but this time Te Huna was able to get back to his feet when Gustafsson gambled on a no body control Kimura attempt. Te Huna got desperate because he was already tired, dropping to the ground and trying to yank Gustafsson down with him and take the top, but instead Gustafsson got his back and choked him out.
Spencer Fisher vs. Ross Pearson 3R. Though it didn't live up to its potential because the defense was so far ahead of the offense they didn't do much damage, they certainly delivered an entertaining fast paced standup bout. Fisher had a good camp and was pushing the pace and controlling the center of the octagon. He regularly had Pearson fighting on or outside the black in ring octagon, but wasn't cutting off the ring or controlling the angles. Fisher threw sharp straight shots, landing on hand speed. Both men were very quick and defending well though, it's just that Fisher was the more active and aggressive fighter in the first two rounds. Pearson landed some good shots in the first round and a half, but wasn't able to throw enough, as Fisher had him circling and reacting to his fakes. Pearson took over when he got inside or clinched, landing some nice right hands. Pearson's confidence began to grow in the second half of round 2, as he finally had a clear path to scoring on Fisher. Fisher also began to slow down, and this allowed Pearson to start landing some combinations. Pearson's best round was clearly the third, finally opening up and getting some much needed volume as well as scoring two takedowns. I felt Fisher won a close round 1, round 2 may have been a slight edge to Fisher due to his aggression and octagon control but after a close enough first round was probably best scored even, and Pearson very clearly won round 3. I figured Pearson would probably get the second round because both rounds were tight and his late surge would be enough for the judges to leave the fight up for grabs going into the final round, so I wasn't at all surprised he got the decision. Good match.
Kyle Noke vs. Chris Camozzi R1 1:35. Camozzi tried for a single leg, but Noke body locked him and took him down into mount, took Camozzi's back and choked him out.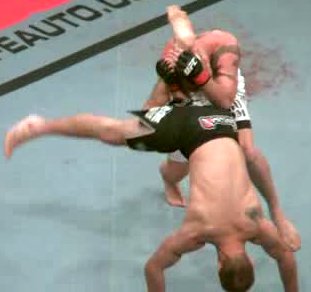 Chris Lytle vs. Brian Ebersole 3R. Lytle dictated standup early with his boxing, but Ebersole was unorthodox enough to get more and more shots in as the fight progressed. Ebersole actually opened both the first and third rounds with a cartwheel kick, which Ebersole claims is his favorite move. Lytle kept falling into the same patterns, getting taken down going for the standing Kimura and gassing himself out working a endlessly working a guillotine he couldn't finish. Ebersole tried for the takedown, but Lytle locked his neck and spent the second half of round 1 working the guillotine. Ebersole eventually took the top and cut Lytle under the left eye with ground and pound (he was cut above the same eye later on), which gave him confidence going into the second round. Ebersole was moving more freely in the second, and began to open up. Lytle clubbed him with a punch here and there, but Ebersole was so unpredictable he began to score more frequently. Lytle narrowly escaped Ebersole's takedown attempt with 2 minutes left in round 2, but Ebersole hurt him with a big knee as he was scrambling away and controlled the rest of the way. Round 3 was much like round 1, with Ebersole going for the takedown, but Lytle working the guillotine. Lytle totally gassed himself out, and was very wobbly in the second half of the round. I had the fight even going into the third, and Lytle's guillotine attempt early was in his favor, but I felt it lost him the fight because he had nothing left after that. Ebersole didn't do anything outstanding in the final half of the third, but still being fresh allowed him to control position and finish strong with some more ground and pound. Ebersole won a unanimous decision. Good match.
Tiequan Zhang vs. Jason Reinhardt R1 0:48. Zhang thwarted everything Reinhardt tried. Reinhardt's leg kicks and punches were answered with crisp right hand counters then his double leg was stopped with a winning guillotine.
George Sotiropoulos vs. Dennis Siver 3R. Siver was relaxed and patient, knowing it was only a matter of time as long as he remained on his feet, which he had every confidence he could do, having spent much of his camp working on his takedown defense. Sotiropoulos was moving well in standup, which made it hard for Siver to find the opening to throw his kicks. Although Sotiropoulos is a good boxer, everyone knows he's not in kickboxing champion Siver's class as a striker and he was really only striking with Siver to open up the takedown, which wasn't coming for a number of reasons. Sotiropoulos's BJJ style takedowns were sloppy and telegraphed, especially after he was hurt in the first, and Siver's balance was outstanding plus he was so much stronger than Sotiropolous he could bully him if need be. Siver even avoided the takedown when Sotiropoulos caught a front kick and was holding a leg in the air for 20 seconds! Siver wasn't getting much through early, but hurt Sotiropoulos with seemingly everything that landed. Siver scored a big knockdown with a left hook with 1:15 remaining in the first, and certainly threatened to put Sotiropoulos away, dropping him with another left hook within 10 seconds. With two knockdowns, it was easily 10-8 round for Siver in my book. Sotiropoulos relied on his outstanding conditioning in the second round, pressing the action and staying active enough to not only keep Siver from getting comfortable enough to kick but also in hopes that a high paced match after a very tough weight cut would leave Siver's tank empty early. Sotiropoulos was loose and made a statement with some good strikes near the end of round 2, and could have actually won it. Siver defended all Sotiropoulos' takedowns and did more damage in standup, but it was a much more competitive round with Sotiropoulos being the aggressor and looking fresher despite all the damage he withstood in the first. The third round was also very close, again with Sotiropolous pushing the pace and getting points for aggression and octagon control, while Siver did more damage, finally landing his spinning savate but Sotiropoulos was unphased. Siver won a unanimous decision, ending Sotiropoulos' 7 match win streak since entering UFC. Good match.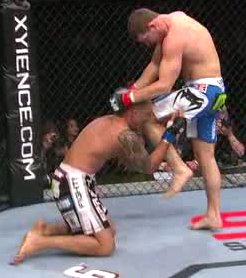 Michael Bisping vs. Jorge Rivera R2 1:54. Bisping fought the smart fight, and was very impressive if you can look past the facts that he was back to fighting a never was and did most of his damage with a blatantly illegal blow. Bisping was able to take Rivera down with ease because Rivera's takedown defense is still pathetic at 39-years-old. Bisping looked to rough him up on the ground, where Rivera has no game, to take away some of the zip from his standup, but did no real damage with legal blows and didn't keep Rivera down for long. Bisping did do major damage with an illegal knee while Rivera was trying to get up. As Rivera had only gotten as far as rolling over onto both knees, there was really no way to excuse Bisping's indiscretion. Bisping was docked a point, but Rivera was down for ages, basically only getting back to his feet because he had to prove he could keep fighting. Rivera still didn't seem with it, but it seems the officials have gotten over the fear that someone is going to die and cause the sport to be shutdown, so now they want the fights to continue for the fans. Rivera finally seemed to recover during the break between rounds. He decked Bisping with a right hook early in round 2, but just as with his one good punch in the first round, was unable to capitalize on it in the least. Bisping was unable to take Rivera down, but his conditioning was so good he was only momentarily slowed by the big blow, and was soon working Rivera over with big right hands against the cage. Bisping was able to follow up when he did damage, and soon finished him with more right hands. This was some big grudge match, and Bisping showed his typical class and professionalism after the match, going right over to his defeated foe and demanding he apologize for trash talking Bisping's family then telling him "go home, loser!" Bisping even spit at Rivera's cornerman. Above average match.
BJ Penn vs. Jon Fitch 3R. Penn trained with former top rival Matt Hughes, and showed much improved takedowns that allowed him to put Fitch on the defensive. Penn was in shape and Fitch hadn't trained any defensive wrestling, so the strategy was effective in the first two rounds. They exchanged failed takedowns before Penn used a right hand to open up a double leg takedown. Penn took Fitch's back and had a rear naked choke attempt, but didn't concentrate hard enough on his body triangle after Fitch got his neck free, which allowed Fitch to turn to top position. Fitch got a quick takedown in the second because Penn was too ambitious with a flying knee, but Penn was soon back to his feet, using elbows to make Fitch pay for pinning him against the cage that soon caused Fitch to leak blood. Penn again took Fitch down and secured rear mount, but Fitch again turned on top of him, this time having more luck in ground and pound because he pinned Penn against the cage. Fitch started the third with a big right that led right to a takedown. Penn quickly used his dexterity to push Fitch off, but Fitch had a second takedown and this time wore down Penn, who had no upper body control, with repeated elbows and punches. Fitch took no chances as always, making no attempt to improve his position, but the fact remains Penn literally got nothing off the entire third round. I felt Penn won the first round, but the second was a lot more questionable as Fitch's late ground and pound made a round that could have been clear if Penn had maintained rear mount into more of an even round, though I'd still give Penn the advantage for breaking Fitch's nose and having a dominant position over simply being in Penn's guard. Fitch dominated the third in a much more active and punishing manner than his typical soporific grind, and would certainly have gotten the decision if it were PRIDE scoring. One judge had it 29-28 Fitch, but the other two had it 28-28, resulting in a majority draw. Penn said he didn't feel he did enough in the first two rounds to warrant a decision, and thought he was going to lose the decision. Average match.
Mark Hunt vs. Chris Tuchscherer R2 1:41. Wrestler Tuchscherer was way too open to striking with one dimensional kickboxing champion Hunt, landing a good punch early perhaps giving him unfounded confidence that negated his scouting and common sense. It made for a good fight as Tuchscherer took some major punishment, even if he dished no more out, and showed a lot of heart in refusing to give up. Hunt quickly dropped Tuchscherer to a knee with a left hook right cross combo. Tuchscherer was a bit more interested in the takedown after this, but rushed in high and couldn't get a bodylock when he tried. Hunt hurt him again with a big uppercut, and Tuchscherer was cut above the left eye from a nasty left hook. When the ref called the doctor in, Tuchscherer told him there's something hanging in his eye, and the ref informed him it was his eyelid! The fight somehow continued even though his eyelid was split in two. Tuchscherer, at least, responded with an immediate takedown, bleeding all over Hunt and the canvas as he worked for a Kimura until the end of the round. Hunt wasn't kicking at all, which helped him avoid the takedown in the second. He hurt Tuchscherer again with an overhand right 90 seconds in, and KO'd him with an uppercut, just turning his back and walking away as soon as he connected. Good match.
BACK TO QUEBRADA REVIEWS


* MMA Review Copyright 2011 Quebrada *