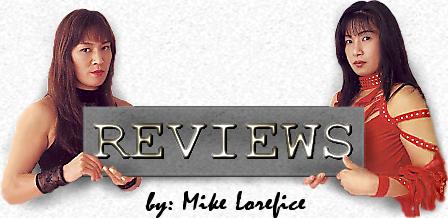 UFC 115: Liddell vs. Franklin
6/12/10 Vancouver, BC GM Place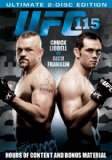 Matt Wiman vs. Mac Danzig R1 1:45. With seemingly at least one "big" MMA show taking place each week, you'd think the referees and judges would actually improve through all the work they get and all the fights they've seen, but it seems like they go in the opposite direction, and every show has at least one fighter getting totally robbed by one official or the other. Tonight's preshow wasn't even two minutes old when Yves Lavigne called the match due to Danzig failing to respond to him, despite the fact Wiman didn't seal off the entire left side of Danzig's neck on his guillotine. Danzig said he couldn't respond as he was in the process of posting his knee, and to let up this resistance would have made Wiman's choke, which was under the neck well, deeper. Both fighters were incredibly classy, simply wanting a rematch.
Claude Patrick vs. Ricardo Funch R2 1:48. I'd like to focus on the actual action, but again, the thing that really stood out about this match was a ridiculous call by ref Tony Williamson. Funch was maneuvering well from the bottom early, but accidentally grazed his foot on Patrick's head while trying to set up an arm bar. This was considered "kicking a downed opponent", so Funch was docked a point. I don't say that Funch would have won the match if not for this call, but I will say that Funch became more cautious and defensive from this point, which allowed Patrick to get his ground and pound going, and generally relax and simply take what was available. Funch, on the other hand, began to press as after losing a 10-8 first round he didn't have any time to waste. He kept exposing his neck on his shots, and Patrick had an arm in guillotine at the end of the 1st. Patrick wasn't really looking for the choke on his own, but eventually Funch gave him enough opportunities that he waited until Funch had no leg control and dropped down into full guard then leaned up for extra leverage en route to the submission.
Tyson Griffin vs. Evan Dunham 3R. Griffin has some of the most amazing balance in MMA, and had seemed nearly impossible to take down in the past, but Dunham totally solved him, and that was the difference in the fight. Dunham had better combinations in standup, showing an effective counter game by utilizing his reach advantage and angling better. Griffin would get the better of Dunham in standup when he got off first, but Griffin had to pursue the entire match to avoid Dunham picking him apart from a distance, which made him somewhat predictable and allowed Dunham to get his takedowns through timing Griffin.
Carlos Condit vs. Rory MacDonald R3 4:53. Condit is only 26, but MacDonald is so young he was just 13 when Condit made his pro debut. Seven years later, the 20-year-old prodigy is fighting in his hometown against the last WEC Welterweight Champion, who was in need of a good performance as he's been exceptionally disappointing in his two fights since UFC absorbed the weight class and had his last fight postponed six months due to a serious hand injury. MacDonald started fast with jabs and a takedown when Condit tried to kick. He later countered Condit's punches and took him down. MacDonald cut Condit with a right hand, and by this point the crowd was very much behind and believing in him. Condit tried to be more aggressive because he knew he was losing, but MacDonald always had an answer. He'd counter his strike with a punch or takedown or tie him up and work the clinch game. Condit finally came alive in the third, stopping MacDonald's single leg and rolling him to the canvas with a Kimura. Condit cut MacDonald with short elbows and mounted briefly, but MacDonald regained half guard. MacDonald made it back to his feet, looking weary, but Condit took the top after stuffing MacDonald's double leg. MacDonald's right eye was swollen badly from the elbows and Condit kept attacking it. Though he was mauling MacDonald on the ground, he couldn't maintain the mount for more than a few seconds, so it was hard for him to get the stoppage. MacDonald was all sorts of busted up with a possible broken orbital and/or nose, and had clearly about had it, but the kid wasn't giving up. In fact, he was still moving his head and hands as he had been for a while, and Condit wasn't flurrying or landing exceptionally good blows. I know the ref doesn't necessarily know how much time is left, but for Kevin Dornan to stop the fight with less than ten seconds left when Condit wasn't doing anything different than he had in the previous three minutes was pretty shabby. I would have given Condit a 10-8 round 3, but as MacDonald won the first two rounds that would still make the fight a draw. Very good match.
Gilbert Yvel vs. Ben Rothwell 3R. Typical bad heavyweight match with both men blown up after the first. Rothwell executed his gameplan of making the smaller Yvel carry his girth as much as possibly by leaning on him and dry humping him on the ground. Yvel's ground defense hasn't improved much in all these years, but he had a nice sweep and found the energy for a flurry of powerful and explosive punches. Yvel was just pummeling Rothwell, but Ben maintained focus and was able to regain control and mount. Rothwell got a quick takedown to start the third, and this time Yvel was too tired to get him off. Rothwell got crucifix and punched enough to keep the ref from falling asleep. Rothwell won a unanimous decision with one judge actually even giving him the second round. Poor match.
Martin Kampman vs. Paulo Thiago 3R. Kampman dismantled Thiago in standup, showing way too much diversity, footwork, and movement for an opponent who could only look for the haymaker. Thiago would identify Kampman's strikes, but simply had a hard time evading them, as he wasn't very good at backpedaling. Kampman pursued, and was connecting with the left jab. He hurt Thiago with a right straight, but Thiago took him down. This was the closest of the three rounds, but Kampman worked for the guillotine and was able to regain control in the final seconds to secure it. Kampman continued to score with the jab, using leg kicks when the opening for his punches wasn't there. He defended the takedown, so Thiago was pretty much out of luck. Kampman won a 30-27 decision. Average match.
Mirko Crocop vs. Pat Barry R3 4:30. Crocop is supposed to be Barry's idol, but while Barry may have watched Crocop's losses, he didn't seem to have learned from them. Barry never made him uncomfortable, allowing Crocop to be the aggressor rather than bullying him. Barry did get off to an excellent start, knocking Crocop down twice in the first two minutes with right hooks. Crocop's cheek was swelling like crazy, but Barry didn't attack it. Crocop relaxed and began to kick freely, as Barry wasn't interested in the takedown. Crocop was mixing in a lot of kicks we don't usually see from him, particularly utilizing the side kick but even throwing an axe kick in. Crocop became super aggressive in the second, but what was surprising is he actually relied upon his ground game, taking Barry down and mounting. Barry is a rank amateur on the mat, so this was a great strategy even for Crocop. Barry was gassed in the third, so Crocop, who was looking very spry and was also down a point due to the knockdowns, looked for the knockout. Again, Crocop did a nice job of mixing his attacks, landing a high percentage in the third. He threw nice combinations, eventually dropping Barry with just over a minute left in the third. Barry had already broken his hand, and now Crocop seemed to have injured his as well, so Crocop finished via submission! Crocop petitioned Dana White for submission of the night, and Dana obliged, not so much because the rear naked choke was great, but rather that it was such a shock to see Mirko tap someone. His only other true submission out of his 27 wins was when he guillotined Kevin Randleman at PRIDE Shockwave 2004 12/31/04. Good match.
Rich Franklin vs. Chuck Liddell R1 4:55. Franklin was looking to counterpunch, which put Liddell in the abnormal situation of being the aggressor rather than his usual circling or backpedaling to evade until he sees the opening for the overhand right. Franklin was throwing enough to keep the pace high or even elevate it, and he'd get a good shot in here and there, which was enough to suit him as he wanted Liddell to be in attack mode, to take chances because he knew Liddell would give him big opportunities by overcommitting to the pursuit of his own offense. Liddell was being far less one-dimensional today though, looking to set up his right kicks rather than simply his overhand right, kicks that were so powerful that Franklin broke his left arm early in the fight blocking one. Liddell even scoring an early takedown, which he used to try to set up a guillotine. Liddell was clearly winning the round, particularly after he countered Franklin's inside leg kick with a big right hand with a minute left. However, the better Chuck did, the more he went into hot pursuit to the point of being so eager he lost his balance at the end of the round. Liddell eventually came forward firing away enough to make a mistake Franklin was able to take advantage of, walking right into a right hook counter to his right straight that knocked him out with just a few seconds left in the round. This is the typical big name win for Franklin, who made his reputation by beating Ken Shamrock years after he ceased to be relevant, and more recently Wanderlei Silva, somehow gaining tons of popularity and respect for these "good wins" even though the opponents were years past their prime and had already been losing to several others. Franklin was smart enough to enhance his popularity during the post match interview by joking off the idea he would even have considered quitting over a broken arm. Good match.
Mike Pyle vs. Jesse Lennox R3 4:44. Pyle was very relaxed and did a better job of capitalizing on whatever was working at the moment. Lennox, for instance, landed just about every leg kick he tried as Pyle wasn't even checking them, but he'd land one and then abandon them. On the other hand, when Pyle landed one leg kick he kept going back to it until Lennox started defending them, which got Lennox to drop his hands and bend his knees more, making his punches easier to see coming. Pyle had the reach advantage and looked to counter punch in the first round. Lennox did well early, but thought he hurt Pyle with two overhand rights more than he really did. Pyle caught Lennox coming in to finish with a right straight then knocked him down with a second right straight and applied a mounted guillotine. Pyle was looser and more aggressive in the second, greatly increasing the quality of the fight both in standup and on the ground, where there was some excellent scrambling and reversing before things stalled in Lennox's guard. Lennox was likely down two rounds to none, but just as it looked like Pyle had the decision secured, Lennox landed a superman punch and a big left in the final minute. Pyle was hurt and cut, but he managed to trip Lennox. Lennox had no time to waste, so he tried for a big ground and pound finish, but Pyle triangled him for the win. Good match.
BACK TO QUEBRADA REVIEWS


* MMA Review Copyright 2010 Quebrada *