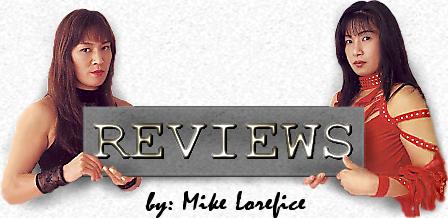 UFC 112: Invincible 4/10/10 Yas Island, Abu Dhabi, UAE
Kendall Grove vs. Mark Munoz R2 2:50. Appeared to be a lousy matchup for Munoz, as he was pretty much locked into trying for takedowns due to Grove being the far superior standup fighter and having an 8 inch reach advantage to boot. Grove was really making Munoz pay for his predictability, showing some of the most vicious takedown offense by either blasting Munoz with an uppercut or knee when he tried to shoot or hooking a guillotine and rolling into assorted chokes. Munoz has savage ground and pound though, and he was finally able to display it in the 2nd when he survived a rear naked choke then triangle attempt. Grove likes to employ a very open guard to keep submissions open, but that allowed Munoz to throw from a distance, and it only took a few of his bombs to knock Grove out. Above average match. It's obviously not much of a show when this wins fight of the night.
Rafael Dos Anjos vs. Terry Etim R2 4:30. Etim is a fluid standup fighter, but Dos Anjos was able to take him down. Etim has good ground defense, but Dos Anjos has nice guard passes. Etim was defending well even when Dos Anjos had various mounts. Dos Anjos tried for a Kimura from North/South near the end of round 2, and when Etim stopped that, Dos Anjos was able to utilize the deep arm hook to shift into an armbar attempt for the win. Average match.
Phil Davis vs. Alexander Gustaffson R1 4:55. Davis has long legs and a ton of potential, so of course the announcers went way overboard. Joe Rogan immediately claimed Davis' takedowns might be better than GSP's... then Davis couldn't take down some guy whose first name they didn't bother to give until the first round was almost over. Davis pinned Gustaffson against the cage and used knees to Gustaffson's legs to wear him down. Finally, Davis fell on top in side mount, and Davis used Gustaffson's squirming to his knees against him, rolling into an Anaconda choke for the win.
Matt Hughes vs. Renzo Gracie R3 4:40. Hughes refused to take Gracie down as a means of denying Gracie any opportunity to submit him. Normally that wouldn't be a great strategy for Hughes, as he's not much of a striker outside of ground and pound, but Hughes has made tremendous improvements to his standup game. Hughes was throwing combos and working the entire body, but the story of the fight was the leg kicks. Hughes landed almost every one he threw, with Gracie failing to check any of them. Gracie otherwise looked okay in standup for the first two rounds. He's a better puncher than Hughes, though Hughes somewhat negated his ability to land his primary punch, the hook, by staying out of their range. The first two rounds weren't that eventful, but Gracie's leg became jelly in the third, so he couldn't drive off it to strike or move enough to defend. Hughes really turned it on, pounding the leg until Gracie collapsed then forcing him to get back up and take some more. One time Gracie actually asked Hughes for a hand, so Matt pulled him up. By the middle of the round, Gracie was surviving on heart alone, and finally Hughes worked enough good punches into the leg kick attack to get the stoppage. Average match.
UFC Lightweight Championship B.J. Penn vs. Frankie Edgar 5R. Edgar may be the quickest fighter Penn ever fought. His movement was outstanding, but to what end, I'm not sure? Penn's movement wasn't as good as usual, as he has a knee injury and was generally lethargic, but it really didn't matter. Penn held the center of the ring the entire fight, and was just turning in whatever direction Edgar was circling away. It's true that Edgar was the one who engaged, but on the other hand, he was also the one who was running away, so it's hard to say anyone was the aggressor. It was simply two different styles of fighting, Edgar moving constantly to try to avoid getting hit and occasionally sneak a blow in and Penn standing around jabbing because his opponent did nothing to force him to do anything different. It was a boring fight with neither man doing much of anything. Neither man was active, and when they did throw it was only single punches that did minimal damage at best. In the end, it was mostly a jabfest, but even that gives them credit, as they weren't even that active in attacking. In the end, despite Edgar's vaunted perpetual motion, the important thing is Penn threw and landed both more power punches and jabs than Edgar. In a fight with essentially no action on the ground, that tends to mean Penn should get the decision, last I checked. It is true that Edgar had a "takedown" or two, but when Penn defends a dozen and is up before the announcers can even rave about him actually getting taken down when Edgar supposedly succeeds, I don't think they can really be counted for much unless it were some sort of a throw takedown where actual damage was accrued because, you know, otherwise the point of a takedown is to actually bring the fight to the ground, which Edgar never accomplished. Edgar should be praised for never slowing down, and Penn should be criticized for being far from his best and seeming to have no desire or sense of urgency, but I still thought it was a routine Penn win. All the rounds were close because nothing truly happened, but something along the lines of 49-49 or 48-47 Penn seemed about accurate, even if not taking into consideration that you generally have to actually do something to dethrone the champion. I thought one judge might give it to Edgar, but I was shocked that he won a unanimous decision, especially with one bong smoker giving him every round! Below average match.
UFC Middleweight Championship: Anderson Silva vs. Demian Maia 5R. One of the strangest, most inexplicable fights I've witnessed in UFC. Maia is one of the best submission artists around, but he is only just developing a standup game, and his takedowns aren't nearly on the level to get Silva, so realistically he wasn't ready for a title shot against this opponent. He was a replacement for the vastly overrated Vitor Belfort, who will also get slaughtered when his shoulder heels up, though since his strength is standup he at least has a "puncher's chance" Silva was looking even faster than usual. I mean, it was almost ridiculous that Maia would barely even get a piece of his leg when he dove for the takedown. As the ground was Maia's only chance, poor Demian was basically screwed from the start. The fight was more or less going as planned with Anderson totally owning him. Silva was landing at will, destroying Maia's legs with brutal leg kicks, and mixing in some punches, a flying knee, just about anything that met his fancy. Maia was busted up pretty badly, but the guy has a ton of heart, and never stopped trying even though he wasn't even coming close to having the slightest bit of success. Silva was, perhaps, first getting bored and then getting tired, but he increasingly put more effort into making Maia come off as a buffoon because he was so predictable. Toward the beginning of this, Anderson was showing him up, taunting and even swearing at him (according to Maia) for not being able to touch him on the takedown or whatever and then actually making him pay for having to stand with him, but in the middle of the third round Silva just stopped fighting. Maia continued to try his best to fight even though he had no hope, while Silva circled endlessly to the point he basically used his speed to prevent any sort of engagement. Dan Mirogliotta got so disgusted he actually threatened to deduct a point for excessive circling! Even though Maia wasn't giving anyone much to cheer about at that point, the fact he at least continued to put out the effort despite having a broken nose and an eye swollen shut for blowing the blood out of his broken nose made the fans cheer for him. They were really chanting against Anderson, even trying to annoy him with "GSP" chants, but then Maia actually began to have a little success. Maia was totally the aggressor in the second half of the fight, and actually began landing an occasional punch, winning the 4th round and possibly the fifth if for no other reason than he was at least trying his hardest. I mean, on one of his missed diving takedowns, he actually followed up by throwing punches from his knees. That was the sort of effort he was putting into the fight, so even though he clearly lost the fight, he deserves some credit for doing what little he could. Only one judge gave him a round, but considering he was being humiliated by a far superior opponent, I don't think he did too bad down the stretch. On Jim Rome's show, Dana White called Anderson's actions the most horrible thing he ever saw and claims he'll cut Silva if he ever does the taunting, not fighting, and running act again. But, of course, Dana tells the truth as often as Vince McMahon. Below average match.
BACK TO QUEBRADA REVIEWS


* MMA Review Copyright 2010 Quebrada *