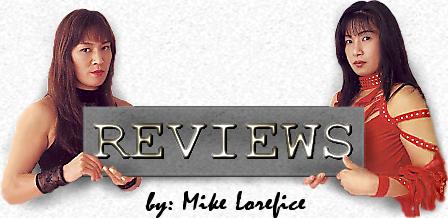 UFC Fight Night 21 3/31/10 Charlotte, NC Bojangles Coliseum
Ross Pearson vs. Dennis Siver 3R. Entertaining kickboxing match, though Siver was only competitive enough to hang in there. Both fighters were technically good, but Pearson was quicker and had much better footwork, which made it difficult for Siver to ever hit him flush. Pearson would get Siver to bite on his fake then hit him. Pearson was also far more limber than Siver, who was rather stiff and robotic. Pearson won a unanimous 30-27 decision. Above average match.
Jorge Rivera vs. Nate Quarry R2 0:29. Rivera was the far superior technical striker. His punches were more direct and compact. Quarry mainly landed with right low kicks, but he wasn't getting his body (or in this case his hips) into anything, so none of his blows were really penetrating. Rivera kept pressing forward, and was able to drop Quarry on three different occasions in the first round alone. Rivera was unable to get the stoppage because he was more consistent than ferocious, but he finally succeed when he put Quarry down at the start of the second.
Gleison Tibau vs. Caol Uno R1 4:13. Really disappointing performance from Uno, who is almost always at least very competitive and entertaining. It certainly didn't help that the rehydrated Tibau appeared to be at least a weight class larger than Uno. Uno tried to use his quickness to negate Tibau's size, but wasn't finding any openings to counter, so Tibau was able to dictate position the entire fight. Tibau kept it in standup until he hurt Uno with power punches then went to the mat. Uno recovered momentarily, but Tibau kept on him for the stoppage.
Roy Nelson vs. Stefan Struve R1 0:39. I thought Struve was going to demolish Big Country, but it was the other way around. Nelson pressured Struve from the get go, denying Struve the opportunity to utilize his reach advantage. He graved Struve with an overhand right than came back with a second that layed Struve out, finishing him on the ground with punches.
Kenny Florian vs. Takanori Gomi. Joe Rogan did his typical one-sided announcing job with toadie Mike Goldberg going along since he'll never learn a thing about UFC no matter how many hundreds of shows he announces. Gomi was a moist ball that wouldn't light here, and this will no doubt be the biggest upset of the year, but the match itself was far more competitive than the totally one-sided contest they were calling. Florian was the aggressor throughout the first round, but Gomi displayed Machida-esque elusiveness during the first half, consistently making Florian just miss. In the second half, Florian was able to exploit his 4 inch reach advantage and do the best jabbing of his career. He was tagging Gomi in the nose with crisp jabs that snapped Gomi's head back. Gomi faired much better in the second, as he was the one coming forward. Neither were all the successful at actually connecting, but Gomi probably slightly won the round by virtue of being the aggressor. Gomi finally landed a powerful left hand early in the third, but Florian responded with a takedown and made Gomi look like a rank amateur on the mat. Florian used one of his patented elbows to pass to side mount then set up an arm triangle to open up passing to full mount. Gomi then surrendered his back, and Florian quickly choked him out. Good technical standup match, but I'm not sure they connected enough for the average fan to appreciate it all that much. Overall, an above average match but disappointing because Gomi was so far off his game.
BACK TO QUEBRADA REVIEWS


* MMA Review Copyright 2010 Quebrada *