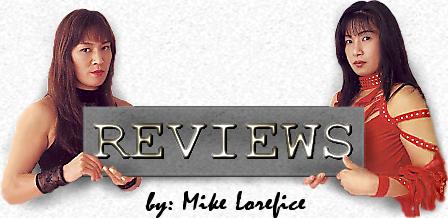 UFC 111: St. Pierre vs. Hardy 3/27/10 Newark, NJ Prudential Center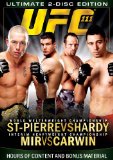 Ricardo Almeida vs. Matt Brown R2 3:30. Brown desperately tried to keep it in standup, but whenever he'd close the distance Almeida would shoot. Brown's takedown defense was excellent, stuffing Almeida throughout the first round, but he was unable to mount any offense. In round 2, Brown tried to get his kicking game going, but would get immediately taken down. The first time he scooted over to the cage and wall walked, but either overconfident due to the ease of that escape or simply failing to learn his lesson, he went right back to kicking. This time Almeida got the body lock upon taking him down, and then it was just a matter of time before he choked Brown out.
Nate Diaz vs. Rory Markham R1 2:47. I can somewhat understand missing weight by a couple pounds, but when you miss by 7 as Markham did, you should be forced to buy dinner for all the patrons at the local buffet. It didn't matter that Markham was well above the 170 pound weight limit that Diaz was supposed to be making his debut at, as the heavier Diaz looked as fast as ever. Diaz was way too quick for his opposition to the point he'd throw five punches while Markham was merely thinking about throwing 1. Diaz took Markham's back after buckling him with a knee and used heels to open up the body lock then punches to open up the rear naked choke. Markham managed to defend his neck, but ate so many punches in the process the ref stopped it. Total domination by a top form Diaz.
Rousimar Palhares vs. Tomasz Drwal R1 0:45. Drwal slipped on the center logo while trying a kick, which just had the leglock specialist Palhares drooling. Palhares was so excited he forgot to release the heel hook for something like 5 seconds after Drwal tapped, causing major damage.
Jim Miller vs. Mark Bocek 3R. Hard fought, extremely close fight. Bocek spent the entire match going for takedowns. He had an extremely powerful grip that was tough to defend, but Miller was able to keep Bocek from bodylocking him most of the time. Miller was generally on the defensive, but that was certainly a strong point of his game. He has fast, active hips, and was always a threat to stand out or counter with a submission. Miller won the 1st round with a Kimura sweep that was a submission threat, and he cut Bocek badly with an elbow. Bocek had a quick takedown in the 2nd, and Miller's heel hook failed, allowing Bocek to mount. Miller's escape also failed, allowing Bocek to take his back. Bocek actually got an arm in body triangle with a couple minutes left, but despite Miller being so incredibly prone, somehow Bocek's offense stalled from this position. He was unable to flatten Miller out and didn't punch enough to open up the choke. The third round was even more a grind than the previous two, and really too close to call. Bocek was driving for takedowns, but Miller mostly held him off, scoring occasionally from the inside. Bocek had a flash takedown, and later one that lasted 15 or 20 seconds, but Miller stood out and took his back just before the final bell. Not a consistently thrilling fight, but a tense one between two well matched fighters. Miller won a unanimous 29-28 decision. Good match.
Jon Fitch vs. Ben Saunders 3R. I was getting distracted by more exciting things such as watching the paint on my wall dry, but I guess Fitch held on, got the takedown, and threw some punches and elbows like in every other one of his dreadfully boring fights. Fans were booing to try to keep themselves awake. The announcers kept talking about Fitch trying to finish, but Fitch doesn't have anything to finish with, which is why this was his 7th consecutive decision. Awful match.
Kurt Pellegrino vs. Fabricio Camoes R2 4:20. Great start, but Camoes simply couldn't handle Pellegrino's pace. There were a number of interesting positions, with Camoes trying a standing rear naked choke early but getting head planted. Pellegrino then took over out of the scramble, but Camoes went for a number of submissions from the bottom. The countering was good before Camoes began to wilt, but in the 2nd round Pellegrino was outwrestling him badly and Camoes was simply too tired to answer. Pellegrino won with a rear naked choke. Good match.
UFC Interim Heavyweight Championship Match: Frank Mir vs. Shane Carwin R1 3:48. The problem with having a 60 pound weight class is once there's a successful roid monster or two at the high end, everyone else starts believing they have to follow suit to compete. Frank Mir "learned that lesson" after his loss to Brock Lesnar, but the 20-25 pounds of muscle Mir put on between that fateful 7/11/09 match and his 12/12/09 win over Cheick Kongo didn't help. The chemistry experiment Carwin leaned on Mir for a while then stunned Mir with a series of uppercuts. Mir dropped to his knees, and Carwin kept hammering him from behind until Mir's lights went out. Carwin now gets to fight Lesnar unless we're lucky enough to have it get canceled for the 3rd time. Lousy match.
UFC Welterweight Championship Match: Georges St. Pierre vs. Dan Hardy 5R. GSP totally owned Hardy. His wrestling was awesome, and he used it to constantly work for the submission. GSP repeatedly took Hardy down within seconds and took whatever position he desired. About the only thing Red Chief did was ultimately counter or escape the submission GSP was looking for. I don't know how Hardy survived the armbar late in round 1, and the Kimura in the 4th was wicked as well, but you didn't get the sense that it really mattered. Hardy was on top for 20 or 30 seconds in round 2 when a subsequent GSP armbar attempt failed, but it wasn't as if he had a moment of offense. I'll give him credit for having rubber arms that allowed him to prolong the agony, but that's about all one can say on his behalf. It wasn't boring because GSP was working hard for the finish, but it was another jobber match because GSP is simply that much better than the rest of the so called contenders in this weak weight division. Average match.
Jared Hamman vs. Rodney Wallace 3R. Hardly a classic from a technical standpoint, but the pace was crazy. Wallace had no stamina because his oversized muscles ate all his oxygen, but he had tons of heart. His strategy was to keep exploding forward, basically charging in with haymakers no matter how tired he got so Hamman would never have a chance to strike. Hamman did a poor job of defending these punches, so Wallace's strategy was more of less successful as long as Wallace closed the distance quick enough to stay in Hamman's face. That lasted consistently for about 3 minutes, at which point Wallace slowed just enough that Hamman rocked him with an awkward high kick. Wallace won the first round, but Hamman recovered a lot more in between rounds and began to take over in the 2nd. The last two rounds were close, but Hamman was more skilled in all areas, and it began to show. Hamman had a chance with an armbar, but was simply too sloppy, although it was mostly Wallace making the technical errors due to his ridiculous fatigue. Later in the fight, Wallace was able to take Hamman down, but he didn't control Hamman's body at all, so Hamman would basically stand whenever it was convenient. Hamman won a unanimous decision 29-28. I enjoyed this fight, though I have a hard time saying it was a traditionally good match.
BACK TO QUEBRADA REVIEWS


* MMA Review Copyright 2010 Quebrada *