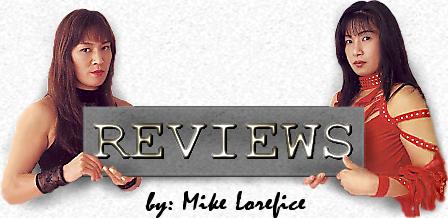 UFC 106: Ortiz vs. Griffin 2 11/21/09
Las Vegas, NV Mandalay Bay Events Center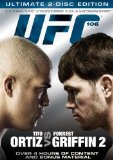 Kendall Grove vs. Jake Rosholt R1 3:59. Rosholt was outwrestling Grove, but couldn't do anything once they got to the mat. Grove wasn't afraid of anything Rosholt could do to him, so he kept giving Rosholt dominant positions as a way of maneuvering his way back to his feet or into a submission. The finish saw him give Rosholt mount and his back before trapping him in a triangle.
George Sotiropoulos vs. Jason Dent R2 4:36. Sotiropoulos was arguably playing with Dent in standup as a way to practice his weaker discipline, not trying for the takedown until midway through the first. Dent was competitive in standup, particularly when he was able to momentarily clinch, but Sotiropoulos got the takedown very easily once he tried for it, maneuvering expertly on the mat as always. Dent put up some resistance, but was taking such heavy punches from the mount Yves Lavigne nearly stopped it near the end of the 1st. Dent's corner scolded him for not throwing the leg kicks, and Dent showed renewed vigor once he landed a few to start the 2nd, but this merely prompted Sotiropoulos to actively pursue the ground game. Dent spent way too much time in the mount, and with that in mind it was surprising it took as long as it did for Sotiropoulos to finally catch him in a submission (arm bar).
Marcus Davis vs. Ben Saunders R1 3:24. Saunders was a much taller 170, and was just too powerful for Davis when they clinched. Saunders worked the body with knees, and also cut Davis when he brought them upstairs. Davis' only defense for Saunders clinch was to push him off, but Saunders just grabbed him again and knocked him out with two big knees.
Brock Larson vs. Brian Foster R2 3:25. Larson has been a successful fighter in WEC, but really had a rough night against a more diverse fighter. Larson was trying to rely on his wrestling, but Foster was a lot more dynamic, problem solving his way to dominating the first round through standing over pounding. Larson took himself out of contention, losing 2 points for illegal strikes in the 1st - an up kick with both of Foster's knees on the ground and a guillotine knee with Foster's hand on the canvas - making it a 10-7 round for Foster. Foster was coasting at the start of the 2nd, but then connected with a spinning heel kick, side slammed Larson, and pounded him badly. Larson managed to get back to his feet fairly quickly, but shot right into a big Foster uppercut and tapped while Foster was following it up with punches on the ground.
Amir Sadollah vs. Phil Baroni 3R. Sadollah's Muay Thai was dramatically improved, and obviously Baroni is the perfect opponent to showcase your standing skill against. You know he's going to slug it out, and you know that unless he gets a quick KO, he's going to make his opponent look really good before losing because his juice wears off. Baroni more than competitive in the 1st, dishing out some big uppercuts when Sadollah tried the Thai clinch, and generally being very accurate with power punches from the inside. Sadollah landed a huge right straight that cut Baroni and a couple of big knees, but most of the time Sadollah was in control in the 1st, Baroni seemed to be getting the better of him. But, of course, Baroni only had punches and didn't have the legs to pursue them after the 1st. Sadollah kept the pace high throughout, and when he came out strong in round 2, Baroni began his perpetual battle where his heart tells him yes but his oversized muscles tell him no. Baroni landed a few heavy punches, but Sadollah's movement and energy were too much for him. To make things worse, Sadollah began to work the legs and body to further blow Baroni up. Amir was having good success with front kicks, and really all his kicks were doing well because Baroni didn't have the energy to shoot or even make Sadollah worry about the consequences of repeatedly kicking. Baroni's legs were soon all bruised and swollen, particularly his left thigh. Baroni wouldn't go down, but hand no offense in the last 11 minutes of the fight, which consisted of Sadollah bludgeoning him with every sort of kick. Sadollah won a unanimous decision. Above average match.
Antonio Rogerio Nogueira vs. Luiz Cane R1 1:56. Nogueira used his jab to open up the left hook, which he scored with repeatedly. Cane stalked early, but Nogueira's fists put a stop to that, with Little Nog soon chasing after Cane and forcing him to succumb to numerous powerful lefts.
Jacob Volkmann vs. Paulo Thiago 3R. Competitive, back and forth fight that unfortunately wasn't particularly entertaining. Thiago landed a few thunderous blows, but Volkmann was all control and no offense. Volkmann, a division 1 wrestling champion, counted on being able to outwrestle Thiago, but it wasn't really happening. He had a nice takedown into side mount in the 2nd, and did his only real damage pounding from the crucifix in the 3rd, but for the most part he was just pinning Thiago against the cage without actually attacking from the position. Thiago had a clear advantage in standup, including nearly knocking Volkmann out at the end of the 1st round with a super fast 3 punch combo. Volkmann was saved by the bell, but didn't know which corner to walk to. Thiago scored with enough strikes to win the 2nd, going up 2-0. Volkmann came on in the third, including letting Thiago pass his guard as a way of suckering him into a D'Arce choke, but he didn't have the arm strength to finish it. Thiago won a unanimous decision. Below average match.
Josh Koscheck vs. Anthony Johnson R2 4:47. Both men seemed happy to have a kickboxing match, but most of the damage done was illegal. Johnson kneed Koscheck when both of Josh's knees were down and thumbed him in the eye on the same play, and Koscheck came back with two separate gouges, the second of which arguably turned the fight in his favor. Koscheck soon finally shot, taking Johnson down and putting a hurt on him before submitting him with a rear naked choke. The action was decent, but it was interrupted to the point they spent as much time recovering from the illegal blows as they did actually fighting.
Forrest Griffin vs. Tito Ortiz. We all know that Tito Ortiz is well past whatever his prime was – generally being a 225 pound fighter who cut to 205 to fight guys that were really 185 pounders but couldn't compete in their rightful weight class because UFC didn't bother with the middleweight division - and since 2001 pretty much hasn't legitimately defeated anyone beyond Ken Shamrock, who practically hasn't beaten anyone since he returned to pro wrestling in 1997. Griffin should have gotten the nod when they fought at UFC 59, but this time Forrest did his best to make it impossible for any judge to give the fight to Ortiz, though one still found justification known only to him! Griffin fought a superb fight against a pitiful, blown up opponent who spent the majority of the fight looking rather robotic, basically standing there pretending to be counter punching without actually throwing any return fire. Griffin exploitated his reach advantage, staying outside and mixing hard right outside leg kicks with left/right punch combos. Ortiz had a few takedowns which Griffin quickly escaped, but outside of badly busting open Griffin's scar tissue with an elbow, the Bad Boy had minimal success with his famed ground and pound. Ortiz instead spent most of the fight standing around getting hit or, at best, backing away in a hit or miss effort to avoid Forrest's blows. He really wasn't trying to mount any standup offensive, seemingly because he had so little energy he needed to conserve every ounce for the rare opportunity when he could time a takedown. Even in the 3rd round, when Ortiz most likely needed to finish the fight to win it, he just stood around looking spent for the first 2 minutes eating punches and kicks before even trying for a takedown. The third round was a huge win for Griffin, as Ortiz was so physically exhausted he was little more than a punching bag. Forrest won a split decision 28-29, 30-27, 29-28. Good match.
BACK TO QUEBRADA REVIEWS


* MMA Review Copyright 2009 Quebrada *