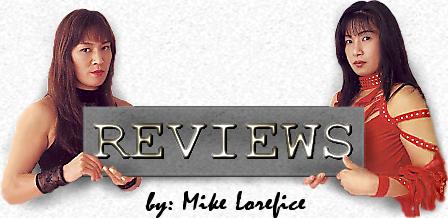 UFC 105: Couture vs. Vera 11/14/09 Manchester, UK M.E.N. Arena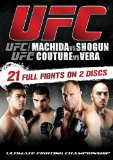 Ross Pearson vs. Aaron Riley R2 4:38. Surprisingly one-sided fight where Riley was never able to loosen up and find an opening to do anything. Pearson had superior standup with impressive punch combos and sharp knees from the Thai clinch. Riley's real problem wasn't so much that Pearson had superior technique though, but rather that he was much stronger he bullied the veteran any time they locked up. Pearson would mix his kicks, using the low ones to open up the body, then pin Riley against the cage where he'd drill him with knees. Riley has as much heart as anyone, and one of the best chins in the business, but he had no answers and simply didn't appear to believe in himself. Pearson eventually exploded Riley's nose with a jumping knee and right uppercut, causing a doctor stop. Not boring by any means, but too one-sided to be of particular interest. Below average match.
Matt Brown vs. James Wilks R3 2:27. Some really good stuff here, as both men recognized the situations and made immediate adjustments. The best counter sequence saw Brown land an elbow, but Wilks dropped down immediately for the double leg takedown attempt. Brown was able to stabilize through a Kimura attempt, but Wilks knew this gave him the opportunity to take Brown's back, although Brown ultimately defended the choke. The first round was pretty much even, but Brown turned the fight in the opening stages of the second with an awesome flying knee that would have KO'd Wilks if it had landed to the head rather than the shoulder. Wilks recovered, but later in the round, Brown stunned him with a punch combo. Brown tried to take Wilks back, but Wilks did a neat roll. Wilks was too gassed to take over on the mat though, and would have been submitted by a triangle except for the fact that Brown literally applied it with a second left. In the 3rd, Wilks grabbed a Kimura and dropped into guard, but Brown eventually freed his lower body after some tenuous moments. Unfortunately, Wilks was once again simply too dazed or gassed to transition, so his still fresh opponent seized control and pounded him out from the mount. Good match.
Andre Winner vs. Rolando Delgado R1 3:22. Winner had great hand speed, and was able to use a whipping right low kick to open his punches up. Winner rocked Delgado early with a fast right hook. A little later, he scored a spectacular KO where he got Delgado to flinch with a left body punch then came over the top with a right to level his frozen opponent.
Michael Bisping vs. Denis Kang R2 4:24. Bisping gave his best performance here, getting out of trouble in round 1 and coming back to totally dominate the second. Bisping was caught coming in with a big right hand, which led to Kang controlling the round on the ground. Kang mounted, but Bisping's defense was superb, not only regaining guard, but also doing a great job of avoiding damage. Bisping got a single leg takedown mid second round, and proceeded to bloody Kang's nose in a brief but furious segment of ground and pound. Kang escaped, but Bisping very easily scored a second takedown and really mashed Kang's mug before another quick escape. Bisping was patient this time, waiting until the final minute of round 2 to shoot again, where he finished with ground punches. Above average match.
Alexander Gustafsson vs. Jared Hamman R1 0:41. Both came out aggressively, firing big punches. Gustafsson connected with the first big blow, a right straight Hamman never saw that opened it up for him to finish the fight on the ground.
Mike Swick vs. Dan Hardy 3R. Hardy was the better fighter tonight, though I thought he could have won easier than he ultimately did. He kept hurting Swick in standup, but instead of simply maintaining that distance, which would likely have led to a KO, he'd instead grab Swick and go for the takedown. Swick had the takedown defense to not only thwart this tactic, but he'd always stall the fight in the clinch game until he was recovered. Hardy did do some good damage in ground and pound late in the fight, but for the most part his strategy simply allowed Swick to weather some good punch combos. Hardy won a unanimous decision. Average match.
Randy Couture vs. Brandon Vera 3R. They are trying to do their best to continue to make money off Couture, but he's no longer a top level fighter, and he never was a particularly entertaining one. This was one hell of a boring fight that either showed the judges have no clue how to score a fight, or will always give it to the big marketable star if in any way possible. I found the Couture/Vera decision to be much worse than the Machida/Shogun from UFC 104 10/24/09 that everyone hated so passionately. Sure, Machida lost that fight if you are scoring the good PRIDE way, but via the goofy UFC rounds system, it was more or less even (I thought Machida won 2 & 3, Shogun won 4 & 5, and 1 was basically a toss up, but with both or neither landing almost every time they threw, you could debate the majority of the rounds). Machida didn't seem to have a game plan, while Shogun executed his to perfection, slowly reducing Lyoto's effectiveness, which is the main reason Shogun appeared to win.
Couture had a game plan, but it didn't wind up including any actual offense, and was less effective in the 2nd and 3rd round as Vera was able to keep his distance enough to score. Couture attempted to take Vera down, but since Vera's takedown defense was way too good, Couture's entire offense consisted of pinning Vera against the cage. Considering this not only didn't result in any damage, but also wasn't even what he was really trying to do, I can't give Randy many props for this fight. Randy was the stronger man, yes, but I'd instead say that in spite of that fact, Vera largely stiffled Couture even though it was Couture that was muscling him to an extent less than he truly hoped to. Couture did the best he could do, but all it amounted to was riding time in standup, if that makes any sense, and UFC is supposed to be about using techniques that will defeat your opponent, not about hugging them until everyone falls asleep.
I may be bias, though I was rooting for Couture, who has long been one of my favorites due to being an actual classy fighters amidst a bunch of loudmouthed punks. The fans were rooting for Couture too, but even they were booing repeatedly because he was simply stalling the fight. Granted, one can't put too much stock in fan reactions, but it's hard to argue with the fact that the ref thought Couture's "offense" was so effective he broke them up countless times.
Admittedly Couture controlled 3/4 of the fight, but I have to ask, to what end? And, in any case, you have to rank damage above control, and Vera won that category by quite a wide margin. Vera only had Couture in some trouble once, landing a good middle kick halfway through the second then buckling Randy with a knee which led to Couture dropping to the ground and holding on to recover, but Vera was certainly hurting Couture with kicks anytime he had distance. Even the kicks Randy blocked did more damage than pretty much any of Couture's little strikes. Vera didn't really get on a roll offensively, and could be faulted for not being able to get separation once Couture held him, but he generally made the most of his time on offense, making it an old school kickboxer vs. wrestler match. I concede round 1 where Couture just leaned against Vera on the cage the entire time, but Vera should have won round 2 & 3 on damage. Couture won a unanimous 29-28 decision. Poor match.
BACK TO QUEBRADA REVIEWS


* MMA Review Copyright 2009 Quebrada *