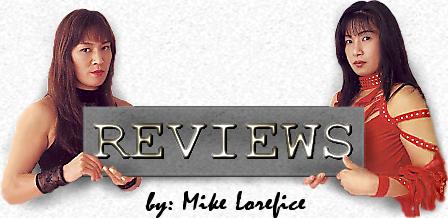 UFC 103: Franklin vs. Belfort
9/19/09 Dallas, TX American Airlines Arena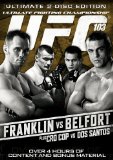 Hermes Franca vs. Tyson Griffin R2 3:26. Griffin tried to figure ways to surmount his reach disadvantage, producing a generally dreadful first round where they mostly stood around contemplating the act of throwing a punch, though ultimately getting results for his patience. Griffin's accuracy was fairly high, but then again, when you are that selective you ought to actually connect. Franca had enough of the pussyfooting, coming out winging punches in the second, which produced an excellent 40-second flurry. Franca calmed down, and Griffin began to figure him out. Griffin followed an insided leg kick with a right straight that Franca didn't see coming for the knockdown then pounded him out on the ground. Below average match.
Josh Koscheck vs. Frank Trigg R1 1:25. Trigg made his long unawaited return to the octagon in this bizarre, quick fight. Koscheck was so far off with his hook that he connected with his arm, which perhaps surprised Trigg. Trigg certainly seemed confused about how to back free of Koscheck's clinch attempt, and the cage was in his way, so Koscheck was able to level him since Trigg didn't have room to avoid the way he might have normally. Koscheck landed four clean punches on the ground without Trigg being able to do anything to stop them. Trigg wasn't KO'd, but despite his protests it was pretty obvious Koscheck would have kept hitting him until that occurred.
Martin Kampmann vs. Paul Daley R1 2:31. Daley was getting his left hook through. Once he hurt Kampmann, Daley threw a series of powerful hooks for the TKO. Kampmann protested the stoppage, but his right hand was always too low to protect his head, so he was repeatedly getting rocked.
Rafael Dos Anjos vs. Rob Emerson 3R. Dos Anjos strategy was to get hold of Emerson. Emerson didn't show any great standup in the 1st, but was able to keep his distance for most of the round, though as the round was generally uneventful, Dos Anjos' takedown in the final 30 seconds was enough to earn him the round. Emerson began concentrating on his own standup offense in the 2nd rather than simply trying to avoid the clinch, which made for a more entertaining fight. Dos Anjos began scoring repeatedly with nasty inside leg kicks, causing Emerson to move gingerly by the end of the round. Not only was his sprawl compromised, but Emerson was no longer able to step into his punches, so the new flatfooted arm punching version had no credible offense after the injury. Anjos had no problem taking his semi mobile opponent down to start the third, and though Emerson was able to get back to his feet midway through the round, he mostly had heart and willpower left by that point. Dos Anjos won a unanimous 30-27 decision. Above average match.
Mirko Crocop vs. Junior Dos Santos R3 2:00. If UFC wanted to get something out of Crocop they'd put him against either a submission or wrestling specialist, someone who needs the takedown. Crocop's sprawl is super, and the opponent charging in allows him to counterpunch to keep them off/away. However, Dos Santos proved once again he is infinitely bullyable and simply not a good fighter against someone who can be the aggressor in standup. Dos Santos was always on top of Crocop, giving him no time to get off. Though Crocop was accurate with his blows, most of them were noncommittal and he was never able to take the control, so his offense was sporadic and ineffective. Crocop defended Dos Santos' attacks well, but Dos Santos was still getting credit for being the aggressor. As the bout progressed, Crocop became way too predictable, never putting together combos or even throwing any setup type of blows, and instead looking almost solely to throw a left straight or left high kick. As Crocop wasn't throwing any rights or doing anything to throw Dos Santos off balance, Dos Santos altered his stance to lessen the angles Crocop had to land lefts. Crocop still connected with some left straights, but by this point it was obvious to the entire building that he was putting all his eggs in the left high kick basket. Dos Santos continually figured Crocop out, doing heavy damage with knees in the third. He took the wind out of Crocop initially, then wobbled him. Crocop took an uppercut to the left eye that split his eyelid. Dos Santos began celebrating, so Dan Mirogliotta asked Crocop if he quit because the scene was rather awkward. Crocop said he couldn't see, so it was a verbal submission. This wasn't a bad match to watch, it was just frustrating because Crocop no longer has what it takes to be a sniper against someone with a quality standup game.
Vitor Belfort vs. Rich Franklin R1 3:02. I like Rich Franklin as much as the next guy, but someone please remind me what relevant fighter he ever beat. He made a name for himself defeating Ken Shamrock 9 years after Shamrock was last relevant, and since then he's beaten a bunch of average fighters plus Wanderlei Silva 5 years after he was relevant. I don't rate Belfort that highly either, he's even a bigger case of a guy that's made a career out of so called potential which was only displayed when someone put him in with a can, but I'm not the least bit surprised he torched Franklin. Franklin is a good standup fighter, but hardly a great one, and if that's what he's going to rely upon, the top fighters such as Lyoto Machida & Anderson Silva are going to eat him for lunch. Belfort didn't fear anything Franklin could bring, so he just waited for the opening. Franklin tried to attack without overcommitting, but got caught with a jab. Franklin dodged a few, but Belfort put him down with a nothing left and dropped to his knees, where Franklin was helpless to defend Belfort's punches. Franklin's non competitive performances against Anderson Silva at UFC 64 & UFC 77 10/20/07 look like two of the top 10 UFC matches of all time compared to this DUD. Even Franklin said the punch that put him down "looked like it just grazed me."
Nik Lentz vs. Rafallo Oliveira 3R. The best fight on the show, a fast paced and technically good contest where skill induced action. Lentz moved fluidly in all areas, smoothly transitioning from one style to another. He was impressive from his back, especially as a wrestler against a BJJ expert. He kept going for the guillotine, even from the bottom, which kept the pressure on his opponent even though they were theoretically in the better position. Oliveira looked good in the first half of the opening round, but Lentz came back with good punch combos and got the takedown as Oliveira began to tire. Oliveira just seemed too excited to the point of being so jacked up he blew his tank in the first few minutes. Two of the judges gave him the first round, but after that it was all Lentz, as his superior stamina allowed him to have his way. Lentz won a unanimous decision. Good match.
Rick Story vs. Brian Foster R2 1:09. There were a few memorable moments in this high paced preliminary contest, for instance Foster's early uchimata, which set up a guillotine attempt, though it was obviously too loose and without control. Foster hurt Story with a big uppercut, but Story had a nice punch combo later in the 1st that wobbled Foster. As the bout progressed, it was clear that wrestler Story simply had too much control for Foster, commanding much of the duration after popping out of the guillotine. The finish was awesome in a hard to believe manner with Foster seeming to negate Story's arm triangle by getting guard, but Story still possessing enough strength in his arms to submit him.
BACK TO QUEBRADA REVIEWS


* MMA Review Copyright 2009 Quebrada *