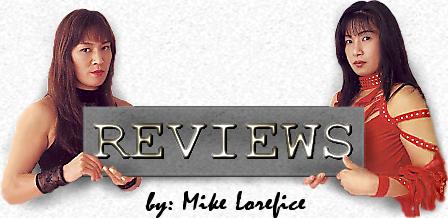 UFC 100: Making History PPV
7/11/09 Las Vegas, NV Mandalay Bay Events Center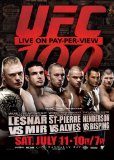 Yoshihiro Akiyama vs. Alan Belcher 3R. Good standup battle. Both men were thinking as well as reacting, so it was very back and forth. This was an extremely close fight, much tougher to score than the dreadful announcers made it seem. One could easily make a strong case that Belcher won the fight as he not only accumulated major damage with a steady diet of leg kicks, but knocked Akiyama down with a left hook, albeit partially because Akiyama was off balance. Beyond that, and perhaps this was the main difference in the fight, Belcher was the healthier and better conditioned of the two, so he was able to sustain the same level for 3 rounds, whereas Akiyama slowed down with each round, partially from getting tired and partially because he was limping by the end of the second from withstanding so many hard low kicks. On the other hand, Akiyama was by far the more diverse fighter, getting a takedown in every round and displaying a ground game that was entirely absent from Belcher's arsenal. Akiyama seemed to be the one coming forward throughout the fight, even if Belcher would often attack with a 3 strike combo before Akiyama had a chance to return. Early on, Belcher was making the mistake of staying in the pocket too long, so Akiyama was clearly winning the standup, landing powerful jabs and crosses, but Belcher did a much better job of escaping after his corner got on his case about it. Akiyama was simply the better puncher of the two, and won the 1st round partially because he caught a right outside leg kick and countered with a right straight, coming down on top of Belcher for a quasi takedown. Akiyama was solid in the 2nd, probably doing enough to clinch the fight before Mike Goldberg woke up in the 3rd and decided it was clearly Belcher's fight since he was in the midst of a nice run. That said, during the second, it began to look like Belcher was winning the fight because Akiyama was growing increasingly gimpy and his left eye was also swollen shut, though I believe the eye was no credit to Belcher as it seemed to be from an undetected gouge. Belcher was the far more spectacular fighter, particularly late with a superman punch off the cage. I thought Akiyama won the 1st, the 2nd could have gone either way, and Belcher won the 3rd. If the fight were scored PRIDE style, Belcher would get the win for the strong finish, but I believe he was penalized for only fighting standup because, even if he had the advantage there, that aspect was close enough that it wasn't able to negate whatever takedowns and ground and pound Akiyama was able to incorporate. In any case, this was by far the best fight of the show. Akiyama won a split decision. Good match.
Dan Henderson vs. Michael Bisping R2 3:20. Henderson was a man on a mission here. He could have beat Bisping by outwrestling him, but he wanted to put the loudmouth bragger in his place, so he made no attempt to take him down, instead simply fighting it as a boxer vs. a kickboxer. This is the sort of strategy that normally blows up in Henderson's face, but that's partly because Henderson almost always fights great fighters, something Bisping couldn't be accused of being. Henderson was the aggressor, wading in without any sort of feints. That sort of strategy would seem to play into counter puncher Bisping's hands, but Henderson wasn't leaving himself prone to any sort of reply. In the first round, the connect percentage was very low. Henderson isn't the sort of fighter who is going to beat you via attrition anyway. He knew Bisping would circle away to the right, which plays right into his strength, the big right hand. Midway through the second, Henderson got Bisping to circle away from a left body blow, which allowed him to follow up with a mammoth right hook that knocked Bisping senseless. In order to complete his message, Henderson immediately pounced with a guard pass punch before the ref could stop it, leaving Bisping in a funny looking awkward position due to the way his neck was contorted as he was unconscious. Decent match.
UFC Welterweight Championship Match: Georges St. Pierre vs. Thiago Alves 5R. Rather boring one-sided fight where Alves clearly had no idea how he could even slow GSP down. I realize GSP isn't exactly the easiest man to fight, but all Alves seemed to be able to think of trying was throwing a big kick, which limited his offense to perhaps landing one before getting taken down. Really the only thing Alves did well was use his power to escape back to his feet. It was somewhat impressive that GSP wasn't able to simply rear naked choke his way to victory in the first round. In any case, St. Pierre fought a smart fight, using his 6 inch reach advantage to keep his distance while scoring with jabs and kicks. As Alves was so far out of range, all he could do was get taken down throwing a low kick or get taken down trying to close the distance. St. Pierre had way too many weapons, so Alves never seemed to know what to defend. Even though GSP pulled his groin midway through the fight, he was still running circles around Alves in the 5th. St. Pierre cut Alves over the right eye early, but never came close to finishing the fight. Alves more or less never even came close to doing anything though, so there wasn't any real drama. St. Pierre won a unanimous decision. Below average match.
UFC Heavyweight Championship Match: Brock Lesnar vs. Frank Mir R2 1:48. I don't know how anyone could get excited about watching Brock Lesnar. I mean, maybe in theory he could be an interesting fighter if size is your thing, but his fights would be miraculously boring if the boredom wasn't simply the pattern repeated in each and every fight. And, of course, there's never a standup when he simply lays on his opponent throwing 3 or 4 wimpy punches per minute because they are doing their best to market him, so they wouldn't want to do anything to put him at a disadvantage. This time the fans were booing his lazy ass midway through the first for doing his usual bit of taking the opponent down and dry humping them. Eventually, Lesnar did give up on riding time, showing some actual improvement in his game by using a headlock while he was on top to turn Mir's upper body to his side, thus exposing his face to repeated punches. Mir's face was badly bloodied, and at some point, in an effort to protect his face, he wound up getting stuck mostly on his stomach where he got punched until Herb Dean stopped the fight. Terrible match.
Paulo Thiago vs. Jon Fitch 3R. Beyond death and taxes, the third guarantee in life has to be either Jon Fitch or Sean Sherk wrestling their way to a boring decision. As always, Fitch had no problem taking the opponent down, and the match essentially ended there until the start of the next round, where the same pattern was repeated. Thiago didn't exactly help the quality of the match. He went for submissions from the bottom, but had a very inactive guard, mostly clutching and grabbing from the bottom. Fitch won a unanimous decision. Poor match.
BACK TO QUEBRADA REVIEWS


* MMA Review Copyright 2009 Quebrada *