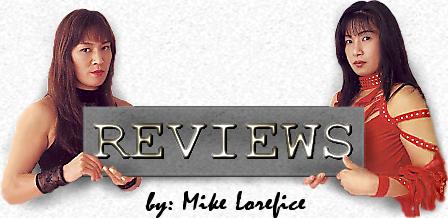 UFC Fight Night 17 2/7/09 Tampa, FL USF Sun Dome
Luigi Fiorvanti vs. Anthony Johnson R1 4:39. A mismatch due to Johnson having an 8 inch reach advantage. Johnson was totally relaxed, feeling no pressure from an opponent who simply couldn't get close enough to connect. Fioravanti kept mixing stances and moving around so Johnson couldn't tee off at full power, but Johnson was effective taking free shots at Fioravanti's lead leg. When Fioravanti finally tried to get aggressive late in the round, Johnson tagged him with a right hook as he was trying to close the distance and flurried on the mat for the victory.
Mac Danzig vs. Josh Neer R2 3:36. Intense match with two fairly evenly matched fighters pushing the pace and doing everything they could think of to assert themselves. Danzig tried his left high kick at the outset, but Neer had it scouted and countered with a nice flurry of punches. Danzig was the better pure boxer, as he displayed excellent head movement, bobbing and weaving on the inside to open up his own punches while avoiding Neer's. Neer was cut around the left eye from either a short right hook or an accidental headbutt (he claimed the later). It was starting to look bad for him when he tried to come in with a knee, but was knocked off his feet with an overhand right. However, countering Danzig's attempt to capitalize on the mat with a triangle really fired him up, and Neer was just a beast in standup for the rest of the fight. He essentially decided he was going to come forward and nothing Danzig could hit him with could slow much less stop him. Neer did big damage with ground elbows early in the second, but was reversed on a sloppy no control rear naked choke attempt where he was way too high on Danzig. However, Neer quickly caught Danzig in another triangle, and this time there was no chance for Danzig to escape. The main differences in the match were Neer was a much better defender on the ground, controlling his opponent's wrists to keep from sustaining much punishment while sneaking his legs up for the triangle, and Neer just seemed to want it more. Good match.
Cain Velasquez vs. Denis Stojnic R2 2:34. Stojnic is a kickboxer from the Golden Glory gym, but it was quickly apparent that he was out of his depth even in standup. Velasquez is a relentless fighter, taking his opponent's lungs and legs with his unwavering pace and leg and body work. Velasquez was particularly picking Stojnic apart from the clinch, burying knees to the legs midsection. Not that it was a picnic when Stojnic had some space, as Velasquez mixed inside and outside leg kicks. Stojnic tried a guillotine early in round 2, but Velasquez quickly slipped out and methodically pummelled Stojnic until the ref stopped the fight because Stojnic was on his knees getting hit for over a minute straight. Fair squash match.
Matt Grice vs. Matt Veach R1 4:34. A hot battle of two promising up and comers. Veach impressed me with his quickness and ability to effortlessly transition from striking to a takedown attempt, but Grice regularly looked his equal in this back and forth contest. Grice landed a series of uppercuts from the clinch, pouncing on Veach when he fell, but Veach survived the barrage, not only stabilizing but soon reversing after being mounted when Grice made an ill-advised no control guillotine attempt. Both men were very aggressive throughout, and by the final minute of the 1st they just let loose and exchanged. Grice landed 3 good punches, mixing the uppercut and hook, but Veach followed by dropping him with a right hook. Veach threw three or four punches on the ground, leading to a premature stoppage by Troy Waugh. I didn't feel Grice was particularly hurt, more winded and taking a second to regroup than anything, and he was actually making a move for Veach's leg, though Waugh couldn't see it because he was diving in by that point. Good match.
Joe Lauzon vs. Jeremy Stephens R2 4:43. Hermes Franca's protege Jeremy Stephens stepped in as a late replacement for his mentor, who pulled out with a knee injury. Franca presents a far greater threat on the ground, whereas this was essentially a jiu jitsu vs. wrestler match. Stephens did what he does, but Lauzon was more than happy to fight on the ground, even if from his back. Stephens theoretically controlled the first with his wrestling, but Lauzon was setting up, and sometimes attempting submissions. Lauzon got to work from the top in the second due to a nice fireman's carry. He utilized every version of the mount in this round, but Stephens finally twisted out of his rear naked choke attempt and busted him open with ground and pound. Just when you thought the match might have turned in Stephens favor, Lauzon reversed and armbarred Stephens for the win. Stephens made a solid showing with good wrestling and ground striking, but Lauzon's ground technique was considerably better. Above average match.
Dan Miller vs. Jake Rosholt R1 1:03. Rosholt was blindly wrestling. He had a quick takedown, but was swept with a leg lock so he just plowed forward, allowing Miller to lock his neck so well he essentially didn't even need any body control to tap him (he folded Rosholt over so all he needed was something that barely passed for half guard).
BACK TO QUEBRADA REVIEWS


* MMA Review Copyright 2009 Quebrada *