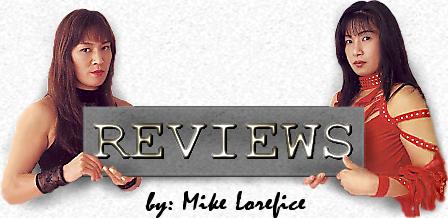 UFC 86: Jackson vs. Griffin
7/5/08 MGM Grand Garden Arena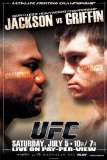 Marcus Aurelio vs. Tyson Griffin 3R. Not one of Griffin's better fights, as Aurelio was in the match, but no more. It could have been a nice battle of submission vs. ground and pound, but Griffin's takedown defense was way too good so Aurelio was stuck in standup unless Griffin felt like taking him down. Griffin utilized his arsenal of punches early, working the body as well as the head, then introduced leg kicks into the midst in the second. Aurelio had a few triangle attempts Griffin easily postured up and pulled out of, but that was about it. Griffin dictated throughout, and it just got worse for Aurelio as he was spent in the third from the failed takedown attempts and all the body and leg blows. Griffin won a unanimous decision. Average match.
Josh Koscheck vs. Chris Lytle 3R. Koscheck seemed to make a breakthrough in his UFC 82 bout against Dustin Hazelett; not only did he actually finish a fight, but he attained the stoppage with standup rather than the usual lay and pray. All the talk about the new Koscheck was quickly at the window, as Josh didn't trust his new skills, so we were back to the same old 15 minute Crotchcheck. Lytle is a legit striker, so he's not a fighter you necessarily want to stand with, but more than 2/3 of his wins are by submission. Lytle would give you hope with a guillotine attempt, but once Koscheck pulled out he'd elbow, punch, and ride Lytle for the rest of the round. Lytle bled as usual, with two gashes above his right eyebrow that Koscheck gored with short elbows. Lytle was spent from the gallon of blood he'd lost, so he was running on empty by the time Yves Lavigne finally gave him a standup in the third, but at least he still tried to fight. To further ensure that nothing ever happened in one of his fights, Koscheck spent the last 90 seconds running away. At least the fans were booing Mr. Boredom near the end and after the fight. Koscheck won a unanimous decision. Poor match.
Joe Stevenson vs. Gleison Tibau R2 2:57. Stevenson landed a right hand and went for his guillotine, but Tibau had no trouble popping his head out. Tibau was generally impressive after this, showing some slick moves on the ground including an omoplata that he seemed to have on for half the first round. Tibau got the takedown and mounted in the second, but Stevenson escaped when Tibau tried a mount triangle. Tibau tried to take him right back down, but this time Stevenson locked the guillotine for the submission. Above average match.
Ricardo Almeida vs. Patrick Cote 3R. Almeida had several decision wins in Pancrase, but his first fight after more than 3 ½ years was a 1 minute win against late replacement Rob Yundt at UFC 81. He was the superior fighter here by a wide margin, displaying the many dimensions of his game, but he blew up midway through the second round, which caused the judges to give the decision to Cote even though he didn't do jack. This fight reminded me of Travis Lutter vs. Rich Franklin from UFC 83 if you subtract the part where Franklin actually did something to earn the win. Almeida was in Cote's face from the get go to prevent standup, going from the clinch to jumping guard and trying for a guillotine or securing the double leg takedown. Almeida is very light on his feet with good head movement so he's a tough guy to hit, though his own standup offense is nothing to brag about. He'd drop his hands to entice Cote to punch so he could grab him and pull guard, using his rubber guard to negate any potential ground and pound. The fight stalled because Almeida wouldn't strike with Cote and Cote wouldn't pull the trigger because it might get him taken down. Almeida's 1st round was the only decisive one. Once Almeida tired he had a hard time getting the fight to the ground, but while Cote was the "aggressor" in the 2nd and 3rd round by virtue of moving forward, Almeida had to practically beg him to actually attack. I'd give Cote the second, but he really did nothing in this Starnesesque performance. He has good kicks and they were wide open, but you have to actually throw them to get credit. Almeida had a late takedown in the 3rd and tried a guillotine, which along with a couple solid punches was enough to give him the round in my book. I mean, at least he tried. Who cares if Cote wound up on top after the failed submission, it's not like he did anything with the position, or any other. People are ragging on Rampage for his inactivity, but at least he'd land heavy blows during his 4 or 5 brief attacks each round. Cote was just noncommittal, throwing wimpy jabs and safe low kicks, or something. Below average match.
UFC Light Heavyweight Title Match: Quinton Jackson vs. Forrest Griffin 5R. A mature, patient performance by Griffin, scoring the upset with a far superior game plan, top notch cardio, diversity, and activity. The Forrest who beat Stephan Bonnar at The Ultimate Finale 1 would have slugged it out with Rampage, but this was a defense first version with mental resolve. One of the reasons Jackson isn't a dominant fighter is he allows his opponent to dictate pace and position. Griffin knows he can't match Jackson's punching power, but by staying on the outside, presenting tough angles and being elusive, he was able to throw well more than twice as many strikes as Jackson without getting knocked out.
Jackson used to actually have some dimension to his game – he always sucked at jui jitsu but at least he wrestled, slammed, grounded and pounded - but now he's under the tutelage of Juanito Ibarra, who used to coach Oscar De La Hoya, his whole game is going for the KO. If all you are going to do is punch, it's not a good idea to allow your opponent to take the center of the ring, and it might help if you attacked more than once every minute or two. Jackson didn't even try to clinch and dirty box when his game plan wasn't working, he just did the same damn thing for five rounds waiting for the error that wasn't coming.
Rampage did almost knock Forrest out in the first, landing a big uppercut and dropping Griffin with a right hook when Forrest ducked in to throw a punch. Jackson won the first round, but Griffin did hurt Jackson's leg with a low kick, and after that the fight mostly belonged to him. Griffin had a big second round, swooping in with leg kicks that caused a bone bruise and left his opponent hobbled because he was too lazy to check them. Jackson actually tried for a takedown, but Griffin kneed him from a guillotine and took the top. Griffin mounted when Jackson defended the Americana, and Jackson was in survival mode trying to wait for his bad lead leg to recover. Though Forrest largely looked for a submission that wasn't coming, the fact that Jackson just lay on his back doing nothing for 4 ½ minutes after Griffin hurt him in standup makes it a 10-8 round.
I was disappointed with Griffin's performance in the third, as I thought he should try to finish his gimpy opponent who wasn't going to be able to hit as hard because that requires shifting your weight to the bad leg, but instead he threw a lot of noncommittal kicks that even a hobbled opponent could back away from. Jackson did enough damage with his sporadic attacks to earn him the third, but Jackson doesn't do well playing from behind. His fans will probably make a big deal about the great heart he showed in continuing despite the leg injury, but let's just say he wasn't exactly fighting as though losing the championship was equivalent to death.
Jackson's leg seemed to loosen back up in the fourth, and he got a takedown, but Forrest triangled him. Jackson tried to slam his way out, but Griffin simply released the hold in midair. Overall, Griffin was a lot more convincing in the fourth, and his fifth round was his best since the dominant second as Jackson essentially surrendered by not going for anything. The long layoff probably hurt Jackson and helped Griffin because Griffin is still improving while Jackson is turning into a homer or nothing. The action wasn't consistent, but the fight was so intense it didn't matter. Good match.
Melvin Guillard vs. Dennis Siver R1 0:36. Guillard smashed Siver with an overhand right at the bell. Siver tried to get Guillard to follow him to the ground, but since Siver was trying for an armbar Guillard went back to standup and decked him with another big right that allowed him to finish with ground and pound.
Justin Buchholz vs. Corey Hill R2 3:57. Hill is a quick, lanky fighter who knows how to use his reach advantage. He dominated round 1 with his striking, as while his ground game is suspect, Buchholz was content to throw overhand rights that were shoulder high as he wasn't finding the proper angle. Buchholz wasn't shooting, though he'd pull guard and begin to use a rubber guard only to abandon it and allow Hill to stand up. Finally, Buchholz used a low kick to set up a high kick then actually followed his overhand right with a left hook that stunned Hill. Buchholz abandoned his rubber guard again though, and it was looking bad as Hill took side mount after slipping out of Buchholz's triangle. However, Hill was sloppy in securing Buchholz' arm with his leg, allowing Buchholz to sneak out, take Hill's back, and take him out with the rear naked choke. Good match.
BACK TO QUEBRADA REVIEWS


* MMA Review Copyright 2008 Quebrada *