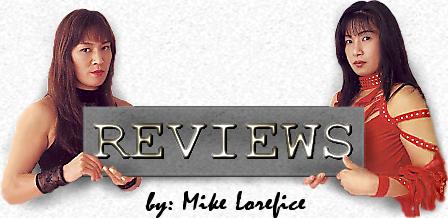 UFC The Ultimate Finale 7
6/21/08 Las Vegas, NV The Pearl at the Palms
Matt Riddle vs. Dante Rivera 3R. A classic of lean and pray, Rivera was unable to take Riddle down, so he displayed an inactive perpetual clinch. Riddle proved to be the stronger of the two, so he initiated the clinching in the 2nd, just to make sure everyone was asleep by 10 P.M. Riddle proved to be the stronger wrestler of the two, getting two takedowns in the second and one in the third, trying for the armbar and triangle armbar. Rivera had almost no offense, so Riddle easily won the decision. Rivera claimed he was going to retire if he lost this fight, and no one was suffering the loss, but just to torture us some more he promised to fight again in his post match interview. Poor match.
Spencer Fisher vs. Jeremy Stephens 3R. People seemed to like this fight, but while somewhat competitive, I found it rather dull. Fisher has had entertaining fights in the past, but because standup is Stephens strength he didn't use much of his Muay Thai. Fisher instead controlled much of the fight on the ground, but Stephens did a really good job of maintaining and retaining guard, so it was something of a stalemate. The best segment came midway through the second when Fisher reversed Stephens' takedown into one of his own and delivered some effective ground and pound, but as soon as he passed, Stephens turned to his knees, lifted Fisher in a double leg, and slammed him. Fisher won a unanimous decision. Below average match.
Diego Sanchez vs. Luigi Fioravanti R3 4:07. Outside of when Karo Parisyan made his fight interesting at UFC Fight Night 6 8/17/06, Sanchez has generally bored me with three soporific rounds of takedown and ground and pound. Fioravanti is the typical hasn't beaten anyone fighter they feed to the reality show pretenders, but he is a striker with excellent takedown defense. The fact that Sanchez not only beat him, but actually finished him without laying on top of him shows he might become an all around fighter some year. Fioravanti's problem seemed to be that he's a counter puncher who refuses to engage, while Sanchez is an inactive standup fighter who picks his spots to throw with big power. He didn't give Fioravanti a lot of opportunity to counter him, especially since he was pretty accurate with his strikes. Sanchez landed a nice uppercut and followed with a flying knee, a left to lead into a takedown (that Fioravanti actually rolled through), a right hand in round 2 that knocked Fioravanti down (but Fioravanti pushed him off with his feet and stood), a left high kick that allowed him to seize Fioravanti's back (but Fioravanti used a Kimura to force Sanchez to release), a right hook that landed at the same time as Fioravanti's punch but put Fioravanti down, and around 3 high kicks, the final one setting up a running knee that allowed Sanchez to pound Fioravanti out. Fioravanti not only showed an excellent chin, but also had a counter for almost everything Sanchez did, rolling out of danger or using a submission setup to get Sanchez off him. He wasn't going to win the decision, but he was very much in the fight, showing some defense and counters we don't normally see. Good match.
Ultimate Fighter Middleweight Finale: Amir Sadollah vs. CB Dollaway R1 3:02. Sadollah is billed as a standup fighter, but he's proven to quite crafty in submitting opponents from his back. Dollaway was the top pick on the show, a Division 1 All American wrestler, but he's too offensive minded, exposing himself to submissions to get a few extra punches in. Sadollah beat him on the show with the armbar, and Dollaway doesn't seemed to have learned anything from his mistake. He got the early takedown and was pounding away, but Sadollah transitioned into the armbar and Dollaway tapped once on Sadollah's thigh. Herb Dean, of course, immediately stopped the fight, only to have Dollaway whine that Dean screwed him. Dollaway should have learned to fight instead of doing flips at the pool in the interim and then trying to blame someone else for his ineptness.
Kendall Grove vs. Evan Tanner 3R. Tough, hard nosed contest. Tanner's best days are behind him, and he was never a great or dominant fighter despite being a former UFC Middleweight Champion. He always showed a lot of heart and determination, usually winning on relentless effort. Grove is a tough opponent for him because he probably has the longest reach in the division, and Tanner has never looked particularly coordinated when trying to close the distance. I thought this was a close fight, as Tanner was on top of Grove at every opportunity, controlling the first and third rounds, yet still unable to take Grove down or hurt him, basically just leaning on Grove. Tanner normally damages his opponents with big knees or even elbows in the clinch, but while he did land some solid blows, today his offense was relatively limited in any area. Though his back was often against the octagon, it was Grove who was doing the damage from the clinch, landing powerful but infrequent blows. Grove was effective with a diverse striking attack, cutting Tanner with an elbow, landing two jumping knee counters for the single leg takedown, scoring with high kicks, middle kicks, and knees. Grove clearly won the 2nd round, a 10-8 round on two of the three judges cards, as he was finally able to utilize his reach advantage. In this round, Grove hurt Tanner with a clinch elbow, but wasn't persistent enough with his followups to warrant a dominant round in my book. Tanner was woozy and tired, but he still fought smarter than Grove, pinning him against the cage and resting until he was clear. Round 3 was close, but figuring he needed the finish, Tanner backed off in the final 90 seconds. This position had clearly been to the advantage of Grove, but Tanner landed some good punches, enough to take the round in my opinion. I'd still give Grove the decision because he did most of the damage, but there's no way this was a 30-26 fight as it was on two scorecards. On the other hand, one judge had it 29-28 Tanner. Good match.
Drew McFedries vs. Marvin Eastman R1 1:08. Eastman's fights tend to be quick, spectacular slugfests, and this was no exception. McFedries went all out for the finish from the opening bell because he didn't want to deal with Eastman's strength, which he figured would wear on him as the bout progressed. Eastman caught McFedries flying knee at the bell in midair and slammed him, but after that it was all McFedries. He missed a right uppercut, but kept coming forward, hurting Eastman with a left hook and following with hooks and uppercuts until Eastman went into shooting mode. McFedries kept hitting Eastman while defending the takedown. Eastman finally got McFedries leg in the air, but McFedries decked him with a right for the KO. Fun and exciting match.
BACK TO QUEBRADA REVIEWS


* MMA Review Copyright 2008 Quebrada *