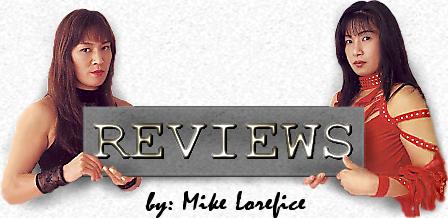 UFC 83: Serra vs. St-Pierre 2 4/19/08 Montreal, Quebec Bell Center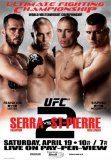 Mac Danzig vs. Mark Bocek R3 3:48. Back and forth striker vs. wrestler match that was always up for grabs. Bocek punched well enough in the first to keep Danzig honest, allowing him to repeatedly shoot for takedowns. Bocek kept the pressure on early, limiting Danzig to a few submission attempts from the bottom for the majority of the opener. Danzig briefly came alive with a reversal in the final 45 seconds, stepping over Bocek's back when he was crawling for a single leg and trying to do enough ground and pound to steal the round dictated by Bocek's grappling, but Bocek quickly put an end to that idea by securing wrist control. The second round was a different story as Danzig evened the fight up, knocking Bocek down early with a knee attack worthy of K-1, though Bocek recovered surprisingly quickly. Bocek showed amazing stamina and tenacity in shooting relentlessly, but Danzig made him pay for holding onto his legs with punches and knees, most notably when he countered a single leg with the Yves Edwards jumping knee. Danzig was able to mount, but Bocek kept turning until Danzig got frustrated, giving up on the idea of the choke and simply letting Bocek up. Bocek got his takedowns back on track in the third, and was actually pulling Danzig away from the fence because his previous escapes were predicated upon the use of the cage. Danzig still got away, pushing Bocek off with his legs. Bocek's striking wasn't a threat as the match progressed, and Danzig began to go to town in standup in the third, starting with a clinch knee that cut Bocek badly over the left eye. After that Danzig seemed to land everything he tried, but even though he looked similar to a bobblehead imitator and was bleeding profusely, Bocek kept coming. Danzig finally tripped him up and mounted, this time putting him away with the rear naked choke. Though Danzig won the match, Bocek, who fans expected to be nothing more than the usual walkover UFC feeds their coddled reality show fighters to, put himself on the map. Very good match.
Michael Bisping vs. Charles McCarthy 1R. A potentially good fight was ruined by a disappointing game plan from McCarthy, who doesn't seem to realize that rather than tiring their opponent out, the fighter on the receiving end of blow after blow just loses. McCarthy threw some wild overhand rights early, but in no time the contest verged on the level of annoyance reached by Ken Shamrock vs. Robert Berry from Cage Rage 25 3/8/08 as McCarthy was simply standing in front of his opponent covering up and allowing them to do whatever striking they fancied. In McCarthy's defense, even at 185 Bisping's strikes are pretty wimpy, and McCarthy was able to lull him into being comfortable enough McCarthy was able to duck a left hook and slam him. McCarthy tried to finish once he got Bisping in his domain, getting around his back and trying a cross armbar, but Bisping escaped and stood. After this disappointment, McCarthy no longer seemed to be there mentally and went from backing away and taunting Bisping when his knees couldn't hurt him to hunching over and taking a lengthy flurry without offering any type of offensive or even distraction. McCarthy was blocking the knees with his forearm, but the forearm soon gave way and McCarthy dropped to the ground where Bisping would have finished him by virtue of McCarthy not fighting back if he had a little more time. It didn't matter though, as the arm injury caused the bout to be stopped before the start of the second. Below average match.
Nate Quarry vs. Kalib Starnes 3R. Quarry dissected a fleeing pansy in a dull 3 rounder. Quarry looked more limber today, displaying a more active and well rounded standup game that apparently baffled Starnes. To even guess what Starnes strategy was would be to assume he had one. I don't know what was wrong with him, but he showed no intensity, instead looking more similar to a guy Quarry brought in to spar that got scared because Quarry hit him too hard. Quarry did his best to fight, attacking constantly. Quarry seemed open for a counter as he was running and lunging in, but Starnes didn't even try. Content to do nothing but retreat. Quarry worked the midsection with body blows and roundhouse kicks, finishing his combinations with low kicks that took Starnes legs, partly because he was too lazy to even bother checking them. Starnes did catch one low kick, but it amounted to no more than a flash takedown, though by today's standards that was big offense for him. Starnes performance will go down as one of the worst in UFC history. Not only did his own Canadian fans turn on him, suddenly booing him and cheering the Oregon native, but one judge had it 30-24! Quarry got so frustrated that Starnes refused to engage he began acting like a jackass to goad him, which ran over to the post fight causing Starnes to refuse to shake his hand. Poor "match".
Rich Franklin vs. Travis Lutter R2 3:01. Lutter went for it early as expected, keeping Franklin on the defensive for the first 3:30. He eventually got the takedown, mounted, and applied the cross armbar, but coming up just short of total domination and his biggest victory, Lutter was in big trouble when Franklin countered and stood. Franklin wasn't Lutter's biggest nemesis, rather it was his own non-existent conditioning. It was like a flashback to 1994 where you could win fights by simply withstanding the initial onslaught. Sure, Franklin began making Lutter pay for his takedown attempts at the end of the first, but he didn't land that many punches, certainly nothing of note, yet Lutter already looked tired at the start of round 2. After Franklin wobbled Lutter with a high kick, he was just about finished. Franklin began to flurry when Lutter's desperation shot failed, but Lutter got a temporary break grabbing Lutter's ankle (he had no other control so there was no chance of submission unless he got Franklin down and locked something). Lutter was standing flatfooted with his hands down, offering less defense than a punching bag as that at least swings back and forth after you hit it. Franklin was still cautious, but it didn't matter, as Lutter had no second wind, instead just wilting in stages. It was academic once Lutter crumpled to his knees. A passable match that was more frustrating than anything else.
UFC Welterweight Championship: Matt Serra vs. Georges St. Pierre R2 4:45. St. Pierre surprised Serra with an immediate takedown, proceeding to use his size and strength to wear Serra down. St. Pierre was very cautious, having enough confidence in his superb wrestling game to simply put Serra in positions that would make him expend a good deal of energy while St. Pierre expended little. St. Pierre picked his spots, posturing up and landing a nice 1-2 punch combo when Serra tried to set up a triangle. Serra gave his back when GSP passed to side mount, which worked as he was eventually able to stand against the cage. St. Pierre followed with another takedown though, welting him under the right eye with some ground and pound. Serra started the second with a low kick, but St. Pierre caught it and took him down again. Serra stood against the cage and showed great balance in avoiding St. Pierre's follow-up single leg, but St. Pierre began drilling him with jabs then took him back down. Serra was unable to sweep, and St. Pierre passed the guard of his somewhat tiring opponent. Serra once again gave his back, but St. Pierre began throwing hard knees to the midsection. Serra rolled to his back, but didn't make enough effort to get secure guard, giving up on the idea to roll to his knees again only to have St. Pierre deliver a few more knees for the stoppage. Total domination. Fair match.
Jonathan Goulet vs. Kuniyoshi Hironaka R2 2:07. Crazy fight that looked as though Goulet would dominate with his standup as Hironaka was getting nowhere with his takedowns. Goulet was making Hironaka pay for trying with knees when he got hold of Goulet and a diverse attack when he didn't. Suddenly, Goulet's walkover nearly turned to defeat as Hironaka took advantage of Goulet dropping his right hand, knocking him down with a short left. Hironaka mounted, landing some punches while trying to set up the armbar, but Goulet was defending it, so Hironaka put a desperate flurry on him trying to attain the stoppage before time expired. Goulet survived, but Hironaka came out with soaring confidence and renewed vigor, now certain he could beat Goulet in standup. Forsaking the shot, Hironaka proceeded to wobble Goulet with a quick left hook. Hironaka appeared to be in the driver's seat, but a superman punch from Goulet and a right hand after faking the left had Hironaka d.o.a. Hironaka did have enough life left in him to escape after Goulet followed him to the ground, but Goulet ran him down, leading to an exchange where Goulet knocked Hironaka out with two right hooks. Very good match.
Demian Maia vs. Ed Herman R2 2:27. Maia put on a BJJ clinic, dominating Herman from his back. An incredibly technical fighter in the most interesting sort of way, Maia fluidly transitioned between submissions, using them to sweep, pass guard, or set up another submission with better leverage. Despite having top control for the majority of the fight, Herman was unable to get his ground and pound game going because Maia's submissions presented such a threat. When he finally threw some solid leather late in round 1, Maia quickly stood out. Both were winded in the second after an exciting first highlighted by Herman escaping a deep omoplata and Maia using a heel hook to sweep. Herman appeared to have more in the tank and finally began to establish his ground punching, but Maia lulled him into trying a guard pass then immediately cinched the triangle choke. Herman tried to roll to safety, but wound up on his back with Maia in full mount. He went to night night well before Maia started punching and the ref woke up and stopped it. Good match.
Sam Stout vs. Rich Clementi 3R. Sam Stout is a very resilient fighter. It appeared he was going to lose early, but it turned out to be another of his long grueling cardio displays. Clementi dominated Stout in round 1, taking him down at will but failing to choke him out despite having him flattened early. Stout's first round claim to fame was a nice escape when Clementi was looking to pass, getting Rich on his knees, pushing him off, and then sneaking up the cage. Rejuvenated by a success, Stout began to get his boxing going only to be quickly deposited on the canvas once again. Stout found his sprawl in the second, and thus was able to turn it into a standing brawl. Clementi is a formidable striker as he changes stances regularly and is a good kicker (Stout basically doesn't even try), but Stout knows how to work the body with his punches, and thus can put together lengthier and more advanced combos. Stout got a takedown at the end of round 2, which gave Clementi something else to think about but was most likely an attempt to impress the judges. Clementi was able to return to his takedown game in the third, but was never able to get much accomplished on the ground because Stout defended the choke and would pop back up before Clementi could punish him. Stout landed the better shots in this round. Even though he hurt his hand with a minute left punching the top of a ducking Clementi's head, he finished impressively jumping in with a right hand superman punch then snapping the left up for a high kick. Stout may have won if he could have fully pulled off this extremely difficult combo, but he could only get the high kick up to the shoulder. Judged as a whole you'd have to give it to Clementi, but since they do use that system you could easily rule for Stout edging out the closer 2nd and 3rd. Fans booed Clementi's split decision win, though that's expected given Stout hails from Ontario. Good match.
BACK TO QUEBRADA REVIEWS


* MMA Review Copyright 2008 Quebrada *