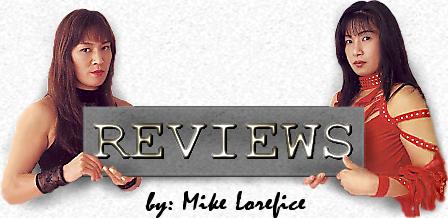 UFC 77: Hostile Territory PPV
10/20/07 Cincinnati, OH US Bank Arena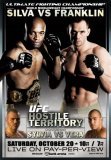 Alan Belcher vs. Kalib Starnes R2 1:39. A guy who merely boxes isn't likely to defeat a fighter who also kicks, knees, and elbows in a standup battle. Starnes did stun Belcher with a series of punches in the middle of the first round, but for the most part Belcher was picking him apart. Belcher would control Starnes head and shoulder with one hand then bring a knee. He threw powerful low kicks that Belcher didn't bother to check. Belcher's knees and elbows quickly opened up a wicked gash above Starnes' left eye. When they showed a close up of it in between rounds, it looked more similar to an excavation site. Starnes came out for the second round, but no amount of Vaseline was going to slow the bleeding down. Someone in his corner was pissed at him when the fight was stopped, but an angry Starnes shouted back that he said he wanted to fight, but the doctor could see his skull. Pretty good match.
Stephan Bonnar vs. Eric Schafer R2 2:47. These two are friends who used to train together, where striker Bonnar owned submission fighter Schafer in standup. Schafer immediately closed the distance every time, tying Bonnar up and providing no opportunity to strike outside of the clinch game. Schafer obviously wanted the takedown, but would pull guard if he was unable to succeed. He took Bonnar down with two minutes remaining in the first round, taking his back and trying to choke, but Bonnar defended well and eventually turned into top control. Schafer looked okay the first time he pulled guard, but when he did so to start the second round he got clobbered. Concerned only with his own sweep attempt, he gave Bonnar all the distance he wanted. Once he felt Bonnar rocking him one would think he'd try to control his upper body before it was too late, tie him up in some form, but Schafer's progression was to turning sideways and covering up, which resulted in John McCarthy stopping the fight due to him not defending himself. Bonnar's fights are generally more exciting, but he was successful at capitalizing on what was available to him. Average match.
Alvin Robinson vs. Jorge Gurgel. Gurgel always gets sucked into standup wars, which please the crowd but keep him away from his strength and result in him being a regular at the doctor's office. Finally, we saw him in a strong technical ground fight. Being the far more experienced and decorated jiu jitsu player, after the fast paced first round it looked as if he was going to dominate Robinson. Gurgel put on a clinic in positioning, winning the scrambles, reversing Robinson after a failed Kimura, taking Robinson's back at the end of the round, and so on. The one thing he failed to do was damage. The second and third round seemed an entirely different fight. Robinson might not be able to win a pure jiu jitsu match, but he had enough jiu jitsu to gain advantageous positions he could ground and pound from, with Gurgel aiding his cause by refusing to respect Robinson's ground striking. Working from a very open guard, Gurgel stubbornly tried to get the arm bar, eating punch after punch. Robinson returned the favor getting Gurgel's back at the end of R2. He repeated this in R3, controlling Gurgel's arms and pounding away for the final minute. Robinson easily won the decision, having bludgeoned Gurgel for the final 2 rounds. Good match.
Tim Sylvia vs. Brandon Vera 3R. One of the dullest fights in UFC history, and also one of the most booed. It would take a conscious effort, if not also the involvement of Mark Coleman, to have a duller fight. Sylvia should be a synonym for yawn. More than half the match consisted of Sylvia leaning on Vera. As Sylvia has to be in shape to get under the maximum weight for a heavyweight while Vera probably weights less than a hydrated Tito Ortiz, Vera was unable to push Sylvia off. Breaking his hand in round 1 didn't help his cause, but I think the biggest problem for Vera was he fought a stupid fight, ignoring the logical strategy of his corner. In order to win he needed to be elusive, landing a kick or two then retreating so Sylvia couldn't grab him. Instead, he'd take himself out of kicking range by moving forward, but he wouldn't do so to throw a punch or knee. It was as if Vera was begging Sylvia to either punch him or tie him up. Sylvia may hit like a flyweight most of the time, but by not winding up he's able to throw with rapidity, which had Vera doing little beyond defending the few times they actually weren't clinching. Vera won the second round with a leg trip into side mount that he failed to capitalize on in the least and a solid middle kick, but Sylvia had more left for the third round, as two rounds of trying to push the Roid Warrior off him tired Vera out. Sylvia got the unanimous decision for doing slightly more than Vera's nothing in this match that no one deserved to win. Poor match.
Middleweight Championship: Anderson Silva vs. Rich Franklin. Ace fought better than he did the first time he met Spider, but still wasn't even worth a deuce. You could tell Franklin put a lot of time, thought, and effort into facing Silva, but it amounted to little more than getting an early takedown by defending against Silva's deadly muay thai clinch. For Franklin to win he needed to outwrestle Silva because punchers don't beat muay thai fighters in standup, but Silva's open guard was so good he was back to his feet before Franklin could even throw one punch. Silva is an amazing striker because he's got superb accuracy, lightning speed, and excellent power. Most fighters don't even have the guts to try spinning strikes because they are high risk and low reward. The few who do tend to hope to get lucky with them, figuring it'll at least give their opponent something to think about, help keep them honest. Silva actually landed a spinning savate, but more impressive to me was the uraken that Franklin blocked. Silva is so quick that rather than getting clobbered because he was off balance or out of defensive posture, he followed by catching Franklin with a jumping knee then landed a heavy right hand. Another aspect that makes Silva lethal in standup is he can get away with holding the opposition. There are a number of fighters who can occasionally get the thai clinch, but very few who can regularly hold their opponent with one hand while striking them with another appendage, usually the other hand. This was basically a standup fight, with Silva coming at Franklin from all angles with an infinitely larger arsenal. Silva would have won if he had another 5 or 10 seconds in round 1, as he'd dropped Franklin with a right hand in the final moments. No matter, as Silva flurried early in round 2 for the TKO. Exciting but as one-sided as expected. 2R 1:07
Demian Maia vs. Ryan Jensen R1 2:40. Maia's ground control is very good, giving his opponent no room to do anything. Jensen did a good job of regaining guard, but Maia got his back when Jensen was trying to scramble back to his feet and proceeded to choke him out.
Jason Black vs. Matt Grice 3R. Black won the first round from his back, repeatedly trying for the Kimura because Grice rested his hands on the mat and throwing armbar and guillotine attempts in for good measure. The second round was absolutely wild with Grice coming out swinging and decking Black early, but making the mistake of conceding to the ground game. Though Grice pummeled Black with punches and hammerfists that could have warranted a stoppage, Black eventually recovered and caught Grice in the one of the longest, and certainly the craziest triangles of all time. At one point Black combined the triangle with a Kimura, at another point both were on their side punching each other, and finally Black rolled to mount pinning Grice's right hand to the mat with his right arm and blasting away with the left. It appeared the ref might have finally called a halt to it, but Grice was actually saved by the bell. The third round was a rather standard one for Grice, getting an early single leg and controlling with an active ground and pound that didn't allow Black to make much progress on his submission hopes. As usual, some simpleton judges considered lay and pray to be worth more than actual attempts to win the fight from the bottom, so Grice got the nod. Good match.
BACK TO QUEBRADA REVIEWS


* MMA Review Copyright 2007 Quebrada *