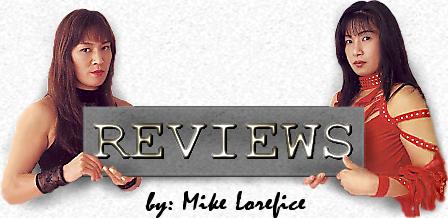 UFC 45: Revolution 11/21/03 Uncasville, CT Mohegan Sun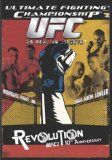 Robbie Lawler vs. Chris Lytle 3R. An extremely close fight, so even every round could have gone either way or been called a draw. It's more a matter of what you are looking for. If you are looking for aggressiveness, activity, diversity, and quantity Lytle won the fight. If you are looking for power and quality, Lawler won the fight.
The first round saw Lawler get the takedown, but Lytle was going for guillotine, so Lawler scooped him up again and slammed him. Lawler landed some hard punches from a distance. However, this distance allowed Lytle to try a leg lock, ankle lock (which got him punched hard), and hurt Lawler with an up kick.
The second and third round saw Lawler use a bizarre strategy where he backed away every time Lytle tried to engage, forcing Lytle to chase him around the ring. His hope must have been to get Lytle antsy because Lytle is a good technical striker who would beat Lawler in a boxing match. What I don't get is Lawler would beat him in a slugfest, and this strategy allowed Lytle to land more blows, which made it more of a boxing match, even if one with too many interruptions to garner any rhythm. Lawler was getting booed at times because Lytle was trying to fight, but Lawler wouldn't let him When Lawler would sucker him into an exchange though, Lawler would win because he's got far heavier hands.
Lawler got an A+ in annoying. It was irritating enough that he usually wasn't fighting, but he was actually even worse than the preening fairies that have ruined the NBA and NFL, giving us his dumb ass reactions to every blow Lytle landed rather than firing back with any of his own. At one point, Lytle blocked Lawler's left hook and fired back with a hard right, so Lawler had to throw his hands in the air, scream, and flex. As usual, one guy being an idiot caused the other to join him, with Lytle clapping from his butt after Lawler took his combination and knocked him down with a right hook.
Aside from the shenanigans, it was the best fight of the night. The third round had some particularly good moments such as Lawler sweeping the leg with an inside leg kick, but Lytle hitting him in the face with a right as he was falling down. Lawler got a takedown near the end, but Lytle got his back after aborting a heel hook. He suplexed Lawler then tried to put the hooks in, but Lawler immediately turned out because Lytle failed to control his body. Lawler won a unanimous decision 29-28.
Evan Tanner vs. Phil Baroni 1R 4:42. Baroni got off to one of his fast starts, hurting Tanner with his hands and following up with several more good punches even though Tanner soon locked him up and pinned him against the fence. Tanner was able to hang in, with a doctor check for a cut under his eye being the key to him regrouping after arguably being out on his feet when it was called.
The New York Needle Ass is all power and no tank, so after 3 minutes he was tired out and this time Tanner was able to take him down out of the clinch. Tanner mounted and threw some good elbows near the fence. There was a miscommunication between Baroni and referee Larry Landless. Baroni thought he was saying "no no no" to do you want to quit, but apparently the question was do you want to continue (the question and answer might have been reversed, but anyway Baroni gave the right answer to the opposite question). Baroni punched Landless from his back when Landless jumped in to stop it, then punched at him again after Landless tried to calm him down. When he got up, he pushed Landless away with one arm. None of this hurt Landless, thankfully, but about the most unacceptable thing you can do is molest the official. Baroni is one of those nuts like Bob Sapp that's so jacked up he's out of his mind. Later, when he'd finally regained his senses, he made what actually appeared to be a very sincere apology, but it's a little late then.
The fans 10 favorite legends were named in reverse order. They were Oleg Taktarov, Pat Miletich, Marco Ruas, Dan Severn, Mark Coleman, Don Frye, Tank Abbott, Royce Gracie, Ken Shamrock, & Randy Couture. I have to smile at Tito Ortiz and Chuck Liddell not even making the top 10 while Couture, who they will now be forced to market since he kicked their two poster boys asses, coming in first.
Tank Abbott vs. Wesley Correira 1R 2:14. Tank still has good hands. The problem is even when you put him up against another unskilled banger, his opponent is likely to have some sort of weapon other than his hands. Tank might beat Cabbage in a boxing match, though from what I saw here that would not be the case. When they exchanged on the outside Tank landed some punches, but Cabbage connected with more and better ones. Tank had to fight on the inside because, aside from Cabbage having the reach advantage and getting off quicker, he's more like Tankless. He was blown up after a minute and had to lean on Cabbage so he wasn't using as much energy. Cabbage had already caught Tank with one good knee, and though Tank was still punching on the inside, his leaning allowed Cabbage to bring up more. Cabbage also mixed some punches in, but it was the knees that cut Tank over the right eye. Tank kept blinking because the blood was dripping into the eye. According to referee John McCarthy, when he called for a doctor check Tank told the doctor he was having trouble seeing twice, the second time after the doctor told Tank he'd stop the match if Tank couldn't see. Later on, Tank of course made it seem like he really wanted to continue but they conspired against him in stopping it. He even claimed he was just getting his second wind, which is even more hilarious when you consider the match didn't even last half of one round.
Cabbage had to start doing his stupid dance once the match was stopped, and as usual this disrespect pissed off the opposing team. I'm not sure what happened first, but Tank's cornerman John Marsh threw a water bottle at Cabbage and Cabbage gave Tank's corner the finger, resulting in the ring filling. I can't feel sorry for Tank considering he danced after he knocked out John Matua, but as long as taunting is tolerated you are going to have problems sooner or later. This time a bench clearing brawl was perhaps narrowly avoided. Amazingly, Tank was once again given a standing ovation upon exiting the ring after the third consecutive loss in his "comeback". Do you realize that Tank has only managed to win 2 fights (over perennial all stars Yoji Anjo & Hugo Duarte) since he knocked out the legendary Steve Nelmark in 1996?
Falaniko Vitale vs. Matt Lindland 3R 4:23. This was a rematch of the infamous UFC 43 match where Lindland knocked himself out with his own throw. Vitale claims it was good defense, shifting his weight to cause Lindland to land on his head. In any case, he was out to prove his win was no fluke. This was a rather uneventful fight though. Lindland worked hard, but Vitale's defense was good so he wasn't accomplishing much. Though Lindland did most of the work, Vitale was the one that wore down.
Round 1 saw Lindland get the takedown when Vitale slipped trying to kick, but was largely a stalemate in Vitale's guard. Round 2 saw Lindland pin Vitale against the fence, failing to get the takedown but landing an occasional punch. About the only time Vitale was in control was when Lindland slipped throwing a high kick early in round 3. Vitale tried to pass the guard, but Lindland eventually got double underhooks and swept his way out of half guard. Lindland followed this impressive counter up with some good strikes from Vitale's half guard, as Lindland was able to pin one of Vitale's arms. Lindland soon passed and Vitale tapped quickly from some punches.
Royce Gracie and Ken Shamrock were the inagural inducties into the UFC Hall of Fame.
UFC Welterweight Championship: Matt Hughes vs. Frank Trigg 1R 3:54. We've seen two wrestlers fight many times, but very rarely have we seen amateur wrestling scrambling in these fights. For once, two top amateurs delivered amateur wrestling that was fun to watch. Trigg surprised Hughes by shooting right away and actually took him down. Trigg wasn't able to control Hughes though, leading to the first scramble. This one ended with Hughes hoisting Trigg up and slamming him, but Trigg tried a Kimura leading to another battle for positioning that Trigg momentarily won. Finally, Hughes got Trigg's back on the third scramble. Trigg stood up, but Hughes got the hooks in and actually took him out with a pro wrestling sleeper hold. Trigg tapped just before collapsing.
Everyone figured Hughes would have another long fight, and UFC seemed caught off guard when it was so short. Though the fights could have been better, everything but the Lindland match was at least adequate. The problem is there simply wasn't much fighting on the show. There was no pre-show match, perhaps because of technical difficulties, and they went off the air at 12:25 rather than showing any of the earlier fights on tape. Thus, they were down from the usual 7 or 8 fights to just 5 even though only two bouts were in the 10-15 minute range.
BACK TO QUEBRADA REVIEWS


* MMA Review Copyright 2003 Quebrada *