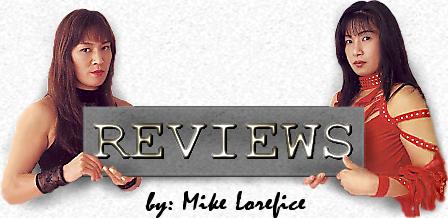 Strikeforce 39: Tate vs. Rousey
3/3/12 Columbus, OH Nationwide Arena
Ryan Couture vs. Conor Heun R3 2:52. Couture didn't fight much like his father, which for entertainment value was definitely a good thing. He did work the clinch game some, but mostly it was his standup game that broke down and tired out Heun. Couture had the footwork, lateral movement, and leg strikes to dominate Heun from the outside. He bloodied Heun under the left eye early, and it swelled up pretty badly as the fight progressed. Heun was able to do enough in standup to not only keep things exciting, but set up his takedowns. Although Couture was clearly doing more damage, I wasn't confident he was winning the rounds because Heun would take him down once or twice, and had a few submission attempts. One highlight saw Couture go for an omoplata after Heun took him down, but Heun pulled him up and slammed him. Heun had a good second round, but the takedown attempts and chasing Couture around gassed him, and he was looking pretty feeble in the third. Couture changed things up, taking Heun down and working ground and pound. He took Heun's back and broke his will, getting the stoppage when Heun was no longer able to defend the punches. Good match.
Sarah Kaufman vs. Alexis Davis 3R. Fearless brawl. Davis stood in front of Kaufman all night and banged away. Neither were willing to back down despite their opponent landing quite a few good shots in, but the difference was Davis didn't bother to defend herself from Kaufman's. Her chin was way too high, and she had no real head or even foot movement. Kaufman landed straights at will, and had no trouble connecting with hooks around Davis's guard, but she didn't use enough of these, or really throw enough power punches and combinations. Davis showed a lot more diversity in her striking, doing a nice job with elbows, knees, and uppercuts from the clinch to cut Kaufman. Kaufman was more active in standup though, and scored the first and by far more nasty cut, mousing Davis above the left eye. Kaufman controlled the first two rounds with her jab, but Davis changed it up in the third taking Kaufman down and landing a number of good shots from side mount, but failing to come close to the needed arm submissison. One judge surprisingly had it 29-29, but Kaufman got the first two rounds from the other two judges to take the majority decision. Good match.
Ronaldo "Jacare" Souza vs. Bristol Marunde R3 2:43. Total domination by Jacare. Souza just had too much technique and was too smart for Marunde. Souza repeatedly got Marunde's back and dragged him down, hitting all 6 of his takedown attempts. Even in standup, Souza unloaded with a much larger arsenal, dropping Marunde in the first with an overhand right counter and hitting a sweet spinning back kick to the face in the second. Marunde kept defending the rear naked choke, but Souza finally put him away with an arm triangle. Average match.
Scott Smith vs. Lumumba Sayers R1 1:34. Sayers was extremely aggressive, consistently getting off first and beating Smith to the spot in transition. Sayers came out swinging, but mixed in takedowns and even an awesome suisha otoshi before finishing Smith off with the guillotine.
Kazuo Misaki vs. Paul Daley 3R. Everything I expected here turned out to be wrong. Misaki displayed total confidence in his ability to win the fight in standup, walking Daley down all night and either beating him to the punch or countering beautifully. Misaki connecting at a 55% rate to Daley's 37%, but far more shockingly won the power strikes 41 to 7. Misaki broke Daley's will, and had him panicking, which led to Daley trying for takedowns. Daley had 4 takedowns to Misaki's 1, but it wasn't until the third round when he did anything with them, opening up a huge gusher outside Misaki's left eye with an elbow. Looking at the gash, I thought they'd probably stop it, but luckily it was far enough away from the eye it bled down the cheek. The possibility of a stoppage didn't energize Daley in any way, and he was not only unable to work some right hands to get the TKO, he looked exhausted and will-less and continued to get backed down. One judge had it 29-28 Daley because he had the almighty takedowns, but the other two went to Misaki, including a 30-27. Good match.
KJ Noons vs. John Thomson 3R. A really disappointing match. Thomson won by holding Noons down, which admittedly isn't easy to do, but didn't do anything to make anyone look forward to a potential third match with Gilbert Melendez. It was truly a Jon Fitch performance with Thomson doing just enough little striking and safe submission attempts to try to avoid the standup. In 10 ½ minutes on the ground, Thomson threw just 62 punches and had 1 submission attempt. Both landed 53 strikes and 23 power punches, but there were few moments from either, though Noons was at least trying and was visibly bored and frustrated by Thomson's refusal to engage in Noons idea of a real fight. Thomson did hit a nice switch kick and cut Noons left eye while Noons had a few highlights in the second round working body shots and uppercuts, which were enough to earn him that round. To his credit, Thomson repeatedly said everything about the fight, his performance, conditioning, health, and camp were shit in the post match interview. Thomson won a unanimous 29-28 decision. Poor match.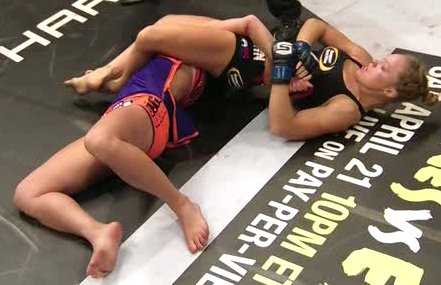 Strikeforce Women's Bantomweight Championship Match: Miesha Tate vs. Ronda Rousey R1 4:27. This was everything the Noons vs. Thomson fight wasn't. These two just went after it, risking getting taken down, risking losing control, risking getting seriously injured, and generally putting on a high level fight in the process. They left it all in the cage, and that's all anyone could ask. Tate had the advantage in standup, but that turned out to be a disadvantage because her style of charging in throwing left her open to Rousey's judo throws. Rousey had the immediate takedown into side mount and armbar attempt, but Tate was certainly a few cuts above the girls Rousey armbarred inside of a minute, and although Pat Miletich thought her shoulder was going to be dislocated, somehow managed to not only escape but take control and try a rear naked choke and armbar that Rousey easily slipped out of. Rousey again countered Tate's punches, hiptossing her and hitting a 2nd armbar. Tate did her best, or really worst, to refuse to tap, but the elbow was bending at least 20 degrees in the wrong direction, and reportedly was dislocated this time. Finally, Tate had to give in, making Rousey a stunning 5 for 5 in 1st round armbar submissions. Good match.
BACK TO QUEBRADA REVIEWS


* MMA Review Copyright 2012 Quebrada *