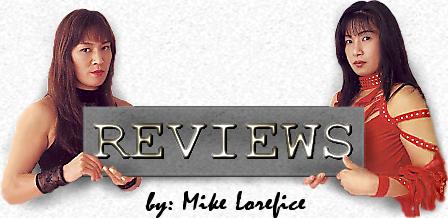 Strikeforce: Feijao vs. Henderson 3/5/11 Columbus, OH Nationwide Arena
Jorge Masvidal vs. Billy Evangelista 3R. Masvidal had the size, speed, reach, and experience on his side. Undefeated Evangelista went to Thailand to work on his Muay Thai, but other than when he was clinching, Masvidal made his standup look like a joke. Evangelista wasn't doing anything to fool Masvidal, who was just picking him apart when he had distance, particularly utilizing a very effective left jab. Even on the inside, Masvidal brought some good knees and was by no means at a disadvantage. Evangelista's big problem is he just stood there except when he was attacking, there were no fakes or feints, nothing to psych Masvidal out, so Masvidal had no problem dodging his blows and stuffing his takedown attempts. Masvidal continued to dominate, countering everything Evangelista threw at him in the second and third with the final stats having Masvidal landing 59% of his strikes to Evangelista's 31%. The fans and Mauro Ranallo got on Masvidal for playing it safe and not going after the finish, but staying under control and using technique, skill and timing is what allowed Masvidal to have his way with Evangelista. Masvidal won a unanimous 30-27 decision. Average match.
Melvin Manhoef vs. Tim Kennedy R1 3:41. Manhoef's takedown defense is improving, but he's still so one-dimensional. Manhoef stopped Kennedy's first three takedowns and replied with a couple wicked leg kicks, even knocking Kennedy off his feet with one, but Kennedy stuck with his game plan. He still wasn't able to get Manhoef down on the first try, but was able to take him down into side mount on the transition. Once it hit the ground, Manhoef was totally out of his depth, giving his back and getting choked out after taking a few shots.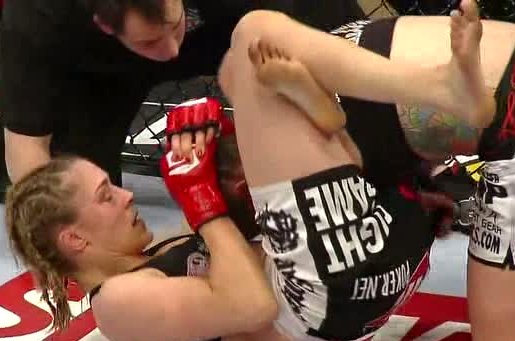 Women's Welterweight Championship Match: Marloes Coenen vs. Liz Carmouche R4 1:29. Carmouche took the fight on 2 weeks notice when Miesha Tate got injured. Coenen figured Tate was the wrestling threat and, having formerly fought at 145, she would be able to overpower the much shorter opponent. However, that was not the case at all, and Carmouche rose her stock tremendously. I felt Coenen won a close first round as she controlled the center of the octagon in round 1 and landed a lot of kicks. However, Carmouche was the more active of the two, and moused Coenen under the eye with an overhand right, so it could have been an even round. Carmouche took over in the 2nd and 3rd rounds, and had Coenen in a world of trouble. In round 2, Coenen stuffed a takedown and had a standing guillotine, but Carmouche was able to take control by going down before Coenen tried to control the body. Coenen set up armbars, but Carmouche stood, passed guard, and landed knees from north/south. Coenen went after the ankle, but Carmouche took a high full mount and flurried for a minute, with a covering Coenen mainly surviving because the punches were rather wimpy. Coenen landed some elbows and knees when Carmouche tied her up to start the third, but didn't make any real attempt to disengage, which ultimately resulted in Carmouche getting another takedown, and again going to work from full mount. To say Coenen looked uncharacteristically out of sorts on her back would be an understatement. Anyone who hadn't seen her before would have had a hard time distinguishing Female Rickson from fellow Dutchman Melvin Manhoef. Coenen kept trying to bring her legs up to hook Carmouche's arms, but seemed to have no idea how to get off her back beyond that, and was once again dominated by Carmouche's ground and pound. Overall, Carmouche landed 169 ground strikes to 10, most in the 2nd and 3rd round, where the only thing that saved Coenen is that Carmouche lacked the power and technique to even threaten a stoppage. Still, either round could have been a 10-8 round for Carmouche. Coenen countered the leg trip to start the 4th, but was unable to capitalize on the top position and was so disengaged working for a standing guard pass that Carmouche actually stood up and took her down. Carmouche wasn't able to attain a dominant position this time, as Coenen had her arm trapped inside and was working for the submission from the moment she went down. Coenen saved her bacon Anderson Silva style, hitting a triangle for the dramatic come from behind victory. Good match.
Light Heavyweight Championship Match: Rafael Feijao vs. Dan Henderson R3 0:50. At this point everyone knows what 40-year-old Dan Henderson is going to do, but stopping it is another thing entirely. Henderson fans were worried when he landed 2 of the famous right hands early only to have Feijao come back with an overhand right that dropped Henderson. However, Henderson recovered quickly and countered Feijao's plum clinch with a takedown. From there, the recipe was simple, look for the killer right hand, and alternately control the fight on the ground. Henderson did the later for much of the remainder of round 1, but this was a more patient Dan Henderson, content to fully recover first and go after the finish later on. Henderson tied Feijao up in the 2nd, and landed on top when Feijao tried to throw him off, but Feijao reversed. Henderson had a late bodylock takedown that may have earned him a nothing round and evened the fight. It didn't matter though, as Henderson cemented his legendary status early in the third, adding the Strikeforce championship to his two PRIDE championships and UFC and RINGS tournament victories, by knocking Feijao down with the patented overhand right and pounding him out on the ground. Average match.
BACK TO QUEBRADA REVIEWS


* MMA Review Copyright 2011 Quebrada *