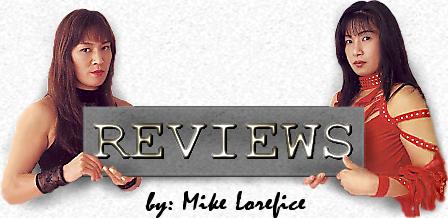 Strikeforce: Houston 8/21/10 Houston, TX Toyota Center
Bobby Lashley vs. Chad Griggs 2R. Lashley was exposed as being entirely one-dimensional. He burned himself out shooting endlessly, either getting the takedown or trying for it from the clinch game because that is all he is capable of doing. Sure, he once again dominated position, but his ground and pound is very subpar, rarely landing clean shots, and his submission game is non-existent. Griggs had very few strike attempts, but stunned Lashley with a knee to the midsection when Lashley had him pinned against the fence and opened up a nasty gash under Lashley's left eye when he timed his shot and landed an uppercut. Lashley showed no sense of urgency despite the simple act of being on top causing his cut to leak. Lashley dominated the majority of round 2 in the sense that he had the mount, but obviously didn't know any submissions as the head and arm choke and arm bar were available, and only did adequate damage with ground and pound. Even the ref eventually got bored by lay and pray and used a doctor examination as an excuse for a standup with just over 30 seconds left. Lashley was totally gassed from wasting all sorts of energy because he has nothing beyond the takedown, and Griggs was finally able to stuff the takedown and flurry with punches to the head and eye while Lashley simply held on to the leg. Lashley survived the round, but was very slow to get up so the ref stopped it. Poor match.
KJ Noons vs. Jorge Gurgel R2 0:19. I cringe at the inclusion of the Bobby Lashley type fighters on the card, but am always happy to see Gurgel because he'll fight the entertaining fight even on occasions such as this when it isn't the smart one. Gurgel tried his best to match one of the most diverse strikers in the game, pro boxer and former ISKA kickboxing champion and international san shou competitor Noons, in standup rather than relying on his huge jiu jitsu advantage. Gurgel was on his bicycle the entire first round, trying to match Noons blow for blow, but although he certainly wasn't outclassed, he was the one eating most of the clean, powerful strikes. He did try a takedown or two, but they were halfhearted attempts more designed to keep Noons off balance and help Gurgel's striking game. Gurgel's biggest problem wasn't his inability to hurt Noons, but rather his inability to stop Noons from landing his blows. Noons has major power, and when the entire fight is standup and you are letting him connect at a 50 percent clip, you are going to be in for a short night. It was almost a 1 round fight, as Noons answered Gurgel's last second flurry by KO'ing him with a vicious left hook. However, the blow was thrown just after the 1st round bell, so the fight continued. One aspect that makes Noons boxing extraordinarily devastating in MMA is he's one of the few fighters that can really work the body. He can soften you up with jabs early, certainly one of the most difficult strikes to actually have success with in MMA without getting countered, and also land powerful hooks. Noons KO'd Gurgel again to start the second with a powerful right to the body followed by a left hook, but referee Kerry Hatley was out to lunch. Noons waited for the passive and indecisive official to call it, but Gurgel grabbed his leg trying for the takedown, so Noons kept fighting, laying him out with an illegal knee to a downed opponent. Noons was lucky the ref didn't card or disqualify him, but Gurgel was lucky the fight was finally just stopped because getting knocked out twice is more than enough. Good match.
Strikeforce Middleweight Title Decision Match: Ronaldo Jacare Souza vs. Tim Kennedy 5R. It was amazing to see a 5 round fight with Jacare have exactly zero submission attempts. They did a low level boxing match instead, and other than being close, this fight didn't have much going for it. Their footwork wasn't very good, as they were flatfooted and unable to create angles. Jacare had good power and was fairly accurate despite basically just standing sideways and sliding forward with baby split steps, making his attacks predictable. Kennedy was able to use his feet better, scoring with low kicks when he tried, but he kept his chin so high Frank Shamrock was joking he could hold a tennis ball under there. Jacare didn't take advantage of Kennedy's high head and progressively droopy hands because he wasn't throwing the jab, or really, throwing much at all. Kennedy was quicker to close the distance and began to come on in the second. Jacare's confidence soared after cutting Kennedy over the left eye with an overhand right midway through round 3, but Kennedy was able to change it up with a takedown. Jacare's right hand moused Kennedy under the left eye, so the left side of Kennedy's face was looking really awful. All the rounds were tough to score though because, in general, not that many strikes landed and while Kennedy landed more often, Jacare was more effective with his blows that did connect. The fight was probably up for grabs right up to the closing bell. Jacare landed a nice right cross with 15 seconds left, but Kennedy came back with a slam with less than 5 seconds remaining, so again the round was pretty much up in the air. With the rounds all being so close, you wondered if Jacare looking in better shape would play a part in squeaking out a round he may not have deserved. On the other hand, with Kennedy's 2 fruitless no damage takedowns sway it in his favor? I thought Jacare slightly won because his boxing was the only really damaging aspect of the fight, but was shocked that it was a unanimous decision in his favor, especially in Kennedy's hometown. Below average match.
Strikeforce Light Heavyweight Title Match: King Mo Lawal vs. Rafael Feijao R3 1:14. Mo has converted almost every one of his takedown attempts, but the key to this being such a difficult fight is he couldn't keep Feijao down once he slammed him. Mo was very aggressive coming forward, but although he landed a couple sweet body shots, he didn't actually throw that much, and that style of striking soon left him open to the counter. Feijao was happy to counter, timing Mo well and coming back with hard shots, but wasn't very active because he felt like he had to picking his spots to avoid getting taken down. The first two rounds could have gone either way, but Feijao drilled Mo with a right to start the 3rd and a big knee when Mo got inside and answered with two body uppercuts. Mo went down from a right hook, but managed to get up and drive Feijao into the cage. The problem was he couldn't do anything beyond hold on, and Feijao kept hammering him until John McCarthy stopped it. Average match.
BACK TO QUEBRADA REVIEWS


* MMA Review Copyright 2010 Quebrada *