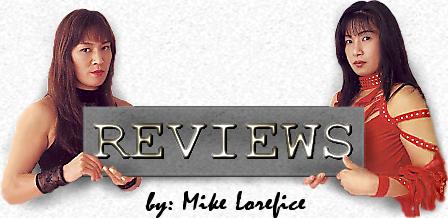 Strikeforce Miami 1/30/10 Sunrise, FL BankAtlantic Center
Bobby Lashley vs. Wes Sims R1 2:06. They were looking for a jobber to give former pro wrestler Lashley another easy win, and certainly found one on short notice in the journeyman Sims, who is unpredictable beyond his ineptness. The 10-year veteran Sims looked amazingly awful, failing to capitalize on his reach advantage by being too flatfooted and upright, and thus getting taken down immediately. Sims tried to pass himself off as a submission expert, but his no control open guard just got him pummeled, accruing excess damage by forgetting to raise his head off the canvas. Give Lashley credit for doing what needed to be done, but this proves nothing.
Melvin Manhoef vs. Robbie Lawler R1 3:33. Some excellent matchmaking putting the two heavy hitters together for what was sure to provide an all out standup war, except both were actually patient. This was not a bad thing though, as their patience was strategy rather than passivity. Lawler was waiting for Manhoef to do one of his explosive punch attacks so he could duck under for the takedown, but Manhoef didn't bite. Instead, Melvin wisely softened Lawler up with vicious leg kicks before he began to attack the whole body through razor sharp combos. Lawler was limping noticably from Manhoef kicking his left leg into orbit so many times, but with Manhoef smelling blood, Lawler countered a low kick with an overhand right and a left hook as Manhoef was on his way to the canvas. Manhoef was not only busted open, but clearly seeing stars, so despite Manhoef having dominated the fight there was no question about the stoppage. In fact, the only reason the end didn't come after the overhand right is there was no possible way for the ref to get in there that quickly. The finish could not have come at a better time for the gutsy Lawler, as I'm not sure he could have stood beyond a few more kicks. This was a truly stunning finish as Manhoef had given such a mature performance, in fact fighting a brilliant fight until the final 2 seconds of action. Fun match.
Herschel Walker vs. Greg Nagy. Normally I groan when ex-athletes get into MMA because I don't think their heart is going to be into it. I mean, they might really try as long as they are going to enter, but they tend to be there because they need a paycheck somehow now that their 2nd wife took them to the cleaners. Sure, Walker is too old to be the next Fedor Emelianenko, but keep in mind he wasn't just a great football player, he was a great all around athlete who challenged himself in many areas throughout his life, nearly making the Olympic track and field team, finishing 7th in the Olympics in 2 man bobsled, and taking his tae kwon do training to the level of attaining a 6th degree black belt. I don't say Walker is validated by donating his paycheck to charity, but MMA simply seems another avenue for him to test himself. I have to say, I was impressed by his debut match. He may not be great in any one area, but he's put the effort into learning wrestling and submission to go along with his standup background. It helped that he was fighting a can, but he certainly controlled all aspects of the bout, showing some proficiency in each. Did he let some opportunities slip away? Sure, but he was a hell of a lot more polished and cerebral than Kimbo Slice. Walker wasn't the most aggressive fighter, but he was extremely calm and patient, waiting for the openings and doing his best to seize them. Walker got the ground and pound stoppage in the 3rd. Adequate match.
Strikeforce Women's Lightweight Championship: Cris Cyborg vs. Marloes Coenen. I've been a fan of Marloes Coenen since she took the ReMix tournament on 12/5/00, and was very glad to see that Strikeforce brought in this pioneers of women's MMA despite little to no name value in the US. Coenen tried everything in her large arsenal, but against the dominant champion, it amounted to little more than a good job of hanging around. She didn't come close to winning any round and was pounded out late in the third. Cyborg didn't seem to care where the fight took place because she's that dominant. Her advantage was much greater in standup, which beyond being her strength is Coenen's weakness. Coenen can strike, but she was rather flatfooted and upright most of the time with little head movement, so she'd get hit several times per every blow (usually a right hand) she landed. Coenen is very dangerous on the ground, but she's undersized at 145 and the combination of Cyborg's sprawl and overwhelming power prevented the takedowns, forcing Coenen to lay on her back at every opportunity as it was her only chance to work for submissions. Coenen has an excellent guard, but Cyborg kept backing her into the cage where her head was more prone and her maneuverability was minimized. Cyborg wasn't lighting her up on the ground, but she was fighting intelligently, landing enough to do damage without taking any real chances. Decent match.
Strikeforce Welterweight Championship Decision Match: Nick Diaz vs. Marius Zaromskis. Diaz fears no one. No matter what your strength and how much you hurt him, he's going to attack, attack, attack. You might hit him harder, but he'll swing nonstop for 5 rounds if he has to, though there are few who have the stamina to avoid collapse for even half that time. Zaromskis is the most successful high kicker since Mirko CroCop was fighting masked men, but Diaz was more than willing to stand toe to toe with him. Both were extremely aggressive to the point of playing no defense during the fast paced standup segments with Diaz exploited his reach advantage, but Zaromskis connecting with big power. Zaromskis put Diaz down with two big right hooks midway through the first, but Diaz recovered quickly and refused to slow down. Diaz went for a single leg takedown when Zaromskis landed a good shot early on, but since Zaromskis insisted on defending it, Diaz held his high kick leg and delivered one damaging knee after another, so it no surprise when Zaromskis' legs became wobbly a few minutes later. Zaromskis problem wasn't so much the damage, but that he couldn't slow down his own fatigue because he had no means to reduce the pace of the fight. He tried pinning Diaz against the cage, but it seemed to take more out of him than Diaz, and by this point Zaromskis had lost the majority of the bounce in his step. Diaz was connecting from the outside, but kept coming forward because Zaromskis was now trying to back away. Zaromskis didn't do a great job of circling, so he quickly found himself against the cage, where Diaz just picked his exhausted opponent until he lacked the energy and balance to remain on his feet. A very exciting bout. Good match.
BACK TO QUEBRADA REVIEWS


* MMA Review Copyright 2010 Quebrada *