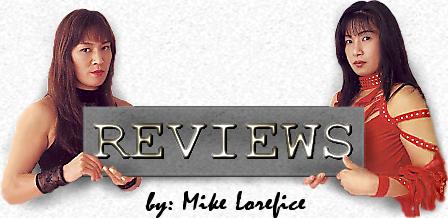 Strikeforce Challengers 2: Villasenor vs. Cyborg
6/19/09 Kent, WA ShoWare Center
Luke Rockhold vs. Cory Devela R1 0:30. Devela tried to punch his way in, but Rockhold downed him with a right hook counter and got behind the kneeling Devela, hammering him with far too many punches. Referee Joe de Robbio couldn't figure out he should stop the fight, so Rockhold finally took matters into his own hands and choked Devela out.
Sarah Kaufman vs. Shayna Baszler 3R. Kind of a weird fight as you figured it would come down to whether Baszler could get the takedowns before she took too much punishment on her feet, but instead her strategy seemed to be to stand with her back to the cage and watch Kaufman punch her in the face since she had nowhere to move to avoid. Baszler tripped Kaufman early and rolled into a north-south choke, but Kaufman took the top when she popped her head out. Baszler had another takedown attempt early in the 3rd later that Kaufman stuffed and came down on top, but Kaufman didn't have much interest in working in Baszler's domain, so Baszler shouldn't have feared getting bludgeoned on the ground when her risks didn't work out. Kaufman was patient in standup early, perhaps because they finally upped the women's fights from 3 minute rounds to 5 minute rounds, but settled into the pattern of punching Baszler in the head repeatedly early in the second round after rocking her with a right hand. Kaufman really didn't pressure enough and was much too predictable because she seemed to throw no body punches and only threw a couple of low kicks, but I suppose as long as Baszler was defending with her bloody mouth, there wasn't much need for her urgency or variation. Baszler possibly won the 1st round due to the takedown and submission attempt, but she just seemed intimidated by her friend most of the fight and was content to be the rhythm guitar player rather than going for a solo. Kaufman won a unanimous decision. Average match.
Jorge Gurgel vs. Conor Heun 3R. Gurgel best exemplifies why UFC will never be a great promotion to watch no matter how many big names and great talents they control. Gurgel is a fighter I'd pay to see fight because he's out there to be entertaining. He puts on great fights, and that's fun for him and the fans, so other than Dana White actually cares if he wins or loses? White actually fired Gurgel after his second Fight of the Night because, oh my, he lost this fight to Aaron Riley at UFC 91 11/15/08. And Gurgel moved right over to Strikeforce, and delivered one of the very best matches of this or any year here against Heun. I'm sure at some points I've criticized Gurgel for not using his BJJ, which is the better part of his game, at least in theory, like everyone else, but I'm now willing to admit that I too just didn't get it. With dozens of fights to watch each week, we don't need The Best of GSP Laying on His Opponents on Saturdays Volume 14, we need guys like Gurgel who fight interesting rather than win boring accountant style MMA. Heun is also a BJJ black belt, and has some wrestling skill, but he didn't let things such as Marlon Mathias breaking his jaw with a knee at ShoXC 3/21/08 turn him to MMA religion, he was probably the one who really dictated that they slugged it out for three rounds.
Gurgel was the shorter fighter, but he was the better of the two from the outside, using his movement to circle away from Heun's power and making up for the reach by blistering Heun's lead leg with low kicks. Gurgel specifically targeted the lead leg because he believed Heun put too much weight on it, but despite checking few kicks throughout the fast pace war, Heun's leg somehow held up. Heun did a nice job on the inside, locking the collar tie and working body punches. There weren't a lot of positives about either man's defense, but I'll gladly take a fight where they have the heart, will, and conditioning to just swing for the fences for three rounds to prove who is tougher.
Heun just kept coming forward no matter how many times Gurgel rocked him or chopped away at his leg, and it was bombs away with great flurries back and forth. There wasn't much strategy here, but I'd say the difference in the fight was Heun's inability to ever cut off the ring resulted in him getting hit consistently while he was chasing Gurgel. Heun at least began to catch some right kicks as the fight progressed, twice then dropping Gurgel with a right hand, though this was obviously more of a balance issue than pure knockdowns. Both had several cuts, with Heun's face swelling more, though in a less distracting spot. Gurgel won a unanimous decision, but I don't think many people cared. They'll instead remember they saw a classic slugfest between two guys who were just having fun banging there way to a match of the year. Excellent match.
Tim Kennedy vs. Nick Thompson R2 2:37. An entertaining grappling contest, as Thompson had answers for Kennedy's wrestling, keeping things frenetic on the canvas with counters and reversals back and forth. Thompson wanted a fight at 170, but didn't want to turn his new employers down. Though he appeared to be the bigger of the two, the main difference here was Kennedy was too powerful for him. Kennedy is the better wrestler, which of course went a long way in this style, but he wasn't so much relying on skill as improving his position through brute strength. Thompson had his moments, including rolling through a single into a straight armbar, but ultimately Kennedy pounded him from side mount. The problem here is the primary damage came from illegal punches to the back of the head after Thompson couldn't get anywhere rolling to his stomach, with Joe de Robbio doing a terrible job as he miraculously didn't notice a handful of illegal punches in a row so Thompson wound up tapping out to save himself. This probably should have been ruled a no contest, and to make things worse Strikeforce never followed up by booking Thompson at his proper, or any other weigh class. Above average match.
Joe Villasenor vs. Evangelista "Cyborg" Santos 3R. I expected more of a brawl along the lines of Gurgel/Heun until someone's lights went out, as Cyborg doesn't have the stamina to keep that up for more than a round. Cyborg was remarkably patient, which in addition to not being as good for the fans, also doesn't really suit his strengths as he's really a not particularly technically proficient brawler so getting into a more technical fight mostly negated his well above average power and exposed his well below average technique. Cyborg certainly had some success tagging Villasenor as Joe closed the distance, and won the 2nd round with leg kicks so powerful that Villasenor was hobbling after just a few. However, Villasenor is the smarter and more diverse fighter, and when the chips were down in an even fight, you knew he was going to be the one who would maintain his conditioning and smarts. Villasenor primarily won the first by tripping Cyborg into side mount, and then using a punch to pass back after Cyborg quickly got guard. Villasenor began using right hand counters when Cyborg got tired in the 2nd and began dropping his hands. Joe didn't do a good job of checking Cyborg's low kicks, though he did finally block some in the third. Still, it was more that but adjusted by charging in with a combo or generally close the distance to get inside Cyborg's kicking range. Cyborg had a takedown early in R3, but was too tired to continue the momentum he'd gained in the 2nd. Most of the round was standup, and a hobbled Joe was the aggressor, coming forward as best he could with series of punches and bobbing his head to avoid counterfire from his exhausted foe. Villasenor ultimately just outworked Cyborg, and it got him the split decision. Above average match.
BACK TO QUEBRADA REVIEWS


* MMA Review Copyright 2012 Quebrada *