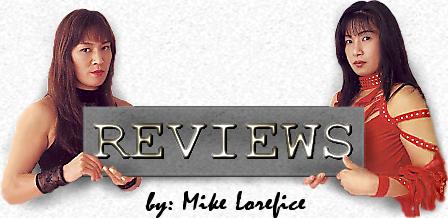 Strikeforce: Lawler vs. Shields 6/6/09 St. Louis, MO Scottrade Center
One of the worst Strikeforce shows, as it was loaded with non competitive matches featuring UFC hasbeens and never wases. The lone bright spot was Nick Diaz managing to be entertaining as he always is when GSP isn't laying on him, but Smith was hardly a worthy follow up to Frank Shamrock, and it was even arguably even more of a jobber match than the king of accuracy against a guy who has no head movement sounds like.
Mike Whitehead vs. Kevin Randleman 3R. One of the lowest level fights in the history of Strikeforce. Whitehead was slow, but Randleman was so tentative he got away with just plodding forward with jabs and low kicks until he got hold of Randleman and took him down. Randleman's stamina was beyond the usual pathetic, blowing up a full 3 ½ minutes into the fight, and he looked like he didn't even remember how to fight for most of the first 2 rounds, as a should be inferior wrestler took him down at will, though his muscle memory allowed for a few great quick reversals that kept him in the fight. Randleman managed to wake up for the third, landing a big overhand right early in the third that got his confidence up. Randleman dropped Whitehead with a right hook counter to a left inside let click and flurried on the ground with hammerfists. Though Randleman was down 2 rounds, had had he worked Whitehead over for the rest of the round in the usual Slop House fashion, even if he couldn't get the stoppage he might have gotten a 10-8 round and at least escaped with a draw. Of course, Randleman was reblown up after a handful of hammerfists, and as he never bothered to secure any ground control, Whitehead got back to his feet and began walking down Randleman, who had to retreat before he collapsed from overexertion. Whitehead got another takedown, and when Randleman got back up late, landed one nice right hook. Round 3 was pretty good, but even that was mostly repetitive after the knockout scare, and rounds 1 & 2 were just dreadful. Overall, Whitehead was 6/6 on takedowns, and outlanded Randleman 63-21 en route to the unanimous 29-28 decision. Poor match.
Joe Riggs vs. Phil Baroni 3R. Diesel fought a smart fight, knowing his tank is big, and Baroni's is probably the smallest of anyone who never fought at heavyweight, so as long as he wore Baroni out on the ground in the first he'd likely win the fight. Though Riggs was able to take Baroni down, Baroni did have his moments in the first two rounds, getting the reversal and landing 41 of his 60 strikes on the ground strikes despite less time in control. The New York Needle Ass, of course, gassed in the 2nd (which seemed triathalon ready after watching Randleman...), allowing Riggs to begin to pick apart a standing target against the cage. Riggs landed a nice clinch knee and a couple of flying knees, sending Baroni into full blocking with his head mode for the rest of the fight. Riggs really worked hard to finish the fight in the third, but Baroni's probably can't even feel all the punishment he's absorbing to know he should go down. It's certainly hard to win a fight when your opponent lands 66% of their strikes, and Baroni had a nasty mouse above the left eye to prove it. Riggs won a unanimous 30-27 decision. Above average match.
Nick Diaz vs. Scott Smith R3 1:41. Diaz vs. Smith was similar to using a machine gun for target practice. Diaz went through several clips, firing 397 strikes in 11.5 minutes. Smith is always happy to take a punch or two to land one, but Diaz came forward barraging him with so many punches that Smith couldn't even get off, and by the time Smith reacted to Diaz actually retreating he was reaching and then getting countered. Smith's head was just sitting there for Diaz all night, while Diaz's defenses were at their sharpest because Smith kept loading up, resulting in Diaz outlanding Smith 207-31. Diaz totally dominated the clinch game, really gassing Smith with his body shots. Smith's only success in round 2 was with the low kicks, though really the only reason it looked like he did anything is Diaz's scar tissue opened up with Taktarov-esque speed. Diaz dropped Smith with a left body hook at the end of round 2, and then again early in round 3, this time taking his back and choking him out. I'm not sure this was quite a good match, but certainly an entertaining squash.
Brett Rogers vs. Andrei Arlovski R1 0:22. Rogers countered a low kick by bull rushing with left/right punches. Arlovski was backing and avoiding the barrage, but once he ran out of real estate Rogers nailed him 3 times against the cage and Arlovski crumbled to his left. Some people might not have liked John McCarthy's stoppage because Rogers had landed so few punches, but Rogers was standing over his crumbled opponent so he would just have rocked Arlovski several more times anyway. Arlovski didn't complain.
Jake Shields vs. Robbie Lawler R1 2:02. Lawler did a nice job defending the takedowns, but as he began to work the clinch game, Shields dropped into a guillotine for the quick win.
BACK TO QUEBRADA REVIEWS


* MMA Review Copyright 2013 Quebrada *