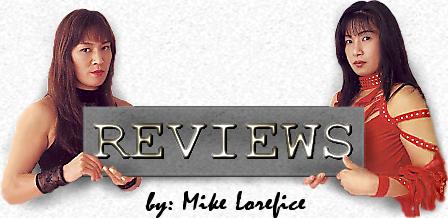 K-1 WORLD GP 2008 in AMSTERDAM -EUROPE GP FINAL-
European Fighting Network Presents It's Showtime
4/26/08 Amsterdam, Holland Amsterdam ArenA
K-1 WORLD GP 2008 in AMSTERDAM
Super Fight: Remy Bonjasky vs. Melvin Manhoef R3 2:32. The previous fight was going to be tough to top. Certainly, when we were treated to a live performance of the atrocious rap song dedicated to Melvin Manhoef, with the thoughtful chorus of, you guessed it, MEL-VEEN MAN-HOOF, it wasn't off to a good start. However, things quickly picked up with Bonjasky coming out to Ennio Morricone's Man with a Harmonica from Sergio Leone's greatest western Once Upon a Time in the West, and never let down. Propelled by a tremendous first round of furious action, they may well have exceeded Bregy vs. Zimmerman. If you thought Manhoef was a torrid starter who never had to go any deeper, you were wrong, as he can bring the haymakers for three rounds. He threw everything he had at Bonjasky and then some, but when he's on, as he was today, Bonjasky is such a skilled counter striker. Aside from giving up 6 inches and close to 50 pounds, Manhoef's big problem is throwing looping bombs is all he can do while Bonjasky can change styles, strategies, and pace. Bonjasky knew Manhoef would come out like a house on fire, so he immediately took Manhoef out of his game by putting him on the defensive with a series of flying knees. Manhoef would back away and fire back with his hooks to Bonjasky's block, so Bonjasky shifted to kicking but Manhoef did a great job of catching his leg. Manhoef would, of course, fire back with his hooks, but though he did get an uppercut through, he's such a headhunter that he threw all his hooks high into Bonjasky's block even though the gut was open. Bonjasky rocked Manhoef with a right high kick when Melvin was trying to throw the right hand, sending him stumbling back several feet, following with a jumping knee for the knockdown. Manhoef was ready for Bonjasky's flying knee at the restart, cracking Remy with an overhand right that sent him stumbling backwards, nearly evening the fight. Bonjasky's hand hit the deck, but he boosted himself off the canvas, regaining his balance in time to push his in for the kill opponent off then turn the fight back in his favor by knocking a charging Manhoef down with a jumping roundhouse. The first round of this furious contest was the best because Bonjasky took more chances. Up two downs to none, Bonjasky began to rely on his stonewall block, lulling Manhoef into complacency so he could use his height advantage to quickly stuff Manhoef's head into his knee. Bonjasky connected with a big clinch knee midway through the 2nd, but Manhoef ducked under the top rope to prevent Remy from following with a high kick that would have been lights out. Manhoef again had success countering the jumping knee with an overhand right, hurting Bonjasky, but Remy blocked Manhoef's flurry and knocked him down. I didn't see any real blow here; it appeared Manhoef simply dropped to avoid the clinch knee, but in any case he wasn't up quickly and it did count as another down. Manhoef fought with desperation in a more wide open 3rd, but Bonjasky blocked enough of his big blows, firing back with low and high kicks. Even though Manhoef mostly blocked a high kick (he had better success when he was ducking them), it was powerful enough to knock him back into the ropes, and a subsequent high kick sent Manhoef to the canvas for the 4th time. Manhoef was back on his feet yet again, but this time Remy flew in at the restart with a high kick to finally put him out of his misery. A valiant effort by Manhoef, who didn't back down despite being out of his depth and weight class against a two-time world champion. Excellent match.
Super Fight: Tyrone Spong vs. Azem Maksutaj R2 0:45. Maksutaj was completely outclassed in this one-sided contest, displaying poor footwork and looking uncoordinated as he slipped and stumbled around the ring. Spong had no trouble closing the distance, bringing the knee when he got inside, which had Maksutaj on the canvas by the middle of the first. Maksutaj was caught hunched over when he missed a wild haymaker, allowing Spong to knee him in the head, land a high kick, and then follow with a few punches for the knockdown, except the round ended by this point. They traded low kicks to start the 2nd, but Azem's didn't have much zip on them and Spong soon KO'd him with another knee to the gut. Below average match.
K-1 Europe GP Final: 1st Round:
Errol Zimmerman vs. Attila Karacs R1 2:10. A cut somehow opened on Karacs shin, forcing the fight to be stopped before it got going.
Bjorn Bregy vs. Jan "The Giant" Nortje R1 1:10. A dominant performance by Bregy, never allowing the big man to get his bearings. Bregy brought straights down the middle to get inside Nortje's Giant reach then banged him with a series of short hooks. Nortje was quickly in trouble, and Bregy kept the heat on, backing him into the ropes and grazing with a right high kick then putting together a flurry of punches for the KO.
K-1 Europe GP Final: Semifinals:
Zabit Samedov vs. Brian Douwes 4R. Kemayo bowed out due to injury, thrusting reserver Douwes into the semis. Samedov had his best round of the night in the first, picking Douwes apart with crisp combos. Having fought three hard rounds earlier to Douwes 70 seconds, Samedov began tiring in the 2nd, evening the contest out. Douwes began to answer with a left hook, and started pressing the action more. Samedov had a nice sequence where Douwes mostly avoided his right hook, but he evaded Douwes right hand comeback and smacked him with a left hook. After an even 2nd, Douwes seemed to stun Samedov with a left hook early in the 3rd, but made no attempt to follow up. The bout went to the extension, where neither seemed to step it up and most of their attacks were blocked or dodged. Samedov landed a few left hooks late, which may have been enough to eke out the decision as the 4th was the closest round of the fight. Average match.
Bjorn Bregy vs. Errol Zimmerman R3 2:59. One of the wildest K-1 fights I've seen. Not a technical gem, but a surprising and thrilling war featuring some serious heavy hitting that caused the tide to turn quickly and regularly. Started tentatively, but once it got going it never let up. Bregy almost had a down with a right hook, but Zimmerman was saved from tumbling by catching the ropes with his arm. Bregy was a head taller and was consistently backing up an opponent who lacked the reach to strike from the outside and was on the defensive when Bregy allowed him within distance. Bregy did a nice job of using the left jab to start Zimmerman backing, charging in with hooks or knees to get him against the ropes where he could wail away. Just as I was thinking Zimmerman seemed a lot quicker and more explosive the last time I saw him, he threw a flying knee that missed but, while still in midair, he followed with a punch that connected. Finally putting Bregy on the defensive, Zimmerman was able to land a few good rights in the exchange, cutting Bregy around the left eye. Bregy dropped his hands and screamed for Zimmerman to come on, with Zimmerman obliging by dropping Bregy with a nice hook combo. Bregy doesn't believe in recovery, always attacking after a knockdown, but the round ended. Zimmerman stunned Bjorn with a punch early in round three, but Bregy used his own mistake to fire himself up and mount a comeback. Some bad footwork found Bregy with his back to his opponent, but he had the presence of mind to whip around with a backfist that sent his opponent wobbling back then follow with a few punches for a flash down Errol protested. Bregy pressed with punch after punch with Zimmerman against the ropes, but suddenly Zimmerman came back to life and knocked Bregy down with a big right hook. Bregy went right back on the attack, but with the round just about to end Zimmerman backed him all the way across the ring into the ropes with punches for a standing down when Zimmerman turned his back. Bregy seemed more interested in walking out of the ring while the ref was counting than sturdying himself and maintaining a fighting posture, and needless to say the fight was stopped with 1 second left! Excellent match.
K-1 Europe GP Final: Final: Zabit Samedov vs. Errol Zimmerman 3R. The previous two bouts were so good these two couldn't hold my attention with their feeling out and missing. Samedov was having a hard time landing, whiffing on the big swings but maybe landing one out of three on his quick combos, though without much force. Even that was a higher percentage than Zimmerman landed, as the much quicker and lighter on his feet Samedov was dancing, bobbing and weaving out of danger. Zimmerman was landing a right hand counter, but again not with any power. I thought there was a 10% chance Samedov would get the decision and a 90% chance they'd call for the extra round, which shows how much I know as Zimmerman captured the majority decision. It helps to be the hometown fighter. Average match.
European Fighting Network presents It's Showtime
Sem Braan vs. Alexandro Cosmo 3R. Cosmo was too quick and athletic from Braan. He did a nice job of slipping Braan's punch and firing back with a fast blow. Cosmo was such a counter puncher that he never took over the fight even though it seemed he could have. Braan was active and aggressive, and I guess the judges where impressed by the way he pressed forward. Neither fighter hurt each other, but Cosmo certainly landed with more consistency than Braan. Braan won a decision. Average match.
Perry Ubeda vs. Stephen Tapilatu R5. One-sided fight with Ubeda stalking Tapilatu, keeping him on the defensive. He was the much better boxer, and once he closed the distance Tapilatu wasn't able to throw his kicks. When Tapilatu wanted to throw a kick, he'd usually switch to side stance. Though kicks were Tapilatu's primary weapon, he didn't have much on them. They were designed to keep Ubeda away, but Ubeda had little trouble getting inside and working the body with punch combos. Tapilatu's nose was busted up, and Ubeda knocked him down in the third with a punch combo in the corner. Finally, Ubeda landed a middle kick then brought it to the head for the KO. Average match.
Gokhan Saki vs. Paul Slowinsky R1. Dominant performance by undersized underdog Saki, upsetting a top 10 K-1 fighter whose career seemed to be on the rise. Saki was getting off quick and mixing his blows well, connecting with almost everything he threw, many of which had good zip on them. He stunned Slowinsky with a punch combo then followed with another fore the knockdown. Slowinsky knew he was in a fight, and increased his concentration, but still had no answer for Saki's precision blows. Saki soon stunned Slowinsky with a left hook then KO'd him with another.
Chris Ngimbi vs. Georgio Petrosyan 3R. Petrosyan is a very quick fighter who kept his distance, throwing roundhouses then darting in when the opening presented itself. Ngimbi is a good athlete, but Petrosyan largely made him look silly, as the space Georgio kept allowed him enough time to evade the majority of what Ngimbi threw at him. Ngimbi stopped fighting after taking a left hook, so Petrosyan was credited with a knockdown. Petrosyan won a unanimous decision. Average match.
Joerie Mes vs. Nieky Holzken R2. Mes would throw a hook to close the distance then land a clinch knee. Mes was winning the fight until Holzken scored a flash knockdown in the second with a right straight that caught Mes off guard. Mess seemed more determined, but Holzken weathered his attack and dropped him with a spinning hook kick for a second knockdown. Holzken smelled blood and kept backing Mes into the corner, soon landing a spinning high kick for the 3rd knockdown. Above average match.
Buakaw Por Pramuk vs. Faldir Chabari 3R. Chabari tried to utilize his reach advantage, but Buakaw walked right through his jab. Pramuk kept moving forward, backing Chabari with front kicks, roundhouse kicks, and jabs then pounding the body with punch combos. Pramuk was really pushing Chabari around, and time and time again Chabari would wind up stuck in the ropes covering while his opponent unleashed a barrage. Easy decision win for Pramuk. Average match.
Warren Stevelmans vs. Drago 3R. Good fast-paced match. As soon as one kickboxer finished their combo the other would fire back with a combo of their own. The first round was pretty even, but Drago's combos were even faster than Stevelmans, and he was scoring with his low kick finishes. Though the combos were high level, the defense was on par with the offense. The main difference is that as the bout progressed, Drago was able to keep Stevelmans' on the defensive more and more because he could get off quicker. Drago won a unanimous decision. Good match.
BACK TO QUEBRADA REVIEWS


* Kickboxing Review Copyright 2008 Quebrada *